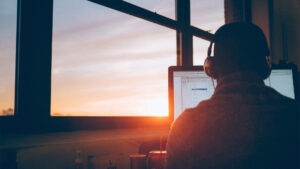 Meetings with Key Product Influencers Helps Keep B2B Company on Top
"Virtual focus groups with building owners, designers, architects and engineers delivers results. "
PROBLEM
In two-step distribution, it is critical for product manufacturers to keep professionals who influence a product's purchase (often called influencers) up to date on new products and remind them of the features and benefits their product or service provides.  Post COVID pandemic, one of AIM's clients in the building construction industry wanted to find out why their influencer audiences preferred a particular brand of commercial faucet and what they could do to gain a larger percent of the overall market. More specifically they were looking for insight on the specification-to-purchase process to identify where they might positively impact their chances of getting their products purchased.
In addition to getting feedback from a national group of influencers on their brand preferences and the specification process, AIM's client wanted to explore how the specification-to-purchase process varied by type of commercial project and what trends, if any, would impact brand selection over the next year. The client was also looking for feedback on which communication platforms influencers preferred and used most often to get new product information or stay current on the market.
Communicating with professionals who influence the purchase of a company's product in a B2B two-step distribution sales channel is critical to building product preference and market share.
SOLUTION
To ensure the research delivered effective results, AIM recommended a two-step research platform: 1) in-depth phone interviews followed by 2)national virtual focus groups. AIM used the in-depth phone interviews with a few influencers in each of their five  audience segments (building owners, architects, interior designers, engineers and contractors) to identify opportunities within the specification-to-purchase process to impact brand selection and increase the purchase of the client's products.  In addition, the phone interviews were structured to help uncover key issues within the purchase process that required more detailed discussion by a larger, more diverse group of participants (with the focus group).
One of the unique aspects of the phone research included identifying commercial projects that were in the final stages of construction or newly completed to find out what brand of commercial faucet was ultimately purchased and why. AIM used a proprietary national construction database to pull projects and contacts for different types of commercial projects. Not only did this give AIM's client insight of how one brand is selected from a list of several possibilities, but it also gave feedback on who was driving the selection and what selection criteria were most important.
After the phone interviews were completed, AIM conducted six virtual focus groups with seven to ten design and building professionals from across the country in each group. Groups were segmented by target audience to direct the content of the discussion to a specific audiences' interest and responsibilities in the specification-to-purchase process.
By using virtual focus groups, AIM was able to present various images and visual slides to gain comments and detailed feedback on specific topics identified by the phone research. in addition, AIM recorded the interviews giving the client the opportunity to share the feedback with associates or to review specific comments or topic in more detail.  During the group discussions, the client was able to listen to the group and could easily request AIM explore a specific topic in more detail simply by providing suggestions in a text to AIM's group moderator.
Virtual Group Discussions Provide Research Flexibility, Diversity and Depth at a Reduced Cost
Due to the high cost of conducting in-person focus groups and limited research budgets, on-line focus groups have become a popular, cost-effective method for conducting qualitative research when organized and managed properly.  When companies need to reach multiple markets, a virtual focus group is easier to set-up and allows for more flexibility and customization. With virtual focus groups, participants tend to be more comfortable sharing their opinions and more likely to share more detailed information than when in the same room with other professionals.
AIM worked with the client to develop a discussion outline and the visuals used for the groups. In addition, AIM managed the recruitment of 45 influencers with a regional balance across the U.S. AIM also moderated the groups, provided the incentive, summarized the findings and completed any follow-up after the groups were completed.
RESULT
AIM's two-step research process gave the client valuable and current market insight on the role each type of professional plays in the specification process. It also identified where the client's brand might be falling short.  While there is no "simple" answer, the research did emphasize the importance of building strong relationships with ALL the influencer audiences. Many times, the owner dictates the brand of faucet used in a commercial project, but all groups agreed that a product brand must be in the specification to be considered.
In What's Love got to do With a B2B Brand, some of the lessons you can take from a study of what Taco Bell did and how a B2B company can get the love going is discussed. These lessons came out in the focus group and are immensely helpful in shaping your thinking about your brand.
The AIM research also helped our client understand specific details about where to position themselves within the specification. For example, many influencers indicated they are moving to performance specs which is easier than listing several brands within the spec.  In today's complex world, it is important for manufacturers to understand the influencers in their market and then try to differentiate their products from the rest. Researching the needs and wants of product influencers is critical to staying on top of the competition.
Another recent blog by Interline Creative Group titled, Snap! Crackle! Poof! ,points out that thinking through your brand strategy is the most important thing a company can do to be successful. In addition, companies need to conduct research to understand if there is a difference between their perceptions and reality. Often companies don't have the correct perspective on what their brand means and delivers to the market. Third-party market research can help companies gain unbiased knowledge about a specific market. AIM's research experience and market knowledge provides clients with objectivity and impartial direction to help them stay ahead of their competition.
For more information on how AIM can assist you with developing a customized research platform including focus groups, online surveys, phone interviews or any other type of market research, email patty@a-i-m.com or call 847-358-8558.