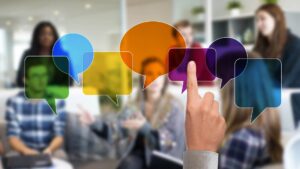 Virtual Focus Groups Boosts Product Development Efforts
"Group Discussions with Showroom Consultants Provides Valuable Market Insight. "
PROBLEM
An international manufacturer was interested in adding a new product line to their existing product suite. While this company had experience and a leadership position with other products in the category, they were not completely familiar with the market's preferences within this product segment. Their overall objective was to gain a better understanding for what styles and product features consumers were looking for and why consumers preferred one brand over another.
In addition to getting feedback from showroom consultants on what the consumer market was looking for with this particular product, the manufacturer wanted to explore some of the other issues surrounding professionals' brand recommendations and consumers' preferences. Some topics the manufacturer wanted to explore included popular styles, finishes and key product features important to consumers. The client was also looking for information on what sales tools and support showroom consultants need.
SOLUTION
Since the manufacturer was just starting the research process and had a limited budget, AIM recommended the client host virtual focus groups with showroom consultants. To evaluate any "regional" variances in consumer's preferences, AIM recommended hosting four regional groups with participants from: East, Midwest, South and West regions of the U.S.
By using virtual focus groups, AIM was able to present various images and visual slides to gain comments and detailed feedback on styles, finishes and other product features. In addition, by using   virtual meetings, AIM was able to record the interviews giving the client the opportunity to share the feedback with associates or to review specific comments or topic in more detail.  In addition, during the group discussion the client could easily request AIM explore a specific topic in more detail simply by providing suggestions within a chat function (or privately in a text to AIM's group moderator).
Virtual Focus Groups Offer Significant Cost Savings, Flexibility, Diversity and In-Depth Feedback
Due to the inability to meet face-to-face during the pandemic and the high cost of conducting in-person focus groups, on-line focus groups have become a popular, cost-effective method for conducting qualitative research when run the right way.  When companies need to reach multiple markets, a virtual focus group is easier to set-up and allows for more flexibility and customization. With virtual focus groups, participants tend to be more comfortable sharing their opinions and more likely to share more detailed information.
Based on conversations with the client, AIM developed a discussion outline and the visuals used for the groups. In addition, AIM managed the recruitment of twenty showroom consultants with a regional balance across the U.S. AIM also moderated the groups, provided the incentive, summarized the findings and completed any follow-up after the groups were completed.
RESULT
AIM's exploratory research gave the client valuable current market insight on consumer and showroom consultants' preferences. For example, there were clear differences in regional preferences for styles. There were also differences in the "type" of participant in regard to style and the other topics that were discussed.
With detailed input on popular styles, trends and product features, the client was in a better position to focus their design efforts to meet market demand. In addition, they had a better understanding of what support showroom consultants needed and which sales tools would make their job easier. AIM's research provided the client with "first-hand" feedback within the client's budget. The research gave their product development a great start and provided a clear focus on the path ahead.
In a recent blog by Interline Creative Group titled the, 77 Biggest Challenges in Business Today Boiled Down to One, the biggest challenge in any business is finding out what the customer wants and providing it.  Virtual focus group research is an effective method companies can use to find out more specifics about what the customer wants. The problem for many companies is they don't always listen to what their customers say. Hiring a third-party research company like AIM can help provide objectivity and unbiased direction.
For more information on how AIM can assist you with new product research, focus groups, concept testing or any other type of market research, email patty@a-i-m.com or call 847-358-8558. Do it today.