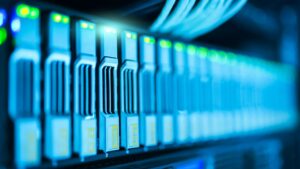 Data Center Construction: An Insatiable Market
by Jim Nowakowski (see our latest update for 2020 on this market here)

According to the Office of Energy Efficiency and Renewable Energy, there are about 3 million data centers in the United States.[1] You can see 1,269 of them at dataceters.com. And there is a map of 1,806 of them at datacentermap.com/usa. This doesn't take into account Google Data Centers. Nor is there an official count on how many facilities or servers Google has. Or Amazon, who really doesn't broadcast where its data centers are located.
Besides, there is no way to count the existing data centers within individual companies with any accuracy.[2] And most companies have them somewhere within their walls.
So, it's no wonder data center construction is on the upswing.
Mordor Intelligence should know about these things. This India-based company relies on a network of experts across the value chains of different markets in different countries to provide them with the perspective, data and insights to deliver the right information to partners, which comprise 1700+ enterprises across 20 industries.
According to Mordor, the US Data Center Construction Market is divided into infrastructure (electrical, mechanical and general construction), the tier type (I, II, III or IV), and end user type (banking, financial, IT, telecom, government, defense and healthcare).
They valued the market at $8.4B in 2020, suggesting it will grow to $13.9B by 2026.
Their analysis refers to the Turner & Townsend report (cost index), which suggested Dallas, North Virginia and Phoenix were the most demanded markets for such construction in 2019.[3]
But, that study in 2020 suggested 79 percent of people they polled believed COVID-19 caused productivity losses and higher operating costs on data center construction sites.[4]
COVID-19 only increased the appetite for data.
Besides COVID-19, the entire "work from home" movement and other trends noted below are driving data center construction. In a recent WSJ article[5], fewer than three out of 10 white-collar employees were working at the office on average in 10 major US cities. Those statistics came from Kastle Systems, a nationwide security company monitoring access-card swipes in more than 2,500 office buildings in cities across the country (who says you are not being watched!).
This shift only increases the demand for digital exchanges, which means more data centers.
Two other trends that came up from these independent research companies included: 1) Cooling Systems (Mechanical Infrastructure) Expected to Show Significant Growth and 2) Healthcare Industry Expected to Grow i.e., virtual health consulting.
But, there is a third not really mentioned: Internet of Things (IoT)[6].
The IoT refers to the billions of physical devices around the world that are now connected to the internet, all collecting and sharing data. According to Steve Ranger, writing in ZDNet, "Tech analyst company IDC predicts that in total there will be 41.6 billion connected IoT devices by 2025." Ranger further points out that building automation will be the fastest growing sector, followed by automotive (connected cars) and healthcare (monitoring of chronic conditions).
For example, in "How Intelligent is Your Floor," Robert Nieminen outlined how Shaw Contract developed Sole with SensFloor Technology. This puts sensors in the floor itself to improve outcomes for resident safety in senior living and other facilities because the sensors will detect when someone falls or some other "noteworthy event" occurs.[7]
How to Tap This Market
What are the data centers being built in the US and Canada? And who is building them? What do you need to know in order to penetrate this lucrative and burgeoning market?
To help understand and plow through the vast amount of already-published information to answer these questions, AIM used primary and secondary research as well as ConstructConnect™ to explore data centers. What we hope to accomplish is to add a comprehensive layer to your understanding as you, the manufacturers and design professionals, seek to penetrate and grow your share in this data center market.
In other words, we want to help.
Among the over 500,00 active construction projects going on in any given movement in the US and Canada, 11,198 of them seem to involve data centers. We use the word "seem" because there is no single database comprehensive enough to deliver all the information on these facilities that you would want or expect to see if you were going to do a marketing campaign. In the words of a former boss, "You run with the horses you have."
These 11,198 data centers being built are within companies or as standalone data centers. If we can identify the professionals involved in building them, we can certainly make headway into the market, despite the apparent secrecy around such facilities.[8]
If we examine data centers closer, however, we can see around 297 projects going on as standalone.[9] Looking closer at these 297 projects will tell us something about not just those projects, but the trends toward the digital world we find ourselves working within to help develop our strategy of attack.
Data Centers are Hot
Like all facilities, data centers have particular requirements, which architects, engineers, contractors and manufacturers should be aware of.
In fact, all companies have something that can be called a "data center." That's why it is important to understand not only the nuances of such facilities, but what seems the never-ending need for more of them to be built. This is also why it is essential for all product manufacturers to know about the value chain participants and their needs specifically as related to data centers. It's not every architect who is involved with such facilities. Nor every mechanical, electrical, etc. It's specialized work…and you'll find that certain firms emerge to support these structures.
This  AIM report is based on those 297 data centers. By conducting a thorough study of these projects – and folding in additional ancillary information — it is our intent to help you navigate this market both in terms of successfully working on these and future projects by knowing the players that surround such facilities. The report is not intended to be the be-all, end-all, but to stimulate conversation to help you find your way around the facilities and their needs. In short, we want to help shape your strategy, and then help you execute it.
What is a Data Center?
Cisco, who should know about such things, defines a data center in the following terms:
At its simplest, a data center is a physical facility that organizations use to house their critical applications and data. A data center's design is based on a network of computing and storage resources that enable the delivery of shared applications and data. The key components of a data center design include routers, switches, firewalls, storage systems, servers, and application-delivery controllers.
That definition used to fit your desk drawer before the internet or file cabinet. In those days, the data were phone numbers and addresses.
Data center components today, on the other hand, require significant infrastructure to support the center's hardware and software. These include power subsystems, uninterruptible power supplies (UPS), ventilation, cooling systems, fire suppression, backup generators, and connections to external networks. That's besides what offices utilize: desks, restroom facilities, etc.
As professionals, you may already know all this. But, how does knowing "this" relate to what the market demand needs for data centers? And exactly where do you, as a professional firm or manufacturer, fit? Should you approve a particular segment (i.e., architects) first, or penetrate where your products fit (i.e., cooling systems) with the mechanical engineer? What does it take to get a foothold?
Let's start by finding out WHERE these projects are located.
Where are These Projects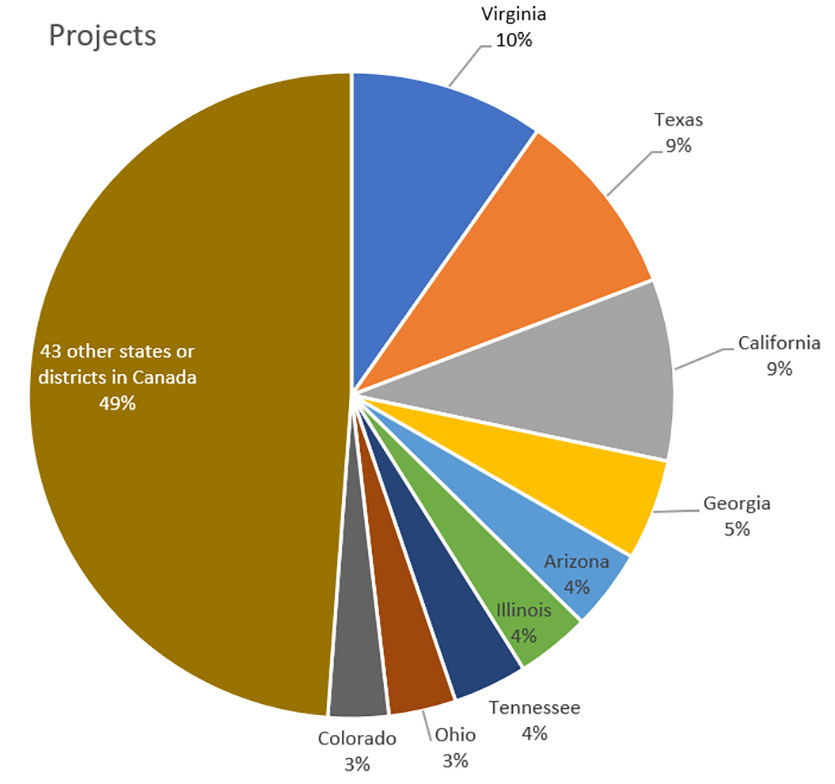 Over half of the 297 data center projects are happening in only nine (9) states, while 43 other states and Canadian districts control the other 49 percent. In Virginia, for example, even though there are 29 projects accounting for $6.6 billion of work, only two projects represent over half of that value: the Secure Data Center Campus and Prince William County Data Center Development. Google, for example, is building in Virginia, but also in Arizona, Nevada, Missouri, Minnesota and Nebraska.
The Secure Data Center Campus is a 1,500,000-square-foot data center facility. The fully built-out campus will feature over 1.5 million square feet of space with 300 megawatts of power and a dedicated onsite substation. TA Realty LLC, a leading provider of real estate investment management services to US and non-US institutional investors, is listed as the architect.
The other huge project – the Prince William County Data Center Development— calls for a 700,000-square-foot building as Phase one. A timeline for future phases has not been determined. Information on architects or contractors handling is sparse. Prince William, according to county officials, is among the counties with the largest concentration of data centers in the commonwealth. There are two developers listed for this particular project: Stack Infrastructure and The Peterson Companies.
Stack builds data centers and offers a white paper (seven pages) on 5 things to know about data center site selection. There is content in this paper to use in your own pitches for such business.
The Peteron Companies also builds data centers, but also other types of properties. Their website highlights the Prince William one, with an interactive map for your review. They also are involved in the Ashburn VA Microsoft Campus called Compass Creek. This project is part of the 29 projects in Virginia in the chart.
Are these companies on your target list? Should they be? Your strategy has to consider the owners of data centers as one of the primary targets in your tactics. Why? Because they have the financing behind the building itself. Owners are always the key to a project, so the closer you get to them, the more likely your products and services will be specified.
You can do the same type of review state by state with much the same results and opportunities.
Deep in the Heart of Texas
In Texas, for example, one project represents over 50 percent of the value of all 28 projects going on in that state: the EdgeCore Data Center / Richardson. This is a 900,000-square-foot, two-story above grade data center facility that was stalled in 2020 according to the information we have and was actually cancelled. Should that stop you from pursuing the players or the project? Why was it stopped? How will that affect the project you might be pursuing?
These are important questions. Every cancelled project holds clues to help you gain business. For example, EdgeCore Data Centers develops such facilities. Why would you not put them on your hit list? Indeed, the architects and civil engineers involved in that now-cancelled project didn't just stop doing that type of work! In fact, EdgeCore has many projects in varies stages.
But with that large gone, it makes the Digital Realty Data Center / Garland becomes the top Texas data center project, a 48-acre data center facility. When finished in its phased construction, the center is expected to operate in excess of 150 megawatts of critical IT load. The owner is Digital Realty Trust, and the architect is Alliance Architects. Are they on your hit list?
The point is that each of these locations offer a rich variety of opportunities for professionals seeking to gain data center work. What is clearer is that when a leading authority tells you that Dallas, North Virginia and Phoenix are the hot spots for construction of data centers, reality sets in. Reality suggests every state has action going on! Only deep analysis will help you hatch the right strategy to win in this market. In short, the more you look, the more you see, and the more you see, the better you know where to look.
Sector Classification
A sector used in this report is a classification of the  type of overall category wherein the data center will reside.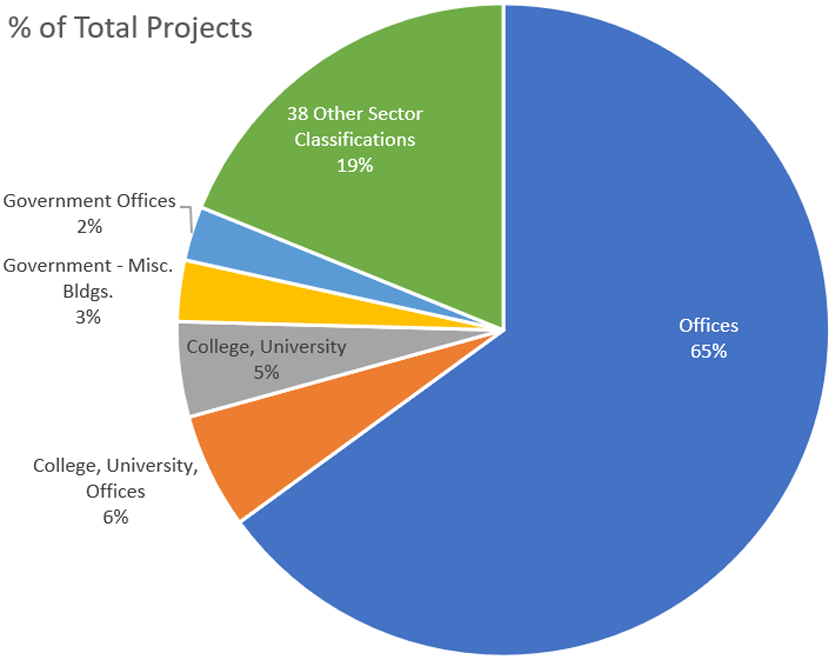 Most of the 297 projects are classified as "offices" and this sector includes Facebook, Amazon, etc. Universities and Colleges would be next (a distant next with only 6%) This sector includes the RFQ Design – High Performance Computing Data Center at Mississippi State University. As far as we know, this project is still in motion. You can access the RFQ here.
COVID-19 caused most of these projects to be fluid in terms of construction development, so the only way to navigate them is through a coordinated attack plan that involves communicating with the key players on a regular basis: architects, owners, designers, developers.
Your strategy as a manufacturer should include these people in a continuity campaign. If you are one of the value-chain participants – the architects for example – you would target the developers and owners for the work. Likewise, a mechanical engineering firm would target the general contractor or the owner. The point is, these targets exist for you to pursue.
If you Google the words "should you sell to an individual or a group" you will see on page one of the Google results a useful article that discusses such a continuity strategy. It points this out: "Unless you aim at the decision maker first and PERSONALIZE your contact strategy (not automate it), you waste time." So the key is to identify the decision maker, and then target that person and everyone around that person!
The remainder of this report will provide you possible targets to aim at for your strategy development. For more information, simply contact the AIM research director, Patty Fleider at patty@a-i-m.com.
Targeting Architects
There are 67 architects who handle data centers (and remember, many architects have not be named yet for planning-stage projects) in our dataset of 297 projects. You can look at these architectural companies in two ways: those who have the most projects, and those with the highest valued projects. The groups are often not the same.
Then still, keep in mind that the architectural firm is working on MORE than what is among the 297 data center set of projects in our study. Sheehan Nagle Hartray Architects, (SNH) for example, has several (but not all) Facebook data center projects, as Facebook has internal architects working on them as well.
SNH is working on the $5 million Country Club Drive Data Center in Itasca, Illinois for the owner, Bridge Development Partners, a real estate operating and investment company.
Volume of Projects: Leading Architectural Firms
| ARCHITECTS | PROJECTS | VALUATION |
| --- | --- | --- |
| Sheehan Nagle Hartray Architects | 6 | $440,200,000 |
| Corgan Associates | 5 | $645,000,000 |
| DCM Designs | 2 | $1,060,000,000 |
| Pope Architects | 2 | $1,922,000 |
These are the top four architectural firms in terms of volume of projects. SNH Architects is working on the following:
Facebook – 9th Data Center Building / Prineville
Facebook Fort Worth Data Center
McLaren Data Center
Microsoft Data Centers Phase 1A / Leesburg
Vantage Data Centers McLaren Expansion
Value of Projects: Leading Architectural Firms
| ARCHITECTS | PROJECTS | VALUATION |
| --- | --- | --- |
| Page Southerland Page / Austin | 1 |  $2,000,000,000 |
| Jacobs Engineering Group Inc – Portland Office | 1 |  $2,000,000,000 |
| TA Associates Realty | 1 |  $1,800,000,000 |
| DCM Designs | 2 |  $1,060,000,000 |
These are the top four architecture firms in terms of the project valuation. The Page Southerland Page firm has a single large project: Microsoft DM4 Data Center / Project Osmium. Jacobs has Niobrara Data Center Energy Park.
The question always becomes: What is your strategy for approaching these firms in terms of your own marketing? Here are just a couple of ideas:
Examine your own products/services in terms of data center needs, and then target the architects with why they should specify your company.
Create a panel of experts on using your products/services in data centers, and then create an "event," inviting architects to attend and ask questions.
Create a series of case histories on your products/services in data centers for your website.
For example, many specification contain "basis of design" wording for your products and services. How many are you a part of in the world of data centers? How many are you competitors? Such a specification study
Our company produces reports called "Snapshots" that study these problems. In How often do you include the "basis of design" language when specifying a particular brand of product, the report said that Approximately half of architects'/designers' specifications include "basis of design" language when specifying commercial products. You can request the report here. But the highest reason is "client request" for including such language, so the question you have to ask yourself is: do you think the owner of a data center is going to be telling the value chain participants what product he or she wants in there? Of course, you know the answer, and then you also know what to do: work the owners as well.
There are plenty of other tactics to pursue in a continuity strategy. If you want more information, including contact information, contact: the AIM research director, Patty Fleider at patty@a-i-m.com.
Targeting Owners
There are 204 owners who operate these data centers in our dataset of 297 projects. Like other segments, you can look at these types of companies in two ways: those with the most projects and those with the highest valued projects.
DC Blox is the company with the highest number of data center projects, but their valuation is dwarfed by the higher profiled companies like Microsoft and Facebook. Their 18 data centers on average are valued at $15M each. Whereas an Apple Data center is valued at $776M or a Microsoft one at $331M. Their owner strategies are obviously different, but since there are 204 owners in our data set, with average valuations ranging from $30,000 to $2B, there is no shortage of targets to aim at with product strategies.
Volume of Projects: Leading Owner Firms
| OWNERS | PROJECTS | VALUATION |
| --- | --- | --- |
| DC BLOX | 18 | $280,000,000 |
| Microsoft Corp. | 11 | $3,638,072,000 |
| Facebook Inc. – Corporate Headquarters | 9 | $5,007,812,000 |
| Google Inc. – Mountain View | 5 | $2,885,000,000 |
Value of Projects: Leading Owner Firms
| OWNERS | PROJECTS | VALUATION |
| --- | --- | --- |
| Facebook Inc. – Corporate Headquarters | 9 |  $5,007,812,000 |
| Microsoft Corp. | 11 |  $3,638,072,000 |
| Google Inc. – Mountain View | 5 |  $2,885,000,000 |
| North Colorado Medical Center | 1 |  $2,000,000,000 |
University of Washington – Capital Projects Office is the median of the 204 owners ranked highest to lowest in terms of number of projects average values of the data centers. Their project is the UW Medical Center, IT EDS Office Space Interior Renovation of the data center.
This project ,valued at $744,000, is for the renovation of an existing data center facility with a wide range of "wants" that include demolition of selective existing partitions, adding new partitions and drywall, a new suspended acoustical ceiling, hollow metal and wood doors, new hardware; new Nora tile flooring, new resilient base, prep and paint all new and existing walls, lighting and much more.
In other words, it's a viable, exciting target in data centers! The architect is Buffalo Design and bids were open as of June 22, 2021. You can find the project manual here, all 630 pages of it!
But, the real point is that each one of these owners can be researched and contacted to get in on the work!
For example, in certain cases (i.e., data centers) the general contractor may assume a more powerful role in the facility's construction than in a typical process. The owner delegates to the general contractor that responsibility for the facility, in which case what the contractors says goes. Therefore, it is important to target these special firms as well!
The question always becomes: What is your strategy for approaching these owners and gaining some or all of their business? If you want more information on these owners, including contact information and strategy help, contact: the AIM research director, Patty Fleider at patty@a-i-m.com.
Targeting General Contractors
There are 36 general contractors who handle data centers (some not yet named) in our dataset of 297 projects. Like architects, you can look at these types of companies in two ways: those with the most projects and those with the highest valued projects.
And like architects, the contractor firm is working on MORE than what is among the 297 data center set of projects in our study.
DPR Construction, for example, occupies the top two spots in terms of number of projects (their total is six in our dataset counting all their separate offices). Their website tells you why: "DPR consistently ranks among the top five mission critical facility builders in the country." They tell visitors that since 1990 when founded, they have completed over 857 data centers. But, they are not alone: HITT Contracting holds the other top four slots in terms of volume of projects.
HITT for example has the Microsft DM4 Data Center in West Des Moines, Iowa. This is a $2B estimated project for a data center facility on 42 acres. According to sources, Microsoft has invested between $3 billion and $5 billion since 2010 in that area. Other sources indicated that the company uses 35 weighted criteria to evaluate construction of data centers, including close proximity to customers, an ample and reliable power source and fiber optic networks, a large pool of skilled labor, and affordable energy rates to determine the long-term viability of each site.
Volume of Projects: Leading General Contractor Firms
| GENERAL CONTRACTORS | PROJECTS | VALUATION |
| --- | --- | --- |
| HITT Contracting – Corporate Headquarters | 2 | $2,070,000,000 |
| M.A. Mortenson Co. | 2 | $1,600,000,000 |
| DPR Construction | 1 | $800,000,000 |
| Holder Construction Co. – Phoenix | 1 | $350,000,000 |
Value of Projects: Leading General Contractor Firms
| GENERAL CONTRACTORS | PROJECTS | VALUATION |
| --- | --- | --- |
| DPR Construction Inc. – San Jose | 3 |  $162,847,000 |
| DPR Construction / Dallas | 2 |  $224,812,000 |
| HITT Contracting – Corporate Headquarters | 2 |  $2,070,000,000 |
| HITT Contracting Inc. | 2 |  $38,900,000 |
The question always becomes: What is your strategy for approaching these firms in terms of marketing? If you want more information on these general contractors, including contact information, contact: the AIM research director, Patty Fleider at patty@a-i-m.com.
A Final Word
AIM has many more opportunities for you to explore to help you develop a successful strategy for penetrating  data center decision makers and influencers.  Other professionals to target include developers, tenants, structural engineers, mechanical and electrical engineers, plumbing engineers, fire protection engineers, HVAC contractor and engineers, and more.
As the new construction and renovation of data centers continues to build over the next several years. let us help you try to satisfy this insatiable market of data centers today! Contact the AIM research director, Patty Fleider at patty@a-i-m.com or call Jim Nowakowski, President, at 847-358-8558. We're looking forward to the conversations!
For example, projects are in continual motion. Just recently, one of the architects mentioned in this report was added to another major data center project –a 472,920-square-foot, four-story above grade data center facility; 51,000-square-foot, six-story above grade office development; and 36,520-square-foot warehouse / distribution facility. Five new data center projects were also identified, including Microsoft's San Antonio, Texas 60,000-square-foot facility. If you'd like to receive information on such data center work, or need to penetrate these projects with your sales and marketing, Contact the AIM research director, Patty Fleider at patty@a-i-m.com or call Jim Nowakowski, President, at 847-358-8558. We're here to help!
____________________________________________________________
[1] Office of Energy Efficiency & Renewable Energy: 10 Facts to Know About Data Centers.
[2] The US Chamber of Commerce has a 2017 20-page report called Data Centers: Jobs and Opportunities in Communities Nationwide, which offers a terrific overview. Dmdatabases.com shows a nice chart listing 18.204,679 businesses in the US. You can and should assume each is using some type of data center, whether someone else's or their own. Any way you count it, you can see why data is insatiable.
[3] Data center cost index 2020, Turner & Townsend. This company has 111 offices around the globe that offer advice to companies about real estate, infrastructure and natural resources – the stuff of construction. Their data center section of their website is worth your time, where they aptly note: "The data center is now a recognized real estate asset type and there is no shortage of investment funds looking to capitalize on the market conditions. End-user spending on global data center infrastructure is projected to reach $200bn in 2021." In its fourth year, their data center cost index is the construction industry's only cost index specified to data centers.
[4] There will always be controversy around these facilities and where they are built. Often, it becomes an energy play, since they need blocks of power to run properly. According to Energy Innovation, on average servers and cooling systems in data centers account for the greatest shares of direct electricity use, followed by storage drives and network devices. The US DOE says that some of the world's largest data centers can each contain many tens of thousands of IT devices and require more than 100 megawatts (MW) of power capacity—enough to power around 80,000 US households. The IEA has an excellent report here on data centers and transmission. It points out that: "Data networks consumed around 250 TWh in 2019 or about 1% of global electricity use, with mobile networks accounting for two-thirds."
[5] "People Are Returning to Restaurants, Stores and Hotels. But Not Yet the Office" by Peter Grant.
[6] In addition, let's not forget bitcoins' affect the data center industry. According to Alex Carroll in "The Impact of Bitcoin Mining on Data Centers," the data centers to support this activity require specialized high performance hardware. "Along with the demand for this kind of specialized hardware, the growing demand for data centers to equip and to handle cooling of this kind of heat generating hardware is increasing," he said. "Specialized data centers use immersion cooling, which is a liquid cooling technique for high density hardware."  Other sources report that the record-breaking surge in Bitcoin price at the start of 2021 may result in network consuming as much energy as all data centers globally, with an associated carbon footprint matching London's footprint size.
[7] "How Intelligent is your Floor," by Robert Nieminen, BUILDINGS magazine.
[8] I remember doing a case study for the ASIC (American Institute of Steel Construction on a project on secure buildings as part of the ON STEEL series were doing at the time. The structural engineer we interviewed was building a Command Center (this was after 9/11) for the government, and the RFP (which we couldn't see and he wouldn't share) called for concrete in the structure. Our interview involved why they switched to steel, and it made terrific copy, though we never saw the plans. You can bet at the heart of the facility was a datacenter.
[9] Based on ConstructConnect database in July, 2021.