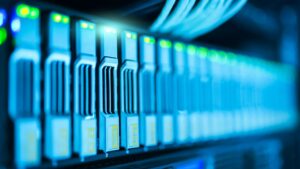 DATA CENTERS UPDATE 3.17.2023
Since March 14, 2023, 11 data center projects have been experiencing movement. These projects are valued at $1.1B.
They are spread all over the country: two in Virginia, two in Texas and one each in California, Colorado, Kansas, Kentucky, Minnesota, Nevada and North Carolina. So there is no shortage of targets for you to aim at.
As you are aware, data centers often "hide" in other types of facilities, and these 11 are no exception. "Offices" is the primary category where you'll find this work happening.
Aligned Data Centers for example provide Scale Data Centers and Powered Shell / Build-to-Scale solutions with adaptive infrastructure and industry-leading cooling technology according to their website. They say they build energy-efficient, sustainable campuses and data centers that support massive scale, anywhere in the world. This datacenter in Plano Texas is a 226,610-square-foot facility. As of March 15 2023, the permit is in review. A general contractor has been selected: Turner Construction – Dallas Office, 10100 N Central Expy,Suite 600,Dallas,TX,75231. (214)-721-8400.
But not all projects are large. One, for example, in Erlanger Kentucky is a renovation of a data center facility that includes the partial renovation with selective demolition, structural steel, typical interior finishes, mechanical, electrical, fire protection upgrades and technology systems. So targeting is a mixed bag, but worthwhile nonetheless.
Of the 11, Amazon had one in Fauquier, Virginia, and Microsoft had one in Bexar Texas. But neither is the largest project, which goes to Luck Stone Cochran Mill Data Center. Luck Stone is the nation's largest family owned and operated producer of crushed stone, sand and gravel. This data center is in Ashburn, Virginia — a 2,500,000-square-foot data center facility. As of March 2023, the Luck Stone announced plans for the rezoning. No architect has been determined yet, or a contractor, and the timeline is still being worked on. So, now is the time to begin the conversation!
Anthony Venafro is the Land Development, Real Estate and Entitlements Director for Luck Stone, and Charlie Windle is Vice President for the company.
Architects to start your dialogue with include the following:
Owners:
Aligned Adaptive Data Centers
Amazon
California Department of Transportation – Division of Procurement and Contracts
Gaston County
Luck Stone Corporation
Microsoft Corp.
Minneapolis Public Schools (MPS) – Facilities Department
Northern Kentucky Water District
U.S. Department of Veterans Affairs – VA Program Contracting Activities Central (VA-PCAC)
UNLV – Purchasing Department
US Department of Veterans Affairs – National Energy Business Center"
If you'd like more information on creating dialogues with these or other companies, give us a call at 847-358-8558. Thank you.
Contact: Jim Nowakowski, President, jnowak@a-i-m.com