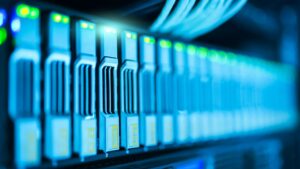 DATA CENTERS UPDATE 3.26.2023
Since March 21, 2023, 16 data center projects have been experiencing movement. These projects are valued at $3.6B.
Besides the smaller upgrades and maintenance, some of the main projects we found this past week included the following of interest.
Another Amazon data center in Leesburg is showing activity. Gensler out of Denver is the architect.  The project data center is actually an office development in the planning stages, and the application was  approved by the Loudon Planning commission. You'll note that there are many data centers being built in this area.
The Northern Kentucky Water District has a data center  renovation going on in Erlanger. This work includes the partial renovation with structural steel, interior finishing, and the MEP as well as fire protection upgrades. The architect is CT Consultants and bidding is in progress. Valuation is around $90K.
There is a new Cologix $61M data center in Columbus Ohio. This is a 287,000-square-foot, two-story above grade data center facility. Cologix, headquartered in Denver, Colorado, is North America's leading network-neutral interconnection and hyperscale edge data center company with a carrier-dense ecosystem of 700+ networks, 350+ cloud service providers and 30+ onramps across its platform. The General Contractor is Hunt Builders Corporation.
DC BLOX is another builder of databases, providing tier III data centers, a robust connectivity ecosystem, and dark fiber solutions to businesses in growing markets.  This $15M data center is going up in New Orleans and is part of the company's $187M Southeast data center expansion. Pick your target on the Leadership page of the company's website.
Renovation is going on one of the US Department of Veterans Affairs facilities in Oklahoma City, VA Medical Center (about $1M). They are going to award a single firm fixed price for this work (design bid build). One of the things about these government project is they give you very specific requests for what they want done! Gregory Parker, Jr. can help you scope it out (gregory.parkerjr@va.gov.).
H5 Data Centers is one of the leading data center operators in the United States with over 3 million square feet of data center space under management. The company designs and engineers flexible and scalable data center solutions to address the core infrastructure and edge requirements of its customers. In Ashburn, VA, the company has one of these new datacenters valued at $46M going up. Josh Simms (josh@H5datacenters.com) is the company's contact on the project, but as always, we encourage you to examine their website for additional targets.
Prince William County's Planning Commission recommended approval Wednesday of a plan (Hunter Property Data Center) to rezone 196 acres to allow a proposed data center campus on a site once slated for a 1,000-home development known as "Stonehaven." But the owner is still a mystery. Clayton Tock the Civil Engineer from Urban Ltd. is the only contact we have. ctock@urban-ltd.com.
Microsoft has another data center going up in Malaga, WA valued at $160M. The scope is for a 750,000-square-foot data center facility ion a few phases.  Construction expected to start fourth quarter 2023 and complete fourth quarter 2025. 425-882-8080 is Microsoft's number.
There is a$25M  data center project for the Navy going up in San Miguel, CA.  Matthew Webb (matthew.m.webb@usace.army.mil)  is the contact, but there's not a lot of information yet about the project. While it's a government job, and there are details, nothing is going on just yet, so this would be the time to explore your options. You can also get started here: https://www.nrl.navy.mil/Doing-Business/Contracts/Solicitations/.
The Telos Data Center is a $43M project in Ashburn, VA. The company offers advanced technology solutions that empower and protect the world's most security-conscious enterprises. They are looking at a 180,000-square-foot, one-story above grade data center facility, but no value chain participants have been announced. Marc Solomon from Finmarc Managemernt is the developer. Finmarc provides management services for retail and hotel properties.
Here are the owners of data centers discussed in this reports thus far (bold are the new ones added this time):
Aligned Adaptive Data Centers
Amazon Data Center – H&M Property / Leesburg
California Department of Transportation – Division of Procurement and Contracts
Central Facility Data Center Renovation Project
Cologix COL4 Data Center
Compass Data Center Campus At PW Digital Gateway
DC Blox Data Center / New Orleans
EHRM Infrastructure Upgrades Data Center at the Oklahoma City VA Medical Center
Facebook / Meta
FY 2023 E-Rate Data Center at DeAnza High School
Gaston County
Greenville County – Procurement Services Division
H5 Data Center – Loudoun County
Hunter Property Data Center
Luck Stone Corporation
Microsoft Corp.
Microsoft Data Center / Malaga
Minneapolis Public Schools (MPS) – Facilities Department
Northern Kentucky Water District
RFQ Contractor – Camp Roberts Naval Research Laboratory Data Center
SMS: Data Center Uninterruptible Power Supply and HVAC Services
U.S. Department of Veterans Affairs – VA Program Contracting Activities Central (VA-PCAC)
UNLV – Purchasing Department
US Department of Veterans Affairs – National Energy Business Center
If you'd like more information on creating dialogues with these or other companies, or information on any other market other than data centers, give us a call at 847-358-8558. Thank you.
Contact: Jim Nowakowski, President, jnowak@a-i-m.com