Findings from the Comprehensive Interviews of Attendees at the 2011 KBIS* Show
Introduction
Interline Creative Group, Inc., a full-service marketing organization, exhibited at the 2011 KBIS show for the second year. Our intention was to gather information useful to our clients – and to us. We commissioned Accountability Information Management, Inc. (AIM) once again and conducted over 100 interviews with designers, architects, showroom consultants and others. We asked some of the same open-ended questions as 2010. Attendees were asked to provide information on how they find, select and evaluate products. We asked for their candid response to what they thought manufacturers could do better.
We then compiled and standardized the results into this report. Where questions were the same with the 2010 survey, we were able to provide a comparison for this report. Our goal this year, however, was to continue to take a "pulse" of the design market, so we can help our clients stay abreast of what shifts or changes may be occurring in the market.
This year, for example, we asked three simple questions:
Why do you select one brand over another?
In your opinion, what do manufacturers need to do better?
What is the best way for manufacturers to communicate with you?
Our goal was to extend the interview around these three questions rather than ask additional questions as in 2010, and we were rewarded by comprehensive, qualitative feedback.
We hope you find the report useful for your own marketing purposes. If we can answer any questions after you have reviewed it, please call Jim Nowakowski, President, at 847-358-4848. Thank you very much.
Overview of Design Professionals
As in 2010, professionals interviewed in 2011 came from all different types of companies and from "senior" levels of their organization. Throughout the show, AIM heard consistently that due to the problems with the economy and general market slowdown, companies were working on re-inventing themselves. "Re- invention" often meant "doing a little of everything – design to construction" or "picking up jobs when and where we can."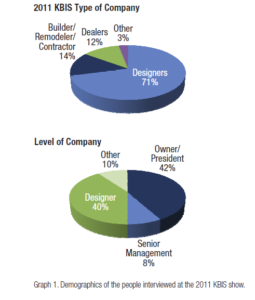 For example, one interview with a designer from Las Vegas, an area of the country particularly devastated by the economy, explained that she had "lost momentum" back in 2008. She had worked for a furniture retailer (a large one) that had gone out of business. After trying a number of avenues that didn't produce, she began recently going to retailers in her territory offering to "partner" with them, and then reward them for referrals they sent her way as part of her "re- invention." When we asked, "How did the retailer react to that?" the designer said, "They were quite excited." Retailers, like designers, are being forced to find new ways to conduct business in such an economy themselves!
In addition to "re-invention," 33% of those interviewed were involved with the selection of all products, and 45% were involved with kitchen and bath products. About one-third (31%) of those interviewed were also involved with all levels of product selection – from specification to installation. While the majority (84%) indicated that they recommend or select products, 61% of those interviewed also indicated that they purchase products.
As far as annual retail sales are concerned, the analysis, from those interviewed this year, indicated that professionals doing a small volume of annual sales experienced at least some growth since last year (see Annual Retail Sales Volume Table 2). Likewise, the companies experiencing larger sales volumes saw a bump in their sales. The "middle," however, suffered a decline.
For a discussion on this point, please see "The Golden Mean Might Not Be So Golden" section.
Other demographic data from our survey indicates that 95% of respondents are involved in residential properties, and 69% work on over 10 kitchens a year. The information within this report will be reflective of those who, in fact, "play" in the market – the bigger players, as well as the smaller start-ups or entrepreneurs, who are all looking for new products. Complete demographics from the survey can be found in the Appendix.
Brand Selection: Why is one brand selected over another?
It is not surprising that design professionals want more…more quality, more functionality, more aesthetics all with LESS cost. And when compared to 2010, designers continue to push product manufacturers to achieve the primary reasons they pick one brand over another: the highest quality at the "best price."
Although respondents had many reasons why they select one brand over another, quality continued to be at the top of the list in this year's survey. As a group, while there were over 40 different reasons why design professionals selected one brand over the next, quality remains on top! As one designer put it: "Quality is #1.  I want repeat clients not unhappy ones." Another designer indicated, "We usually choose the brand that is best for our situation and we always keep quality in mind. Our clients are depending on us."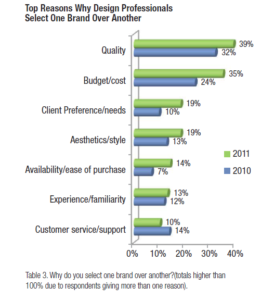 What Defines Quality?
Defining how a designer measures quality is difficult. One professional indicated that quality is the brand name, the "feel" of the product, the finish and the details. For others it could be how the product is manufactured and what materials a product is made from. Still others defined quality as longevity, strong warranty and support/services from the manufacturer. In the end, design professionals want products that work and don't cause them to worry. The more familiar a design professional is with a product, the more likely he or she will be to use it. "Quality – is my knowledge (I know what works – no worries)."
For a overview on why quality is equal to brand, see the discussion "What is Brand?"
How Professionals Evaluate Quality
Fifty-seven percent of the professionals interviewed indicated that they research and test products before they recommend or purchase them. The research can come in many forms. Some designers run their own tests while others rely on input from their existing clients, showrooms or colleagues. In addition, many indicated they consult consumer and trade magazines for product reviews, or search on-line for feedback from others who have used the product. In the age of content, designers do not have a problem locating content on quality. One designer said:
"Most research is hands-on, but many times I also rely on recommendations from showroom personnel or talk with my clients after a project is complete to find out how they feel about the products they selected. There are some products we have to test. For example, we definitely test new hinge and drawer slide choices."
More detailed conversations with the designers revealed that many professionals like to see and touch a product in order to determine its quality. With so many "cheap" imitations and lots of imported product, it is hard to tell the quality of a product by a picture on the Internet or brochure, according to this audience.
Other Factors Important to Brand Selection
Once product quality is confirmed, the design professional will first consider their client's preference or needs when selecting one brand over another. In fact 86% of the professionals surveyed indicated their client had a level of influence on projects. This influence stems from their meeting with the client and reviewing what the existing space and furnishings have to offer. The designers consider how the client lives and what the client likes or dislikes in selecting a brand once quality has been determined ("Each project is focused on my client's needs. From there we need to decide what type of investment they want to make in order to meet those needs. And then I add my expertise and research to make the best investment for the solution.").
Given the client's goals, design professionals tend to look for exciting new products that can give their designs a new or bold look. The designers follow trends and will try to recommend new products that meet their client's needs in relationship to those trends.  As one designer indicated, "I look for products that are not only functional but fun!" Another said: "Aesthetics is a big part of it – what will integrate easily into a design and enhance it. And of course, word-of-mouth about what works and what doesn't."
Based on comments and interviews with these design professionals, manufacturers have a clear way to differentiate their product: through availability and service. These two characteristics (which have been repeatedly brought out in other surveys we have conducted as potentially high-value differentiators) are two of the clear ways for a manufacturer to position favorably against competition. The formula is simple: make it easy for professionals to see and buy a product, and they will more likely buy or recommend it. In addition, the more accessible a manufacturer makes themselves to designers for questions or to resolve issues, the stronger the relationship they will develop to the product. Thirteen percent of those surveyed indicated they select a brand simply because they have experience or are more familiar with the brand. Once they have the relationship, it is hard to break it ("Familiarity, good experience, hard to get out of rut.").
Manufacturers: What can they do better?
When asked what manufacturers could do better, 25% indicated they would like to see improvements in customer service and support. Some designers told us that manufacturers don't seem to care about designers. In fact, at the KBIS show itself, designers indicated that at some manufacturer booths, representatives would not stop their conversations with colleagues to talk with them.  Others indicated the people they had at the show within the manufacturer booths themselves were not very knowledgeable about their products. In their minds, this demonstrated a lack of support for the designer. As one designer simply put it, "They do not listen to our needs."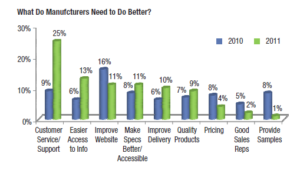 An indication that manufacturers' customer service is slipping (thereby creating a point of differentiation if you can improve it) is that more designers indicated there was a need for improving customer service since our 2010 research at KBIS – up from 9% to 25%. Not only do designers expect support from a manufacturer's website, but many want a live person to talk with about their issues. Several indicated they want someone who can answer specific questions. Often, it is hard to reach someone or get anyone to return a phone call, as one said: "Communicate. Once I know who to speak to it really helps. Sometimes websites are enough, other times not. I need telephone access  to  reliable  support  – not just someone who will read me a manual I already have."
In addition to improving the customer support or service, design professionals would like to have better and more detailed information. Oddly, it is often difficult for professionals to find the information they need to make decisions on a manufacturer's product. Therefore, as part of the "service" component, it is critical for product manufacturers to keep designers informed.
There are so many ways today for manufacturers to get their product and company information out – websites, advertising, email or even social media like Facebook and Twitter – that finding the frustration of the designers was quite revealing. There is no one channel in which to provide the information, which actually needs be available in many places. It seems there is information there, but it is not what designers say they need (the details). Or is it they do not know "where" to look?
See the discussion on "The Age of Content."
The easier it is for professionals to find the specific product information they are looking for, the more likely they will be try or use the product. Consider the following comment: "Websites need to be easy to navigate and designer programs and specifications of product easy to locate. The websites should be kept up to date and provide complete design details and information. I need to know specific dimensions and details of products to incorporate them into my drawings. Make the specific  model  and info easy to find."
Several designers indicated that they had trouble getting detailed information – especially clear specifications. Product specifications need to be "concise," complete and easy to understand. Consistency is also important to designers – consistent products as well as consistent service, support and information. It is frustrating when products or information change, as evidenced by this comment: "Consistency in everything!  Products, service, specs and support. Explain their products better – details, specs for designers need to be more consistent and show everything. Don't keep changing them. Standardize."
Some of the detailed conversations with the design professionals indicated that they would also like manufacturers to do better and more research/development of their products before they are released to the public. They do not like when manufacturers use "the market" as a way to test products.
The idea of bringing out products prematurely ultimately causes designers issues with their clients and leaves them with a bad impression of the manufacturer – one not easily erased. If manufacturers want help with developing products, designers actually said they should "ask the designer professionals for input." Manufacturers need to think outside of the box – something design professionals are good at. One designer put it this way: "Better Support and R & D; don't use public for R & D. We need better product evaluations. Some manufacturers need to think outside the box a bit more when it comes to new products."
As discussed previously, product availability and timely delivery are important to design professionals. According to this research, manufacturers could still do better. The market needs product when they need it – as opposed to when the manufacturer wants to deliver it. Designers want faster turn-around on products and also want to be kept informed on deliveries. Some designers requested manufacturers make product "literature" more available too. While they can go to a website for literature, it is not a great way to showcase the product with their clients. Literature needs to be kept up-to-date and readily available ("Want quality products and quick turn-around times. Need updates on drops too.").
Communication: What is the Best Way for Companies to Communicate?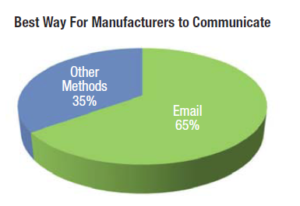 The majority or 65% of the design professionals said one of the best ways to communicate with them was through e-mail. Although e- mail came up most often, designers were quick to indicate that they typically use more than one communication vehicle. In fact, there were more than 22 different communication preferences mentioned – from cell phone contact to a mailed postcard. Designers want to get information – but again, the "right" information according to their needs. This is another indication that despite the glut of information, the market is starving for it from manufacturers.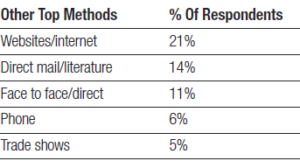 We're reminded of Samuel Taylor Coleridge, an English poet, and one of his best poems The Rime of the Ancient Mariner about a ship floating aimlessly without wind on the sea day after day after day.  It had these lines in it:
"Water, water, everywhere, And all the boards did shrink; Water, water, everywhere, Nor any drop to drink."
Information is the water: it's everywhere, but really, we can't seem to "drink" it because it's not the right kind of water!
Many designers still actively use the Internet and websites for communication – 67% indicated they go direct to a manufacturer's website or to their reps for information. They go to websites for new postings and to get basic product information. Despite all the electronic communications available, however, some designers (14%) still "prefer" to get a letter or brochure in the mail and 6% indicated they like to get phone calls. It was interesting that 3% indicated they would prefer to communicate using their cell phone – a trend that is definitely on the uptick. With society's increased use of "smart phones," it will be interesting to see if this number climbs in future research. One designer explained it like this: "I like e-mails with links, but not too often. A postcard probably gets my attention more." Another said, "We are available for sales reps to call on us. We also read our e-mails and are active on Twitter."
Although most design professionals prefer e-mail to communicate with manufacturers, many use other forms of media for product information or for inspiration in their design. In fact, more design professionals indicated they use magazines for inspiration on their projects than in 2010 – from 57% in 2010 to 76% today. That is a significant increase. In addition, 48% indicated they still use magazines for product information. Several professionals still like to use product catalogs and many enjoy meeting with manufacturer's reps or their suppliers face-to-face. Consider the following:
"I like to sit down at a table with my client and be able to have samples on hand, or excellent catalogs we can look at together. I would tell the manufacturer: keep me updated via e-mail or new catalogs."
Clearly design professionals are starting to use social media to get product information and to stay connected to other professional, though only a minority of designers specifically indicated they use Twitter or LinkedIn or other "hubs" like TODL (Trade Only Design Library) for product information. TODL was a source not mentioned in the 2010 KBIS research because it was created this past year.
To explore more on the topic of communication, see our discussion, "Changing Channels."
Conclusions
The conversations we had with the designers at the show were extraordinary. The interviews produced invaluable information – information that can help manufacturers market more successfully to the design community.
One thing is certain: design professionals want and need to  stay connected with manufacturers. When was the last time a member of your senior marketing team actually sat down with a designer to find out what they need or want from product manufacturers – not as "Mr. Manufacturer" but blindly representing a manufacturer who wants to find out how to improve their products and customer service? This kind of "undercover" work is very revealing. In fact, point of view in communication is perhaps the most important thing in gauging the relevance of the information.
For this research, designers were talking to a third-party research company – someone who was genuinely interested in listening to them and their needs. When designers speak to a manufacturer's rep, they speak to someone who "reps" the manufacturer – NOT actually the manufacturer. Think about your own communication with someone in your personal circle. Your tone, what you say, is very different than when talking with a stranger. And therefore, the resulting communication – what that person hears and uses to make judgments – is different. In other words, point of view is everything, and it is based on the perception you have of the person you are talking to.
For example, do you believe a designer will talk to you the same way they will talk to their clients? Your reps? An architect? "Who" you are talking to has as much to do with who is doing the talking. If a designer knows you are a manufacturer, they will speak to you in a specific way. But if you are "in disguise" – they don't know who you really are, you will hear things about you "as the manufacturer" which may or may not agree with your own self perceptions. This is what we call our concept of "going to market in disguise" in order to obtain the truth, and it works like magic.
For some more ideas on the this, see our discussion The Thesis of Disguise.
Design professionals are an excellent resource for manufacturers – product ideas, market trends, service issues, communication concerns – they have the knowledge manufacturers need to grow their business. As one designer simply put it, "Manufacturers need to keep in touch with designers". The information in this report provides just a glimpse of how product manufacturers can do just that.
Our business is exploring the sales and marketing process, and this report represents an exploration of the KBIS audience – one that was thoughtful, rewarding, and one in which we hope you found value. If you have topics or areas you would like to explore further, please contact us at: 847-358-4848. Ask to talk to Jim Nowakowski, President. Thank you for your time and your attention.  For information on anything cited in this report, please contact us as well.
Discussion. The Golden Mean Might Not Be So Golden
In many industries, during an economy such as we are experiencing, the middle seems to always suffer most, not only personally, but in business. Smaller companies, being more agile, can reconfigure themselves faster to "steal" projects. From whom do they take? The middle! Likewise, larger volume firms have enough "bulk" to slash pricing and steal projects to "keep the workers working." From whom do they steal? Again, the middle! The mid-size volume companies are not small enough to re- configure themselves, and not larger enough to combat such tactics such as a price war. In the end, they collapse.1 Indeed, this is probably one of the few situations where Aristotle's "golden mean" theory goes out the window. The golden mean was the desirable middle between two extremes – one of excess and the other of deficiency. Too much, or too little of something, was no good according to this Greek philosopher. This "middle" concept is also found in Chinese philosophy (Doctrine of the Mean) and Buddhist philosophy (the middle way). So one conclusion we can draw is that if you're a mid-volume company, act smaller or bigger than you are!
Since it is easier to act smaller than bigger, the situation has actually spawned an entire industry of consultants around this financial uncertainty. These consultants offer what they call key agility indicators (KAIs) – measurable factors that they say companies need in order to quickly adapt to changing business conditions and new waves of regulation. They conduct "agility assessments" and charge lots of money to help you accelerate KAI definition and implementation in your organization.
Here's the bad news: no one has the answers. In fact, there is not one easy solution to becoming more agile because there is no clear definition of agility itself, much less the factors surrounding it. In this case, Aristotle's insistence on defining your terms, if communication is to take place, stands up; people simply can't agree on what "agility" means. Does it mean being able to change accounting methods quickly? Change a rep force quickly? Move your operation on a moment's notice? Perhaps it means all of these things, but the point in our interviews with designers was such agility, or flexibility, is much more prevalent than in the past, and that smaller companies can exhibit this trait more than mid-size or larger companies.
So what is agility? Dictionaries offer two definitions: the power of moving quickly and easily; nimbleness, and the ability to think and draw conclusions quickly. Notice immediately, it has nothing to do with "change," though change is implied in the act of moving quickly and easily.
It is not a coincidence that Navy SEALs place a premium on brute strength, but an even bigger premium on speed. In his great book Lone Survivor: The Eyewitness Account of Operation Redwing and the Lost Heroes of SEAL Team 10, Marcus Luttrell with Patrick Robinson weaves a story as the only survivor of Operation Redwing and the extraordinary firefight that led to the largest loss of life in American Navy SEAL history. It is an inspiring story, but it also contains tremendous information and, perhaps, all you need to know about agility. Indeed, SEALs exude that, and the philosophy contained within Luttrell's story can save you a lot of money with consultants.
For example, "I'll outwork anyone. I'll just go on and on until the dust clears. Then I'm usually the only one left standing." You can call that steadfastness, but that demonstrates agility in the sense that if you are the only one left standing, you would have had to have been agile enough to overcome many obstacles and challenges.
The designers we spoke with are doing that – at the manufacturers' expense. You will see in this report a common thing: if you don't help them and their clients, they will desert you for another manufacturer. Therefore, if you intend to support designers, your agility – your ability to change to meet their needs – is paramount.
1 Interestingly, as we were going to press with this report, WSJ featured "Spotlight Shines on Midsize Firms," on Monday, October 3, 2011 by Bob Sechler. He referenced "the largest study to date on the segment (the midsize businesses)" as a segment "hugely misunderstood and under-analyzed."
Discussion. What is Brand?
One recent article pointed out that all marketing, especially advertising, works to enhance or modify brand image. But, what is "brand" in the case of a designer who says things like quality is defined by the "brand," and who specifies and recommends many "brands"? Is the manufacturer's brand what drives a sale or choice on the part of the designer, or is the designer himself/herself the brand that determines the sale? In other words, does:
Quality = Brand?
Because then, Brand is equal to Quality!
While manufacturers push their brands to designers, the designer's own brand is probably more important. Unless designers and manufacturers alike realize that, and then learn about the true meaning of how manufacturer brands work to support the designer's own brands, there's trouble.
A brand is intangible, just like you are. Who are you? Are you your work? Are you what you eat? Are you what you do? Are you the love you feel for your family? Just as the definition of "you" includes all of these things, brand is everything around your company.
The idea of branding is immortal (the Roman "Eagles" were a brand), but we like to use the analogy of branding starting in the American West, when a rancher branded his cattle with his mark (brand image). Along with being a means of finding cattle that strayed from the herd, that mark was assurance to people who bought his cattle of a specific degree of quality. Some buyers paid more money for specific brands of cattle. So while all cattle ranchers sold cattle, some ranchers obtained a premium for their beef, and it was the brand that identified one head of cattle from another. The "Lazy Y" might bring a better price per head than the "Circle W." All the buyer knew is that it wasn't just beef anymore if he bought the Lazy Y – it was confidence in the quality of the beef, assured delivery, and the commitment of the rancher himself. While you could argue about how "complex" the issue of brand is, what the buyer was really buying was the brand – not the beef.
This is what we repeatedly heard from the designers at KBIS this time: that the "ranchers" – once they sold the cattle – didn't support them. In the old days, the ranchers lived with the people to whom they sold their beef. It was easy to discuss its quality, the next purchase, etc. In fact, people whom the rancher served would often buy beef and then use it to raise themselves, thus extending the brand. The similarities to the designer-manufacturer relationship are eerie.
The manufacturer has to realize that they are the "ranchers" and designers are the people "in the towns" that recommend and purchase their brands. While designers may sell a variety of different manufacturers (beef), it's the designer's name and reputation on the door that consumers purchase; the manufacturer brand is secondary to "the design."
That's a difficult thing to admit for manufacturers. But the designer's "brand" is assurance that the products they specify offer quality and reliability, and as much as a manufacturer does to support that in the marketplace, the bulk of brand building lies in the designer's hands.
Fortunately or unfortunately, no matter what a manufacturer does to enhance or harm his brand, it's the consumer that determines its eventual success, and the designer is the one that is closest to the consumer. It's been said that if you take apart the entire organization of Coca-Cola Co. and left only its brand name, management could rebuild the company within five years because they have such a powerful "brand." However, if you remove that brand name, the company would probably die within five years. This is because over the course of the years, "Coca-Cola" has come to stand for everything about the company – the way the soft drink tastes, the way it's delivered, the way it shows up on the retail shelf. It has become something more than caramel water, and the mark placed on the soda contents is the consumers' assurance that what's inside is quality.
But a "kitchen" or a "bathroom" is living space – with intangible qualities just like Coca-Cola possesses. The designer shapes these perceptions, using the manufacturers' products. It is a complex thing, this brand/quality relationship, and a delicate thing. That's why when something goes wrong with a product, brands get shaken up. Remember the Tylenol scare years ago? America could have lost a major brand. Instead, proactive handling of the crisis helped Tylenol overcome the huge negative implications of someone changing the contents of their product. In fact, some would argue they still haven't recovered (tell that to the sales that keep happening year after year!).
So the argument about brand and quality is that they are intermixed in the minds of your target audiences, whether consumer or designer, and that the designer, perhaps more than anyone, can help shape your brand and result in leveraging your brand into the homes of consumers.
A brand is the emotional source of an organization – its very soul. People are guided and inspired by it, and that makes defining it extremely difficult, if not impossible. The only rule in figuring out brand in relationship to your products is this: Beware of concise definitions. There are none because brands, like people, are complex.
Discussion. The Age of Content
When designers told us that they need "more" information, it surprised us. This is the age of content. Never have so many people generated so much digital data or been able to lose so much of it so quickly, experts at the San Diego Supercomputer Center said in a WSJ article. "Computer users world-wide generate enough digital data every 15 minutes to fill the U.S. Library of Congress."
The fact is, Alexander Szalay, a Johns Hopkins astrophysicist, points out more technical data have been collected in the past year alone than in all previous years since science began. According to Szalay, "The data is doubling every year." Here are two stunning statistics:
There are more people who interact with information – between 1990 and 2005, more than 1 billion people worldwide entered the middle As they get richer, they become more literate, which fuels information growth. (James Cortada of IBM)
By 2013, the amount of traffic flowing over the Internet annually will reach 667 The quantity of data is growing faster than the ability of the network to carry it all. (Cisco)
When people get "swamped" by information, there are profound negative effects. One time, I walked into a national sales manager's office. He was frozen over his computer screen, his back to the door. I walked up behind him, asking, "Are you alright?" He mumbled something, glanced up with vacant eyes at me, and said, "I've got 345 e- mails in my inbox since two hours ago." He looked back, selected them all, and deleted them. "Now, let's have our meeting."
So designers say they need more information, what they are really saying is that they need more of the "right" information. That is where manufacturers have to focus. And, what is the "right" information from a designer's point of view?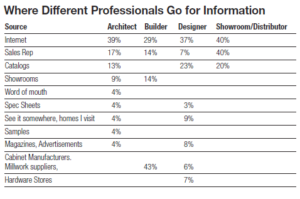 The chart (from another piece of research for an architectural hardware client we have) shows where professionals go for information, and immediately shows the strength of the Internet. Now keep in mind, this chart will change – both from a targeted survey point of view, and over time. In other words, the percentages will "shift" based on when the survey is taken, how the survey was implemented and who is the target for the survey. But what is clear is that the source s do not change:  they simply "move" over time in terms of the amount of people using that channel.  Also, this chart is for an architectural hardware client.  The chart for a plumbing client would be vastly different.  What we must understand in this age of content is that people want the information served up to them the way they want it served – not the way "we" want to serve it.
Moreover, the "type" of information is just as important as the information itself! In a comprehensive study with architects on where they go for inspiration, they listed over 250 magazines among other places like the Internet. Many of these magazines were not published in the United States!
This is why using the "senses" to reach designers is simply common sense. As designers, the "feel" of the product is as important as "the look." This is also why magazines for designers prosper in this age of declining advertising revenues or newspaper readership (just check out any recent of Vogue!).
Discussion. Changing Channels
Are you a channel surfer? Do you constantly click the remote looking for the next interesting program on television? The fact is the human "attention span" is limited. It always has been. What limits it is each individual's interest, largely, and what they are "hunting" for.
The same is true for designers on the hunt for product information, and what was clear from our research is that magazines were an important channel for them – perhaps more than manufacturers realize. But the fashion industry is well aware of the influence of magazine on brand.
A recent issue of Harper's Bazaar magazine was 450 pages. The first 100 pages carried advertising – not editorial – page after page of brands reaching out to its audience. The publisher's statement goes like this:
HARPER'S BAZAAR, a print and digital publication, is targeted to modern women who believe that fashion is a fabulous opportunity for self-expression. By featuring clothes that readers can imagine in their wardrobe, that they can see and buy, Bazaar makes fashion less remote and more welcoming. Ignoring general interest trends, Bazaar devotes its editorial solely to fashion and beauty to provide readers with a truly focused environment that is both sophisticated and accessible.
The published page rate for four-color advertising is $113,465. Even with agency discounts factored in, you're looking at a lot of money for a brand to put its wares in front of "modern women who believe fashion is an opportunity for self expression." Wait a minute: who DOESN'T believe that? We are what we eat, and we eat what we are. We wear things that express ourselves, even when we do NOT think we believe that. An executive at one of our client companies once asked us, "Did you see so- and-so's shoes? He never takes care of them." The individual he was talking about (the national sales manager) may not have known that not shining his shoes made a statement, but it did! And not just to our executive client!
Designers who seek out trends and look for something "bold" and "different" use magazines for this purpose more than the Internet. Consider the following statistics:
Magazine usage is*:
| | |
| --- | --- |
| 14% | more than the Internet |
| 17% | less than Outdoor |
| 11% | less than TV |
| 3% | more than Radio |
| 13% | more than Newspapers |
*Source: MRI Spring studies 2005 and 2009
In fact, according to the 2011/12 Magazine Media Factbook, magazine readers are the least likely of all media users to engage in other (non-media) activities while reading. When consumers read magazines, they are much less likely to engage in other media. Only 13% listen to the radio, and slightly less than one in four (21%) watch television.
Manufacturers seeking to engage and give designers what they want need to understand that, and the power of giving people what they want the way they want it.
McKinsey Quarterly in July, 2011 covered an article, "We're All Marketers Now" where Tom French, Laura LaBerge, and Paul Magill argued that engaging customers today requires commitment from the entire company – and a redefined marketing organization. They said:
"For the past decade, marketers have been adjusting to a new era of deep customer engagement. They've tacked on new functions, such as social-media management; altered processes to better integrate advertising campaigns online, on television, and in print; and added staff with Web expertise to manage the explosion of digital customer data. Yet in our experience, that's not enough. To truly engage customers for whom "push" advertising is increasingly irrelevant, companies must do more outside the confines of the traditional marketing organization. At the end of the day, customers no longer separate marketing from the product – it is the product. They don't separate marketing from their in-store or online experience – it is the experience. In the era of engagement, marketing is the company."
And the communication is the way your brand gets through.
Discussion. The Thesis of Disguise
A September, 2011 McKinsey Quarterly report titled "Top Executives need feedback – here's how they can get it" by Robert S. Kaplan sheds some light on this concept of disguise. As executives become more senior, they are less likely to receive constructive performance and strategic feedback in the workplace. Kaplan argues that they can get it by calling on their junior colleagues, thereby avoiding growing confused about development needs and becoming isolated from criticism.
But this same argument – getting feedback "for real" – can be done in the marketplace when the executive goes into the market not as himself or herself, but "in disguise." Because as executives rise on the corporate ladder, they are trapped in meetings. Many of our clients go morning to evening in meetings; rarely getting "work" done becomes a common Complaint. If this is true – and it is – how often do these same executives get into the marketplace to "hear" and "see" what's really going on? We would suspect rarely.
As Kaplan suggested to start cultivating a network of junior coaches who are willing to tell you the things you don't want to hear, we suggest you go into the marketplace as someone other than yourself – in disguise. Here's an example.
There's a scene in an old movie, A Connecticut Yankee in King Arthur's Court (actually a Mark Twain story), where King Arthur puts on some rags and goes with a couple of knights (also in rags) into the kingdom to be with his people and find out how much they love him. As they journey on the road, a bunch of other knights on horses come riding down the road, and one of Arthur's friends says, "Sire, we better move aside." King Arthur asks, "Why? I'm the King. I don't have to move for anyone." His friend tries to explain that being dressed in rags, chances are the knights won't recognize him as "the king." Reluctantly, Arthur moves over, but refuses to bow when the knights pass; instead, he glares at the knights defiantly. One knight returns, exchanges some words, and starts to beat Arthur. Luckily, Arthur's friends takes the brunt of the blows.
My company banks at several banks. Two banks know us by name. A third bank knows us only on the commercial side of their business – not at the floor/teller level. When I go in there, I am not the President of Interline Creative Group, Inc. I am a customer like any other, and get to observe the bank "in action" – how they treat customers – all customers, not just because I am the President of my company.  Guess which bank has the bulk of our funds?
One of the banks that knows us well asked once, "How come you don't want them to know who you are?" I answered, "Because then they would treat me like a business owner – not a regular customer." As an executive, you want the truth, don't you? Or, do you want to be told what you want to hear all the time?
These stories exhibit what we are trying to suggest: you have to go into the market not as your senior executiveness, but in disguise, as a "customer" (i.e. indeed, last television season spawned "Undercover Boss" around this concept). You will be surprised what you will learn!
Kaplan's conclusion is central to this thesis of disguise: "I would encourage you to overcome some initial discomfort in order to take greater ownership of getting feedback. By developing this mind-set, you will improve your ability to ask the right questions, as well as dramatically upgrade your effectiveness and the performance of your organization."
It not only works in the workplace; it works in the marketplace, and is extremely important and workable in betting through this economy.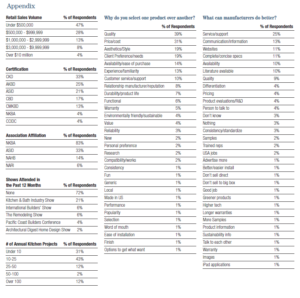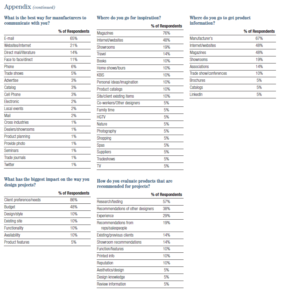 IMPORTANT: Accountability Information Management, Inc. is in the business of managing market information. In our practice, we build databases in order to extract knowledge. We research and talk extensively to individuals involved in the business-to-business industry.  We often go into detail during our conversations about not only their projects, but also their habits in terms of obtaining and using information in their jobs. This report and its contents are part of our methodology, products and services. It is copyright ©2011 by Accountability Information Management, Inc., 553 N. North Court, Palatine, Illinois 60067. This report is for the private use of the company named on the cover. Routine photocopying or electronic distribution outside of the named company and except for discussion purposes by that company is a copyright violation. Opinions expressed herein are intended to be CONFIDENTIAL. The Idea itself is the intellectual property of our company. For information on anything in this report, contact: Jim Nowakowski, 553 N. North Court, Suite 160, Palatine, Illinois 60067, tel: 847-358-4848, fax: 847-358-8089.