How to Investigate the Industrial Owner Market
This is part of a comprehensive report seeking to help industrial construction marketers create a much-needed new playbook to do just that with their brands in an ever-increasing competitive landscape. For more information, including the complete report, contact: info@a-i-m.com.  _______________________________________________________________________________________________________________________________________Breaking into an owner market is often called "key accounts" in organizations. Usually, someone is in charge of pursuing these key accounts. Perhaps it's a rep organization or an inside regional account person that is assigned this responsibility.
In all cases, getting into the corporate specification for a facility takes time – a lot of time. This is because the owner market is almost exclusively about relationships, perhaps more so than other markets we will cover in this report. Though you need a "relationship" with anyone you are targeting, these "key account" relationships take longer than others to penetrate and develop.
Also, owners often rely on team members to make specification decisions. This is true of almost every category of building, not just the industrial construction market we are examining. The owner didn't become successful making decisions in isolation; typically the owner formed a team that discusses possibilities.
If you Google "should you sell to a group or an individual," you'll see a blog post on page one discussing a key account approach methodology. The essay discussion noted a leading researcher (Forrester) who produced a white paper which turned out to be a sales pitch for their consulting services integrated into a sales management system.
There is no such system.
There is simply hard work classifying and qualifying targets.
And while there are many great books written about the pursuit of leads or the development of corporate accounts, there is none better than Elmer G. Leterman writing in his great decades-old- book "The Sale Begins When the Customer Says No."
Elmer said, "The greatest sales word I know of: Why. The confidence in yourself that comes from self-esteem but that must be balanced by a willingness to learn and a realization of how little you know, the science of convincing others of the benefits of your thinking can be learned."
Leterman recognized this important point: "A salesman must carry the discussion into the channels and paths that he desires, but in doing so he must allow the prospective buyer to feel that he is actually leading the talks. In short, the salesman is creating the emotional fabric in which belief can take place for the product to be sold."
The marketing tactics you use to penetrate an owner corporate account will vary, but your confidence must show through in all cases. The tactics you use might come about from attending an association meeting where owners gather. It might be from a local business meeting comprised of owners and other professionals. It might be LinkedIn with messages you exchange as you prospect.
In all these cases, you have to give people something to think about, not just tout the features of the product you are pitching.
You can target ANY of the 996 owners and if you combine confidence in your product and how it "fits" the owner's requirements with the right strategy, success will follow. Refer to the section in this paper titled "Tactics of Content" for further insight.
Here is one example from our list, Justus Family Farms LLC, to provide you with a playbook investigation.
Justus Family Farms LLC
We were presenting with our client-publisher to a marketing agency recently. The presentation involved reverse IP lookup code we used to generate leads. When we were explaining how to follow up on leads and the techniques involved in order to develop relationships, the agency person said in a surprised tone, "That sounds like a lot of work."
She was right. She also wasn't sure that's the path she wanted to pursue because of the work involved. Agency people like "dashboards" and quantity, and edge away from pursuing quality. This paper is about quality, and how to make go/no-go decisions as you employ the follow up tactics we demonstrate.
Unfortunately, there is no short cut to the process.
Relationships don't just happen. Relationships have to be nurtured and cultivated, or they fall apart. But all relationships start with an initial contact and the impression made at the point of initial contact often sways the development of the relationship one way or another. It's unfortunate, but people make snap judgements many times based on their own perceptions.
This is why within this report, you will find many opportunities, but all of them have to be "worked." You are working to overcome their perceptions, to break through with something meaningful to them, to make them say, "Yes, let's talk."
You can't automate this. Therefore, we selected a random owner – Justus Family Farms LLC – as our example to demonstrate the techniques we are advocating for your playbook.
The first step is to find out about the owner, whether a Justus or a General Mills. In other words, start on the Internet, with Google.
Through Google searches, you can immediately find out this LLC was formed in 2019 with an address of 424 Ferguson Road, Fort Wayne, IN, 46819 and Paul E. Justus serves as one of the officers and agents. If you Google "Justus Companies," you'll get to the Justus Family of Companies. However, Paul E. isn't listed, and when you read a bit, you'll find out Justus is a fourth-generation company, so there are probably plenty of Justus' around Indiana.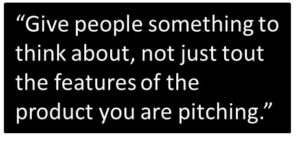 Is this new LLC something the family started?
Unless you know one of the family members, it's not likely you'll find an answer for that question. So should you pursue this as a lead or not?
The answer to that depends on how you define a "lead." You will see a continued emphasis on definitions throughout our report and methodology. Companies define "leads" differently. Is it someone from a list? Where did the list come from? Is a lead someone you talked to already? Someone who filled out a form? A phone call you received? Some companies even classify leads with an adjective: hot, cold, lukewarm.
We know from our proprietary databases for this exercise that this LLC was involved in something called "Project Green" – a facility in Fort Wayne, Indiana. Conceptual plans called for the construction of a 673,000-square-foot manufacturing facility and, as of September 28, 2021, this project was in the early planning stages.
Because it was in the planning stage, we couldn't locate any visible documents, but upon further investigation, we saw this story: Mystery project proposal submitted: No names, but plans call for big building by Rosa Rodriguez in The Journal Gazette (She wrote, "Another giant industrial building with a mysterious name has landed in the inbox of the Allen County Plan Commission….called Project Green – a code name similar to Project Mastodon, which eventually became known as the huge Amazon distribution center on the north side of U.S. 30 near Sweetwater Sound…Tom Carroll, a spokesman for the applicant, said he could provide no information about the project, except that it is "a food-production facility."")
We sent the reporter an email inquiry, and at this writing, are still awaiting a response about the property. We then elected to backtrack to the Justus family itself, and upon examination of their website, found contacts and projects to pursue in order to establish a relationship not with the mystery Paul E., but with the Justus family and managers themselves.
As we said, we want to pursue people, not projects, but if a project leads to people, that's a good thing. At this point you have to decide if you want to pursue the family or not, and the best way to determine that is to examine their website.
These decisions aren't easy, and they take time. The Justus company is certainly a player in Indiana. Examining their website shows ample projects they've built. Their LEADERSHIP page gives you everyone you need to target. LinkedIn Navigator will produce an abundance of targets from the Justus Companies (or Family of Companies as they are sometimes called).
It is important to note that not all leads evolve toward a given target. There are often sidebars, or detours that you will take when following trails. However, the roads that sprout up as you pursue a lead often lead to even better opportunities. As in this case: we went after a substantial project that led to a family business which does construction, including industrial projects.
If you decide to pursue, follow the ideas in this report in the Content Tactics section. If you decide NOT to pursue, go on to the next one. You HAVE to keep up your momentum.
If you would like a list of the 996 owners in this entire dataset for your reference, contact jnowak@a-i-m.com.