Opening the Door to Metal and Steel Door Specification Preference

Metal and steel doors have been used in a number of different commercial buildings for years. Currently, out of over 500,000 projects going on right now, 13% contain specifications for those products (per ConstructConnect™). There are many options architects have when selecting the type and brand of metal or steel door they specify.
According Steel Door Institute[1] in a performance study report entitled "Why Steel," there are several reasons why steel doors are preferred over other types of commercial doors. Steel and metal doors not only offer long term value, but they out-perform other doors in the ability to offer security, sound reduction, vandal resistance.
They are also easy to repair and can provide other design aesthetics not available in alternative door materials. Steel and metal door manufacturers need to keep architects informed of key benefits in order to maximize their brand's position in architect's specifications. That's always the challenge!
How do Architects Select Metal/Steel Doors?
Architects balance many factors when selecting the type and brand of metal/steel doors. These factors always begin with the specific goals and objectives of the particular project they are designing. Others include:
Are there security, vandalism or safety issues with this type of project?
Will the doors be subject to high use where on-going maintenance may be a concern?
Does the owner have a specific budget or will long-term cost benefits outweigh the initial cash outlay?
In addition to some of the project objectives, architects often select metal/steel doors for the aesthetics or a specific design they are trying to achieve. The more specific product information manufacturers can provide the architect the better. Besides manufacturers themselves, the WBDG (World Building Design Guide) provides a general overview for metal doors. This outlet is a web-based portal providing government and industry practitioners with access to up-to-date information on a wide range of building-related guidance, criteria and technology from a 'whole buildings' perspective.
Relationships Matter
One of the best ways for manufacturers to increase their position in the market is build a stronger relationship with architects and designers who specify metal/steel doors. If a manufacturer is not on a firm's "short list," it is almost impossible to be listed in a project's specifications. For example, there are over 47,000 architects in that initial group of projects containing metal doors referenced earlier. How can the manufacturer expect to relate to that amount of people? Who are the main architects specifying metal doors for projects? What kinds of projects are using these products? For example, if education and government are the lion's share of such projects, are there niche opportunities in the other categories?
These are important questions for manufacturers as they create their go-to-architect strategies.
Architects have many choices in brand when it comes to metal/steel doors[2]. Manufacturers should strive to be named as the projects' "basis of design" or be the only brand listed with no substitutions. The best way for manufacturers to become "the brand" required is through building stronger relationships with architects/designers. Relationships are key—and manufacturers need to start to develop better relationships with architects.
Manufacturer's sales reps cannot just give architects a "standard pitch." Creating a relationship requires more than a customized presentation. It needs an integrated strategy that includes e-mail, mail, phone and perhaps CEU tactics. Manufacturer's reps simply do not have the time required to pull such integration off, and the manufacturer needs to help them understand the architects needs and specific project goals. The manufacturer can empower reps with such information and tools to provide architects with the information on how their steel/metal door performs in similar projects or situations. They can demonstrate how their brand compares to competitive products in the market.
There are many ways the manufacturer can help, but one of the most effective ways is to take the time to completely understand the specification process and what factors are most important to the architects when they specify metal/steel doors. That requires a specification analysis.
Using Specification Analysis to Evaluate and Strengthen a Brand's Market Position
Analyzing specifications requires hard work. For many manufacturers, there is always the question of not having the time to conduct such a comprehensive analysis. However,  getting a product into the specification requires such a commitment. There are no "shortcuts."
For example, architects and designers do not change or review their specifications often. In research conducted and published by Architect Magazine titled The Truth About Specification[3], many times architects re-use or revise existing specifications. In fact, based on a research from the Accountability Information Management, Inc. (AIM) Architects' Brand Preference Study, the metal/steel door market is a highly competitive market. In this unaided blind brand preference study, architects and designers were asked to list their top three brands of metal door products.
There were over 16 brands or companies mentioned by architects that were "involved" with the specification of these products. Although the list of specific brands has no doubt shifted over time, the numerous choices they have to choose from still holds true.
Architects and designers have lots of brand choices when it comes to metal door products. In fact, a recent spec for metal/steel doors had not only a list of 15 possible brands, but the final design could basically select any brand that complied with the requirements of the project.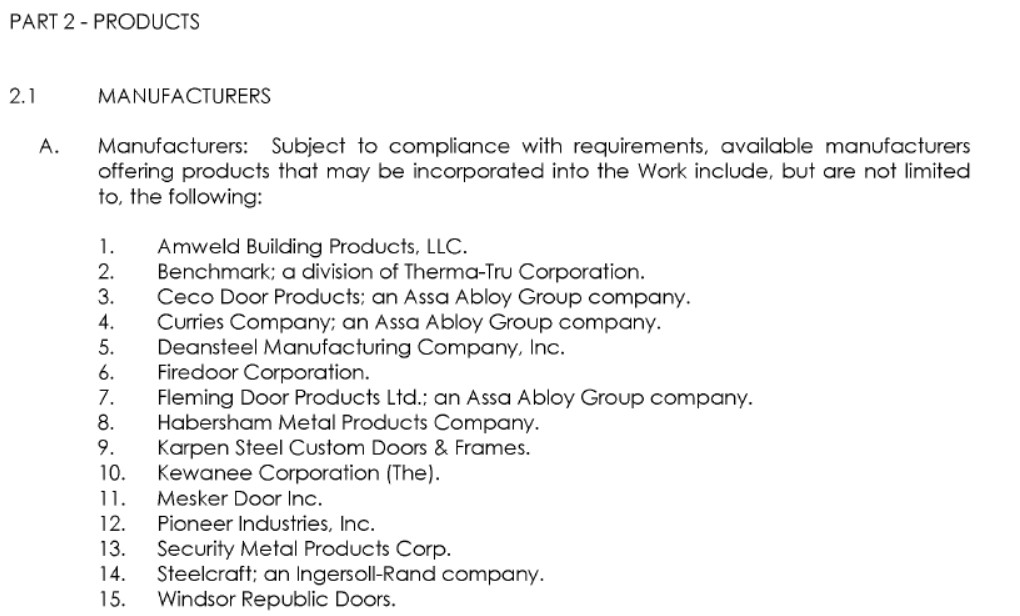 One tactic, then, involves meeting the architect to go over that short list. In asking to review the specification for a specific project, the sales rep may offer additional suggestions based on the benefits of their product. Creating a dialogue rather than a monologue leads to communication, and communication opens up opportunities for enhancing the architect's specification. Another research report on Brand conducted by AIM helps explain the importance of a brand in this process.
First Things First
To help manufacturers evaluate their brand position in the marketplace, it is important to first understand more about an architect's level of involvement when specifying metal door products. How much control or influence does the architect or designer have on selecting a particular brand of metal/steel doors?
The architects' involvement in specifying a specific brand or manufacturer can vary. In AIM's Architect's Brand Preference research, only 12% of the architects surveyed indicated that they were involved in selecting and specifying the brand of metal/steel doors. Of those that were involved, 46% indicated they did not have a brand preference. This was a major decrease since previous research conducted by AIM, which indicated only 16% had no brand preference. Could this be that the specification of metal/steel doors is complex and architects delegate the decisions on brand to other professionals? Does this mean that the focus of the manufacturer should NOT be with the architect?
While architects may indicate they have "no preference," they are, in fact, heavily involved in specifying and recommending the metal/steel door products. The architect will weigh in on the type of look or performance they want achieve. If the metal door manufacturer's rep has created a relationship, that architect will indeed influence the specification.
However, due to the increasing complexity of commercial projects, architects may delegate the brand selection to "others" in the specification path. But, that depends on how the specification is written!
Many design firms today maintain a list of "approved" brands that have met specific performance and quality requirements in the past. If a manufacturer is not on "the list," the chance of being in a specification are limited. This is why manufacturers must expose and educate architects on their product features, benefits and other services they offer the market on an ongoing basis.
Becoming a brand on the architect's preferred list of brands is key to impacting a brand's position in the specifications. To be on a firm's list of approved metal/steel doors, a manufacturer needs to provide more than just a quality product. They need to demonstrate a history of top performance, offer premiere service and local support for their brand.
What should metal/door manufacturers do to enhance brand selection and preference? How can manufacturers convert "no preference" answers into specifications and recommendations for their brands? These are important questions.
Impacting Brand Specification with the "Basis of Design"
To answer these questions, consider what we know about specifications. The key to gaining ground in specifications is to become the "basis of design."[4] This means that the architect or designer is calling out a specific brand that is used to meet the objectives of the project. To learn more about how often "basis of design" is used in metal/steel door specs, we used ConstructConnect™, (https://www.constructconnect.com/), an online construction database, to get a better sense of how metal/steel doors are specified. By searching the projects metal door specifications for "metal/steel door projects with Basis of Design" in specific years, we can see how the specification for "basis of design" and specific brands has changed.
Only 20% of projects in 2018 with a metal/steel door specification also included a brand as the "basis of design." However, this has increased since 2012 where "basis of design" was specified in only 10% of the metal door specifications. This analysis also indicates that while the number of projects that have a "basis of design" spec is fairly low, there are specific brands that consistently appear as the basis of design.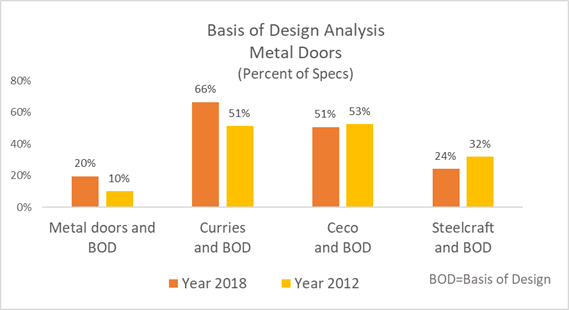 Since there are many brands that are involved in delivering metal/steel door products to the market, this type of spec analysis can show manufacturers how often their brand is specified as the "basis of design" and if it has shifted over a specific period of time.
The market is constantly changing and it is important for a manufacturer to continuously review their position in architect's specifications. While a manufacturer cannot always be sure that they are on a firm's "preferred" list, they can evaluate how often their brand appears in the specifications and measure how often they are the "basis of the design" or appear in the project schedules. If a brand is found in the specifications and certainly is the "basis of design" they are going to be on the list of "preferred" brands.
For example, in one food chain project, the specifications contain a generic metal door specification without a brand. The architect in charge of that project has 12 other projects going on, a third of which are other projects for that food chain. What is preventing a metal door manufacturer from being the "basis of design" for that food chain?
Only inertia prevents action like that. What manufacturers needs is a contact strategy, and AIM can help. Because it all starts with specifications analysis and a realization that not all rep organizations can do everything. With proper guidance, however, such relationships can not only be created, but maintained for the manufacturer – and the architect – while securing specifications with the greatest value for their clients.
Specification research can be done on the other product categories or on specific brands based on the manufacturer's needs. AIM can design a spec analysis to meet a client's objectives and look at a particular brand/manufacturer, by territory, competitors, project type, location or by spec area/schedule. Let us know where your interests are and how we can help. Thank you.
________________
[1]Steel Institute, Why Steel? Performance Study of Steel Doors vs. Wood, Aluminum, and FRP.
[2] Sweet's has 18 manufacturers listed in the "steel door" category." In specifications, there are almost always manufacturers listed beyond those 18. Furthermore, those listed as "basis of design" are not always the ones listed in Sweet's.
[3] The Truth About Specification, by John Schneidawind, AIA highlights key findings on an AIA survey of 330 architects on how they select and specify building materials for commercial projects. The article stresses the importance of an architect's relationship with building product manufacturers and report that 60% of the time the architect already knows which materials an architect is going to use. https://www.architectmagazine.com/aia-architect/aiafeature/the-truth-about-specification_o
[4]USlegal.com defines it as "Basis of design is a term used in engineering, which typically consists of text paragraphs, preliminary drawings, equipment lists, etc. Well-defined requirements consist of a set of statements that could form the basis of inspection and test acceptance criteria. The basis of design documentation and the specification identify how the design provides the performance and operational requirements of the project and its systems."