RLC ARCHITECTS: a Profile
This is part of a comprehensive report seeking to help industrial construction marketers create a much-needed new playbook to do just that with their brands in an ever-increasing competitive landscape. For more information, including the complete report, contact: info@a-i-m.com.  _______________________________________________________________________________________________________________________________________

The RLC Architects website greets you with this announcement:

And when you go to the website link they provided in that announcement, you see:

This happened in April, 2022, and makes your initial investigation powerful because you "ride in" with your inquiry on the acquisition! (By the way, they have subsequently taken down the announcement, making your conversation even more interesting).
This is actually a "bonus" for pursuing leads, because it opens your door with the perfect question to ask them: "Congratulations on your recent acquisition! I'd like to learn more about what the means for the way you handle projects." Can you think of a more inviting question to ask and get answered? The answers you receive will give you more than your share of ideas to pursue this account.
This Canadian-based company (IBI Group) has many locations in many countries, including in the U.S. How is it going to handle the projects going forward? Is it going to allow RLC to operate itself as it was, or are there new "rules" for the work?
Like many architects, an office manager is used as the initial contact for many projects to "protect" the architects who are very busy from unwanted phone calls.
But these "gatekeepers" are often the best way to get information quickly to determine if you should pursue or not.
In this case, the office manager is listed as the contact for a $22-million project called Powerline / MLK Commerce Center. Site work, paving and new construction of a mixed-use development in Pompano Beach, Florida was the designated site for this construction of a 41,520-square-foot industrial development; service station / car wash facility; for site work for a 60-space sidewalk / parking lot; and for paving for a sidewalk / parking lot. As of May 19, 2022, construction is underway and nearing completion. However, that may not be true, as there are no plans that we can see in our proprietary database.
Always Check Google
Googling the name of the project shows us that it is, in fact, up and running, making the source of our information questionable. However, it is by no means a dead end because RLC Architects have 34 projects in the planning stages and remember: we are after people, not projects! You start with projects, but those projects always must lead to PEOPLE.
These projects include the following $315-million in valuations with architects from that firm you'll find on their own website: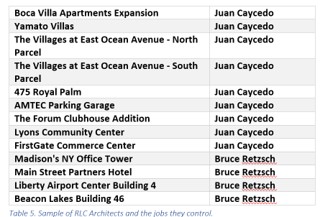 LinkedIn Sales Navigator will provide you with additional contacts to pursue! Or, if you prefer to go with the IBI Group directly instead, this platform will deliver 26 architects to consider in your investigations.
Of course, how you now shape your contact campaign depends on what you are selling, so be sure to see the Content Strategy section in this report. For a complete list of the 102 architects from this report, contact jnowak@a-i-m.com.