Tapping Into the Power Tool Market

Developing marketing priorities in any market is always a challenge, and the power tool market is no different. Any company looking to maintain their position, gain market share, or enter such a market has to do their due diligence or risk certain failure.
It's more complex today because of the way information flows. For example, often companies have strategic priorities that figure into their approach to a market like power tools. They might want to build brand awareness. They may think that educating their end users is the way to go. Some believe maintaining relevance with a changing installation force is a sure way to be successful.
The basic question that requires an answer, however, is: how can the company accomplish their goals? In other words, what's the best tactic? Should they invest in displays and try to open up a new niche? Is PR the way to go with a concentrated effort to open up new markets? What about advertising? Is advertising relevant anymore?
More often than not, a deep analysis of a market like power tools and the company's own position in that space is required. This report attempts to do that for power tool companies.
Interline's Approach
Interline was built on two pillars: service, and unduplicated knowledge. We operate in the construction market on many levels, and have created our company based on needs of clients, which are all different.
Today, the classic ways of trying to gain a strategic advantage in a market like power tools was to either lower your prices or emphasize the benefits of your products and services that made you different from your competitors. Doing just that is not enough because there's too much competition. There is no way for a company  to either price effectively against everyone all the time, nor have its product/service positioned as significantly different for any acceptable length of time. Information is shared too rapidly, intensifying today's competitive climate. Besides, the erosion of price is already happening in power tools and virtually every market thanks to Google.
Unless you know what a strategy is based on – knowledge of a market and marketing to that market – it will be impossible to judge adequately on how best to spend your budget or, for that matter, if the tactics under consideration will work.
Besides, classic tactics (lowering price or differentiation) have serious negative implications because of today's fast-paced environment. Lowering prices and declaring a price war gains only temporary relief from competitive pressure. It causes quick, knee-jerk reactions from everyone involved in the price war(harming profit). Worse,  price cutting causes brand erosion. Any price cutting will erase value from a brand twice as fast as it took to build it into the brand.
And while companies have a "brand," that brand has been redefined by the marketplace over the years with competitors coming out in force to invade your company's space.
Brands are becoming almost generic, like Kleenex®, Jacuzzi®, or Band-Aid®. And while in a way this seems like a position of strength (i.e., "Are you going to use the Jacuzzi tonight" regardless of what "brand" of tub is there), generic brands open up the door for competitors because consumers get easily confused. In their minds, they do not typically differentiate between power tools; for sure, they call them by "brand" names. But more and more, the brand name tool gives way to the generic one, or "the one on sale." Often, the search for "power tools" dissolves into "a broad category that means everything from a drill to hydraulic driven hammers."
Therefore, emphasizing what makes a group of products and services different than competitors is insufficient. Since information travels to people so rapidly, it doesn't take long to duplicate a set of benefits one manufacturer might have over another. As a result, any marketplace is much more volatile than ever before because differences between companies and their products blur.
And it will stay this way.
The escalation of competition really means it is no longer a war of product vs. product, or service vs. service.  It has become company vs. company war, which now means a company's overall capacity for response and action are central to achieving business goals. In other words, size matters.
But the Internet itself nullifies in many ways the size advantage. And competitors are strong, and growing stronger, with more resources than many companies in the tool space have.
The good news is that companies can often open up a niche. The bad news is that competitors are invading any new niche because their own markets are crowded and they look for "new ground."
So, any company in the tool market space must be in a position to move as rapidly as information itself. When openings are created, a company must be setup to move quickly in the appropriate direction. A company must have the resources within their grasp to start and to stop as required as they adjust to changing conditions. Most important, the company must now judge the value of a resource not by the capability it has in itself, but by the capability it has to add — or subtract — from the company's own capacity to act.
And this is why we offer you this analysis of the power tool market. We wanted demonstrate not only our thinking, but how we use that thinking to back up our clients as a resource that adds – not subtracts – from their capability.
Ultimately, the quality of our ideas will determine whether or not Interline meets expectations and needs.  The ideas we can offer in marketing communications — some of which you will find expressed within this report — are the result of our competitive philosophy:
"The more you look, the more you see;
the more you see, the better you know where to look."
 We know where to find ideas that work. They are based on sound reasoning, creativity and on that most elusive of all reasons for purchasing anything:  human emotion.
After examining this report, we hope you'll agree our ideas will add to your company's capacity to respond and act. In marketing warfare, capacity for response and action determines longevity.  The company with more lasts longer. Thank you in advance for your time.
Assessment
The Power tool business is like the Red Ocean from the book, BLUE OCEAN STRATEGY by W. Chan Kim and Renee Mauborgne. The idea of a blue ocean is to create uncontested new market space that makes the competition irrelevant, whereas the Red Ocean is "bloody" with competitors.
Future Market Insights[1] is a provider of market intelligence and consulting services and is one of the companies that studies this market. It can give us a picture of this "red ocean."
According to their reports, the leading companies include Stanley Black & Decker Inc., Robert Bosch Gmbh, Techtronic Industries Company Limited, Actuant Corporation, Atlas Copco AB, Apex Tool Group LLC, Snap-on Incorporated, and Allied Trade Group (ATG) Stores. In their executive summary, they do not mention the myriad other competitors who are also in that market, including successful companies such as DeWalt, Bostitch, Porta Nails, Primatech, or Freeman. Moreover, there are competitors that are out there that appear out of nowhere.
Truly, it is a red ocean.
The Future Market Insights executive summary also gives us some other facts to consider in the evaluation of a company's positioning.[2]
The demand for power tools is projected to increase at a compound annual growth rate (CAGR) of over 5% to US$ 36.2 B in 2020 and US$ 46.5 B in 2025 according to their research. That seems good, but it will bring out increased competition and more price wars.
In contrast, hand tools market revenues are projected to witness growth rates of above 3%, as end-users show an increasing preference for power tools (see footnote 2). Distribution strategies of tooling companies currently address end users by being available in many retail outlets (i.e., Menards, Home Depot, etc.), but these retailers do not do much in terms of differentiation between brands they make available. They sell whatever is available without regard for a specific brand.
The report also points out a few trends that impact our further assessment of the power tools marketplace.
Higher Demand for Lithium-ion Batteries vis-à-vis Ni-Cd. Lithium-ion batteries are becoming the preferred choice for power tools manufacturers, owing to their advantages over Ni-Cd batteries. Power tool companies, according to the report, are focusing on catering to end-user demand for lightweight and energy-efficient systems. Lithium-ion batteries offer these features at an economical cost, making them sought-after in the power tools industry. So a question would be: Has your company performed an industry analysis on batteries that power your products? Or, is this an advantage that might be promoted over competition? If everyone is moving to a position, he who moves first, wins. But doing it and promoting it are two different things. The situation faced by tool manufacturers is that with the day-to-day fighting in the red ocean, it is difficult to step back and see what is an advantage, or what is simply a "me too." Such assessments are important to proper positioning, or confirming a company's own beliefs in their product positions in the marketplace.
Cordless Power Tools Gaining Popularity. The report notes that although cordless power tools are more expensive than their corded counterparts, ease of use and enhanced safety are making them popular, especially among DIYers (note again, that DIY market stress). Here, a competitive analysis of cordless tools in a company's lineup might prove to be an advantage and differentiation (i.e., in searching "cordless" on your website, does it produce results or come up empty?). The demand for cordless power tools is anticipated to increase steadily during the forecast period, especially in developing countries. Does any one company "own" that space ("cordless") right now? Can that be a space where your own company becomes the "professional's choice" for DIYers seeking cordless? These are important questions to consider in the assessment of a company's position.
Grainger, who is no stranger to power tools, posted an article on their website, 3 Trends in the Power Tools Industry in 2017. The number one trend was cordless. They noted "the shift to cordless power tools shows the desire for a more mobile tool." They also said a "major power tool manufacturer gained a 5% increase in power tools sales due to the introduction of cordless power tools."
The Pro Tool Innovation Awards (PTIA) is an annual program to recognize innovation in the tools, accessories, and fasteners used in the residential and commercial construction industries and related fields. Their goal is to recognize and award manufacturers for releasing tools that are going to change the way we work in the residential and commercial construction industry. Cordless Tools made up the largest category in the 2018  edition of the awards and according to the organization, "That's no surprise as it seems like every week there's a new breakthrough—often in battery technology." In fact, you can go to their website and see the 2018 winners in a number of power tool categories. Interesting.
Global Housing Sector Recovery. The report indicated that demand for both hand and power tools is really dependent on the fortunes of the construction sector and how that moves. The subprime crisis of 2007-08 shrunk demand for hand and power tools significantly; however, as global economy recovery and construction sector see steady growth, demand for power tools is projected to remain strong during the forecast period.
In fact, the chart below shows what ConstructConnect™ which is one of the leading construction databases in the United States and Canada sees in construction coming down the road.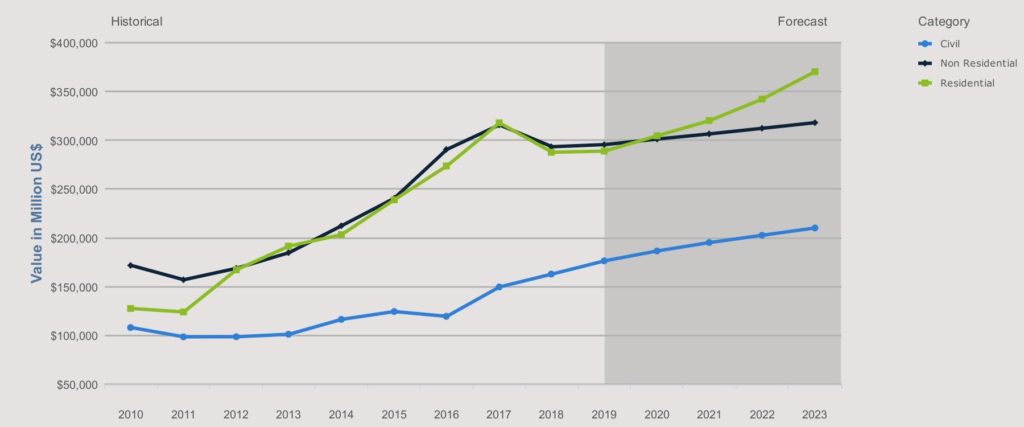 The oceans are rising. Residential construction is expected to rise 6% by 2020 to $304B. Chart from ConstructConnect® Forecast.
Domination of China-manufactured Power Tools. Low price of China-manufactured power tools will continue to pose stiff competition to branded power tools according to the report. Naturally, you'll have to judge the tariff effects; however, the domination of Chinese power tools of the global market is expected to continue during the forecast period (remember, there are a lot of countries that need tools). Currently, China accounts for nearly 80% of the total power tools produced globally.
Power Tools Market by End-User
The research company pointed out that demand for power tools can be widely categorized into two pieces: industrial and household. The industrial segment is figured to remain the highest piece for power tools. Demand is expected to remain steady from the household piece owing to the growing DIY trend. During the forecast period 2015-2025, the industrial segment is expected to increase at 3.6% CAGR in terms of volume according to their report.
Asia Pacific excluding Japan (APEJ) they said remains the largest market for power tools globally. High production of power tools in China and India will continue to drive market growth, whereas exports to Western countries will add to the regional market revenues.
Professor Richard Lynch has a good website that discusses what your company's global strategy might be. His discussion on why a global strategy is important is useful, even for larger companies who already play globally.
Western Europe and North America are key markets for power tools, with EU5 and the U.S. dominating the market in these respective regions. The North America power tools market is projected according to the report to increase at a higher CAGR than Western Europe power tools market. Among all the regions, the market in Middle East & Africa is expected to increase at the highest CAGR during the forecast period.
There are many considerations in fighting in the power tool marketplace. Nothing is more important, however, than your strategy. And within your strategy, distribution is one of the key ingredients in thinking about power tools. In fact, it's the distribution of power tools that causes the most red in the red ocean!
Distribution Strategies
Changes in distribution over the past several years have been numerous, outstripping what has occurred during the last couple of decades (largely because of everyone's competitor: Amazon). As your company uses distributors, a clear understanding of these changes in channels is important not only to where your company is, but where they should be. Some of these changes need to be included in your thoughts as you develop or reinforce a strategic position.
The emergence of e-commerce. This is a direct challenge to the underlying reason for distribution itself. The Internet is a vast distribution network, where anyone who wishes to can plug and play. What does this mean to the distributor of power tool products or the manufacturer? Before, a company controlled a specific territory assigned by a manufacturer, and now, his customer can hop on line to buy from four or five states away (or countries away)? How should we react to this challenge?
At the same time, e-commerce is forcing distributors to invest it the technology as well. We were recently involved with one of the larger distributors in the Chicago area to "revamp" his website, and the focus of that revamp was making it easier for his contractor- and end-user-customers to do business with him. In short, e-strategies.
Integrated supply contracting. Integration is, perhaps, a key driving force, making your company no longer an entity onto itself. That is, it is utilized as part of a "system," and therefore, it is sourced as a component of a system. The "walls" which have existed in the past between manufacturer-distributor-end user are crumbling, and end user sourcing bypasses the distribution system on an increasing basis. How can a manufacturer afford to reach ALL end users, especially if he is a component of a system? Moreover, should he reach them or dig in his heels at the distribution level and hope for the best?
The answer is, a company can't be all things to all people. And that is where strategy comes into play. There are many excellent references on strategy. But the best is Sun Tzu's Art of War. If you start reading it, just substitute "business" for how he uses the word "state." You'll read statements like this:
The art of war is of vital importance to the business. It is a matter of life, and death, a road either to safety, or to ruin. Hence, it is a subject of inquiry which can on no account be neglected.
He uses the word "strategy" only once, but the entire book is about strategy. About winning. About tactics of strategy. The one time he used the word was: "All men can see the tactics whereby I conquer, but what none can see is the strategy out of which victory is evolved." It's worth your time to review regardless of what you may believe your strategy is or is not.
Positioning Your Company
Strategy dictates that no two companies competing for the same resource can survive. In the end, one will displace the other.
All companies compete for dollars, but they get those dollars differently. If two companies compete for dollars with power tools, one will eventually displace the other. Even if that seems impossible in today's Red Ocean, that will be the eventual outcome.
The "Red Blue Ocean" thinking dictates that companies must stop competing with each other to win in the future, and that the only way to beat the completion is to "stop trying to beat the competion." As weird as that sounds, what they are saying is that a company has to carve out "uncontested" oceans where no competition exists. The questions is: how do you do that? It's always by  power tool companies are looking so seriously at the DIY market.
Most blue oceans are created from within red oceans by expanding existing industry boundaries. But with supply exceeding demand in more industries, competing for a share of contracting markets, while necessary, will not be sufficient to sustain high performance. Companies need to go beyond competing. To seize new profit and growth opportunities, they also need to create these "blue oceans."
War
Unlike actual war, the history of industry shows us that a market universe has never been constant; rather, blue oceans have continuously been created over time from within a red one (even in the power tool industry with "staples" versus "nails" as an example). To focus on the red ocean is therefore to accept key constraining factors of war – limited terrain and the need to beat an enemy to succeed – and to deny the distinctive strength of the business world: the capacity to create new market space that is uncontested.
For the manufacturer of tools, that's difficult. The result has been accelerated commoditization of products and services, increasing price wars, and shrinking profit margins. Brands are generally becoming more and more similar, and as they are becoming more similar people increasingly select based on price.
Value Innovation
The cornerstone of a Blue Ocean Strategy is what they called value innovation, or making the competition irrelevant by creating a leap in value for buyers and your company. The key word here is "buyers." It's the consumer that will drive your blue ocean, and the DIY market is your blue ocean. In fact, consumers are the end result of almost every market these days, largely because of the Internet.
The Internet has opened up everything to everyone. The amount of information flowing on the channel is enormous. According to Live Science, "Every second, approximately 6,000 tweets are tweeted; more than 40,000 Google queries are searched; and more than 2 million emails are sent." However, the statistics only hint at the size of the Web. As of September 2014, there were 1 billion websites on the Internet, "a number that fluctuates by the minute as sites go defunct and others are born." Another way to answer this question is the sum total of data held by all the big online storage and service companies like Google, Amazon, Microsoft and Facebook. Estimates are that the big four store at least 1,200 petabytes between them. That is 1.2 million terabytes (one terabyte is 1,000 gigabytes). This excludes other providers like Dropbox, Barracuda and SugarSync, to say nothing of massive servers in industry and academia.
That's what any company faces. Besides making and selling products, how to you communicate to your customers and prospects effectively?
Consider Uber
They redefined what "taxi service" is. And, it didn't take long for Uber-like competitors to emerge, or for the taxi industry itself to start changing its ways. They had a blue ocean for awhile, and still do, to a degree. But it's starting to turn red.
The nature of blue oceans is that they don't stay blue for long. And while there ARE exceptions, for the most part, market forces move so quickly that companies have only a short time before that blue turns red.
Value, it is critical to remember, is not determined by your company: it's determined by the audience, the customer, the consumer. They are the ones who define it, see it, make it a "value."
Therefore, a power tool company's strategy has to search and identify a value and make it a core driving focus in order to succeed. Here is a hint: it's not our tool you make. It will be in the services of that tool you provide that will differentiate you to the audiences you are trying to reach.
Redefine the Problem
You're not in the power tool business. You're in the flooring, carpet installation business, tile, whatever business. If a DIYer is going to "do it," of course he'll need tools. But he will want tools that were made for HIM/HER.
Taglines are interesting; they generally try to position the company in the minds of audiences. For example, "Guaranteed Tough®" or "Built for Those Who Know™" or "Decades of Innovation" or "Nothing but Heavy Duty®" or "The Professional's Choice" are just some of the many taglines for power tool companies.  is it your tagline. Can anyone associate that tagline with the company it stems from?
If you aim at a market, and you believe the audience defines what you sell these days, then you should ask the audience what they want, what they need. They will not hesitate to tell you. And from that research, you will find out how to position yourself for that audience.
If you are going to attack and segment that market into a blue ocean, you can and should think about re-inventing yourself for it.
And why not?
Taglines are simply that: positioning statements. You have to have the flexibility to segment and target a market with appropriate messages. That's what marketing today is about.
Some Insights on Nailers for Example
Any power tool segment should be examined carefully, and we're using nailers as an example of what your company needs to do.
According to 2018 Flooring Installation Products CLEAReport, the leading primary brands for nailers/staplers are: Bostitch, DeWalt and Bosch. But that research is looking within the nailer power tool industry. In looking at their Floor Covering Installer website, what is interesting is their coverage of these brands (remember that this media outlet doesn't talk to DIY, but to the "professionals"). Consider the following:
Bostitch had 17 results, including these:
Stanley Bostitch slideshow (article) July 3, 2009 Stanley Bostitch recently held a press event in New York to preview its latest products. For more information, see the rotating slideshow below the Web Exclusives section.
Stanley Bostitch previews new products in NY (article) August 26, 2009
Stanley Bostitch recently held a press event in at the Westin New York to preview its latest products. Bostitch LHF2025 stapler designed for thin wood flooring (article) November 20, 2009
New from Stanley-Bostitch, the LHF2025 flooring stapler was designed to drive 20-guage staples into thin hardwood flooring that ranges from ¼" to ½" thick, the company says.
Bosch had 129  results, including:
Bosch Launches Bosch Remastered (article) July 18, 2016
Bosch has launched its first direct-to-consumer website where people can purchase reconditioned Bosch tools, directly from the company.
Bosch Diamond Hole Saws simplify cutting in tile, stone (article) January 14, 2010
New from Bosch, Quick Change Diamond Hole Saws feature the company's AutoStart system, an industry-first mechanism that allows users to quickly and accurately drill a hole without first drilling a small pilot hole, the company says.
Bosch debuts titanium-coated blades for oscillating tools (article) May 10, 2012
Bosch has launched a full line, for oscillating tools, of titanium-coated segmented and full-circle cutting blades along with a new teardrop-shaped carbide blade for grout and thinset removal.
Dewalt has 29 results, among them these:
DeWalt releases new line of sanders featuring enhanced power (article) April 7, 2005
DeWalt has introduced its new line of palm grip sanders, including random orbit (D26450, D26451, D26451K, D26453, D26453K) and 1/4 sheet models (D26441, D26441K).
Dewalt Adds Stud Finders to Electronic Tools Lineup (article) June 13, 2018
Dewalt recently announced its first stud finders, offering automatic calibration for accurate stud detection in wood, metal, and AC wiring.
Dewalt agrega buscadores de entrearmados (postes) a línea de herramientas electrónicas (article) July 11, 2018
Dewalt anunció recientemente sus primeros buscadores de entrearmados, que ofrecen calibración automática para la detección precisa de postes en madera, metal y cableado de CA.
Others included Primatech 20, Freeman 11, Porta Nails 26
But "Portable Nail Tools" as a search term had 246 results! Consider some of the results below in light of who you think your competitors are:
The Latest Tools and Education at TISE (blog) February 1, 2019
Along with giving us all the opportunity to connect and network with peers, The International Surface Event 2019 (TISE) was a place to feel rejuvenated and get excited for the year to come, with loads of new products and tools.
Festool's CT Cyclone a Pre-Separator for Dust Extractor (article) October 30, 2018
Festool debuts the CT Cyclone, an anti-static pre-separator for large debris and coarse dust which is designed to be used with a Festool CT Dust Extractor.
XP Hammers Lead Comprehensive New Line From Dewalt (article) October 16, 2018
Dewalt expands its line of hammers with 14 new tools, highlighted by the XP extended performance series.
Installing Hard-Surface Stair Treads: Basic Tips and Techniques (article) September 28, 2018
As long as installation instructions are followed, measurements and cuts are carefully made, and potentially project-ending shortcuts are avoided, building a set of stairs is something that any installer can add to their skill set.
New Tools, Great Memories at This Year's NWFA Expo (article) June 8, 2018
Another convention is in the books for the National Wood Flooring Association Expo, held last April in Tampa, Fla.
Specification and Installation of Glue-Down Hardwood Flooring (article) May 21, 2018
But who searches here? Professional installers? Or do installers already know what brands they prefer? Do consumers come to this website? If Google searches lead them here, then what? And then they will search for the broader category, not your brand or your competitor brands.
Family Handyman is a DIY media outlet. DeWalt had 517 results on that website, including "Why we love the DeWalt 60-Volt Circular Saw." If we searched for "DeWalt Nailer" we get 276 results, including "No Hassle Nailer" article.
Bosch had 301, Bostitch 75, and the others came up empty. But "Portable Nail Tools" produced 1,110 results. Clearly the "family handyman" wants to know about these tools. And clearly, as the media outlet's title suggests, it's for the DIYer.
This is where you want to be with your products if you are aiming at DIY: outside your professional channels, and into the home owner – the consumer.
Regardless of the tools you manufacturer, you must do this type of research today if you are going to remain competitive.
Additional Considerations: How Flooring Drives a Nailer Product
In continuing our current nailer example, since all flooring installation requires some type of tool, knowing something about types of flooring will help us as a company in the marketing effort. One of the organizations that studies this is Grand View Research[3], a U.S. based market research and consulting company. They offer us some final considerations before formulating any specific marketing recommendations about flooring and power tools. The company pointed out innovations and new trends in floor designs and construction solutions that are driving the flooring market. The market is highly competitive with numerous players offering  different flooring solutions across residential, commercial, industrial and other application segments.
The floor covering industry is also being inundated by new technology developments and styling trends. In recent times, end users have been deviating from traditional flooring solutions to more cost effective and eco-friendly flooring materials such as cork, linoleum, bamboo, glass, Polyester (P.E.T) Berber, rubber and reclaimed hardwood. Also (confirming other research) surging demand in the construction industry with changing consumer lifestyles and growing demand for insulation are expected to be the key market drivers.
Availability of innovative construction solutions that are durable and require low maintenance is expected to impact the market favorably according to the company. However, a major determinant for the success of flooring solutions is consumer awareness and willingness of using the product. This finding coincides with a goal of increasing awareness to the end user/consumer marketplace, especially the DIY. Simply, there is too much information out there!
Increasing concern over environmental impact is expected to significantly affect the textile flooring market too. For instance, carpets are treated with toxic chemicals to repel moisture and soil and for moth-proofing, which may cause several health issues.
These are all issues that consumers need to know about! Who better than the power tool manufacturer to provide them with this information! Are you doing that? Should you do that?
Product Insights According to Grand View Research
The product segment is broadly categorized in to four types including soft coverings, resilient flooring (be sure to read our research report on taking the right path to specification with resilient flooring), non-resilient flooring and seamless flooring. Soft coverings are also known as textile coverings, and mainly comprises rugs and carpets. This segment dominated the market, and accounted for over 50% of the overall market share in 2013.
These coverings provide several benefits including noise-reducing effect, dust-binding characteristics and also are known to be good insulators providing warmth, comfort as well as pleasing aesthetics.
Resilient flooring is a mixture of color, binders and fillers. Types of resilient flooring include cork, wood, rubber, vinyl, asphalt and linoleum; these are waterproof, cost effective, durable and low maintenance in nature.
Non-resilient flooring encompasses ceramic tile, clay tile, concrete tile, terrazzo stone and brick. These floors generally hold up under many conditions, and require only mopping and dusting.
These categories are useful to to keep in mind for communications to consumers. Finally, raw material suppliers, manufacturers and distributors play a key role in the industry's value chain. Companies in the market include Mannington Mills Inc., Mohawk, Gerflor, Armstrong, and Shaw Floors. The market is significantly consolidated with intense competition; technology innovation is expected to be a focal point for market development over the next six years.
Final Notes
In a search for planning projects in the ConstrcutConnect™ database of over 500,000 projects going on right now, there were 1,424 that came up as possibilities. That's a lot of projects. Not one of them contained any  mention of the "tool" or "power tool" to utilize with the flooring product. That's not surprising, as these are specifications.
But what if they did? What if a specification, besides products, contained information on the tools required for proper installation?
One of the things a power tool company can do is get written into the specification itself. Manufacturers have long since known that becoming part of a specification gives them a powerful position in getting installed. Being "recommended" in the specification for installation with a particular product is not unheard of. Besides, many if not all of the 1,424 projects are in the "planning" stage and do not even have a manufacturer mentioned in the specification. As the project moves along, the manufacturers fight for position on the specification.
And when you do have specifications as in the bidding documentation, there is usually only a generic sentence such as : "Install flooring with adhesives, tools, and procedures in strict accordance with the manufacturer's written instructions. Observe the recommended adhesive trowel notching, open times, and working times." Have you tried to find "manufacturer's instruction" even in the sea of information? Imagine if that sentence read like this: "Install flooring with adhesives, tools, and procedures in strict accordance with YOUR COMPANY NAME written instructions. Observe the recommended adhesive trowel notching, open times, and working times AS RECOMMENDED BY YOUR COMPANY NAME."
Powerful.
Now imagine what the DIYer needs to know, and do, when using power tools! More important, imagine what you can do to become the source of information for your audiences, professional AND DIYers! You see, it's not just about your tools! It's about how your audiences perceive your tools!
Recommendations
Interline Creative Group, Inc. is a marketing communications consulting and creative services company founded in April, 1990. In addition to providing full-service consultation in marketing communications, the company offers the full services associated with those disciplines.
Our work follows three phases:  1)assessments; 2)recommendations; and, 3)implementation.  Our immediate goal is to add to a company's marketing communications capacity by giving them more direct control over those elements and serve as a resource for fresh marketing communications ideas. Our long-term goal is to become a marketing communications partner. This market analysis is a sample of how we work.
Specific recommendations really depend on a power tool manufacturer's budget, but more important, the strategy and audiences they intend to pursue. In all cases,  however, tactical essentials for any strategy include at a minimum the following:
Research. Ongoing research is essential for success. Today there are many tools available to manufacturers for such information. However, analysis by a third party is always beneficial because the third-party sees things from "outside" not "inside." Both views are important, but unfortunately the outside view is usually neglected.
For example, one manufacturer did research from the inside and judged the marketplace ripe for their new product. The research, comprised of visiting four dealer stores, helped them conclude that introducing a new product they had developed would prove a raging success. After two years and millions of dollars, they abandoned that effort because the market's real customers – the design community – simply didn't "like" such a product.
A company's customers will almost always tell them what they want to hear. Telling a third party, however, makes it more convenient for the customer to "tell the truth." That's why research should be your "secret weapon" when embarking on building your blue ocean.
Examine your customer file. A company's customer file is a wonderful source of information, and often gets neglected for a variety of reasons. Sometimes it's hard to locate (believe it or not, more than one company had the file residing in more than one location). In fact, one of the largest consulting engineering firms in the country that we worked with years ago brought us in and we asked the marketing director the question, "Do you have a customer file?" When the marketing director told us he didn't know, but would find out, he called the next day.
"I've got good news and bad news," he said. "The good news is we have a customer file. The bad news is, we have seven of them." You see, each of the VPs in the organization had their own, and didn't share, missing untold opportunities for cross selling! We fixed that using merge/purge techniques.
But that's what happens in organizations, and manufacturers especially find it difficult because they often do not know exactly "who" the customer really is. That really is the first step in true strategic planning – to know or identify who the customer is, and then find out if you have a file. You can also conduct RFM analysis on that file to great effect (another story for another time). But, you have to know your customer! You'll find it is not as easy as it sounds.
Public Relations. The third tactic that should be a must for all manufacturers of power tools seeking to build a blue ocean is to institute a comprehensive PR campaign to the audience you are aiming at. This is the age of content.  And regardless of the products or services you sell, you are in a content war. In one breath there's too much content; but if you are not in that mix, you have no chance to win the battle, much less the war. Send releases on your products positioning them as perfect for the market in what we call a "niche" campaign – tailoring the content to the audiences, rather than a general "Hey look what's new" announcement. These are very effective in communications. For a picture of how content is consumed, read our sister company's blog, B2B Never Sleeps for a peek into the world of digital consumption.
Website. The final tactic is maybe the most important: the website. The website is the most important marketing tactic any company has available. Since 70% of people go to Google first, it is imperative that a company's website be on page one. There is only one way to do that: content. Our blog about how to implement SEO is a quick read to help understand the power of being on page one. Another one — the truth about advertising channels — contains relevant information on how the channels you should consider for your messaging.
Implementation
Interline is ready to implement such programs. We utilize a variety of tools to accomplish this, with experts in our office that can help you uncover that blue ocean, and maintain it.
Someone once said that there are only two reasons why people buy anything: To gain something or to protect what they already have. When you hire INTERLINE, you gain a greater capacity to respond and act than you have by yourself.
Because no two companies can coexist that make their living in the identical way. This means that your company , in order to survive, must not only uncover and promote what are its unique advantages. It must also have the capacity to change those advantages quickly, and then communicate those changes to its markets.
This market overview has sought to communicate our advantage to you…to show that Interline Creative Group, Inc. and its sister companies can add to your ability to change to meet changing market needs through the strategic application of our core strengths, our ability to compress time, our dedication to quality and our multi-discipline relationships to your representation challenges.
With imagination and reason, such strategy can accelerate the effects of competition and the rate of change in your market to your advantage. It can favorably alter capacity or response and action.
We offer you both imagination and reason.
Thank you for the opportunity and we look forward to hearing from you.
IMPORTANT: Policy Statement. Interline Creative Group, Inc. is in the business of managing market information. In our practice, we build databases in order to extract knowledge. We research and talk extensively to individuals involved in the business-to-business industry. We often go into detail during our conversations about not only their projects, but also their habits in terms of obtaining and using information in their jobs. This report and its contents are part of Interline's methodology, products and services. It is copyright ©2019 by Interline Creative Group, Inc., 553 N. North Court, Palatine, Illinois 60067. This report is for the private use of the individual/company named on the first page. Routine photocopying or electronic distribution outside of the named individual and except for discussion purposes is a copyright violation. Opinions expressed herein are intended to be CONFIDENTIAL. For information on anything in this report, contact: Interline Creative Group, Inc., Attention: President, 553 N. North Court, Suite 160, Palatine, Illinois 60067. 847 358 4848. FAX 847 358 8089. E-Mail: info@interlinegroup.com.
[1] Future Market Insights is the premier provider of market intelligence and consulting services, serving clients in over 150 countries. FMI is headquartered in London, the global financial capital, and has delivery centers in the U.S. and India.
[2] In discussions we've had with companies in this marketplace, the  DIY'er/Professional/Consumer market often is mentioned, or non-specialized flooring installer market. This is a focus on B2C rather than B2B with awareness and education of the end-user as a key ingredient. There are many segments within a company's product offering that meets different needs for different markets. Some companies believe that this segment gains its information and shops in the channels like Big Box retailers, online stores, or smaller flooring retailers. These "installers" are not the traditional flooring professionals nor do they understand why one would use one tool over another. This tends to nullify any differentiation among companies and their products, making the market battle even more difficult.
[3] Grand View Research provides syndicated research reports, customized research reports, and consulting services used by the academic institutions and Fortune 500 companies to understand the global and regional business environment. Their database features thousands of statistics and in-depth analysis on 46 industries in 25 major countries worldwide.