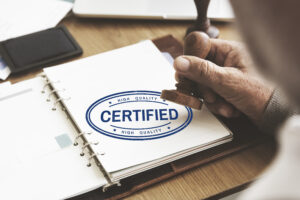 The Importance of Certification in the Cabinet Industry
An AIM Confidential Research Report
The Need for Certification Has Never Been Greater
Product certification marks help businesses build trust in their products while providing a mechanism for market differentiation between brands. For consumers, certification programs offer assurance that the products they buy conform to specific requirements. For manufacturers, the programs provide a way to demonstrate product performance to gain the trust of their customers.
There is a problem: almost every product category contains multiple certifications which all have unique rules. Even within national standards like the National Electrical Code, there are numerous certifications governing myriad products. This causes confusion (i.e., hence the need for electrical inspectors).
Today, for example, consumers are increasingly seeking and buying more environmentally-friendly products, adding another layer of performance specification requirements to certifications.
This AIM report examines certification in the cabinet industry specifically.
The Kitchen Cabinet Manufacturers Association (KCMA) expressed a desire to understand the penetration and awareness of their standards within the design communities. In particular, awareness of the A161.1 standard among design professionals was of strong interest, as th standard is the basis of manufacturing quality cabinetry.
Accountability Information Management, Inc. (AIM) was retained to explore this issue with designers and architects. AIM is a marketing research company with a special emphasis on business-to-business sales channels. Their multi-disciplinary team has the expertise to evaluate and advise on market conditions and movements. Using their proprietary lists in these categories, AIM conducted a comprehensive study about awareness of KCMA certification standards. This report covers the results of that research with KCMA's approval to share specific information.
Why a Certification Study?
According to the 2023 U.S. Houzz Kitchen Trends Study, "The majority of homeowners (66%), however, continue to replace all the cabinets during a kitchen remodel." IN addition, the report noted that "The majority of homeowners (77%) select solid wood as the primary material for new kitchen cabinets."
With these high a percentages, certification for the cabinet makers' products plays a key role in not only customer satisfaction, but in understanding "quality" as it pertains to cabinets. Interestingly, the Houzz report fails to mention certification once.
Besides, there is plenty of research out there on cabinets in the kitchen. However, until now. there hasn't been one that traces certification as one of the primary ingredients of what people call quality in a cabinet.
The new 26-page report contains charts, graphs, and slides covering the types of tests behind the KCMA Quality Certification Seal. As a comparison basis, the report utilized the number of times certifications are placed in actual construction specifications.
"This eye-opener showed that even well-known standard bodies don't cover the gamut of specifications that you would expect," Jim Nowakowski, President of AIM noted. "We looked at 525,148 projects that had any kind of certification listed, and you'll see in the report surprisingly, the call for certification is often left out of the documentation. KCMA wants to change that for cabinetry."
The comprehensive report also contains verbatim comments about why quality certification is important by a third party. These verbatims came from the surveys, which were sent out to the proprietary AIM audiences of interior designers, kitchen and bath designers and architects. A 5% response rate was attained.
For example, the important factors of selecting a brand were quality, durability and style according to respondents. "The research pointed out that the environmental practices of the manufacturer were at the bottom of the selection criteria," said Nowakowski, "But that's going to change. Our other research is showing consumers are driving manufacturers to be more stewards of our environment. KCMA has a certification that covers that as well."
The KCMA research study on certification was done to gauge the awareness level of certification among design professionals. There were three key takeaways that would bring certification and its importance upfront: Education, Marketing, and Content. For cabinets, we believe the study outlines some directions for our client that might also apply to other certification organizations. KCMA, in allowing AIM to share some of their data and findings, believes that the industry itself can benefit from knowing about certification, its processes and how it differentiates their members.
To download a copy of this important research, go to our website here and fill out the form. For more information, drop Jim Nowakowski, President, a note at jnowak@a-i-m.com. Thank you.
NOTE: Image by rawpixel.coma on Freepik