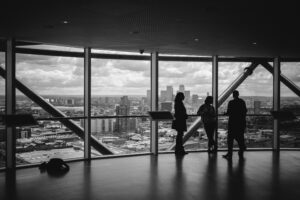 What End Users Want (from Architects and Engineers,That Is)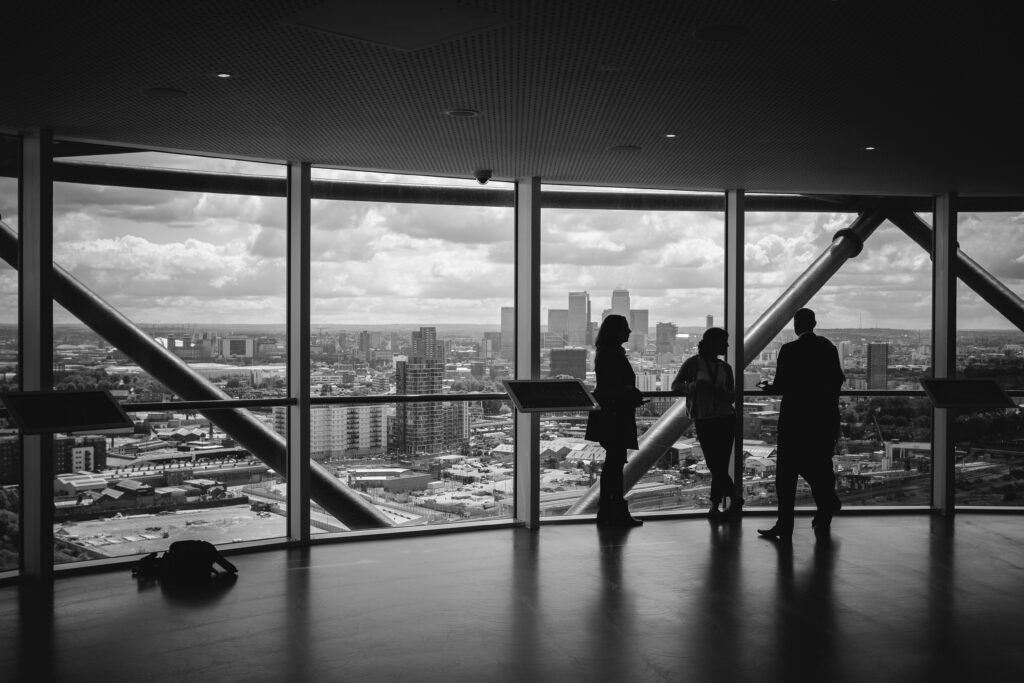 Architectural and engineering firms, like other businesses, operate in a climate of increasing flux. Relationships that existed between these firms and their clients have undergone profound changes due to the economy and technology, with construction being particularly devastated. Accountability Information Management, Inc. (AIM), a business-to-business research company, wanted to find out specifics about the relationship between end users and these firms in light of the economy.
In one of our proprietary research studies, AIM sent close to 5,000 surveys to end users, and received over 100 completed returns. The two-page survey contained a variety of questions, including why end users select architectural and engineering firms, factors they used in evaluation of these firms, and other relevant information such as the types of services they seek from firms.
This report contains the results of that survey, along with discussions on the implications of the results.
Why Study This Relationship
In today's very complex world, the business of doing business is changing, perhaps daily. People will always talk about "relationship selling," or Voice of the Customer. In the end, however, people buy, they aren't "sold." In the book "The Art of the Sale," Philip Delves Broughton observes this in his preface: "Many supposedly well-educated people in the business world are clueless about one of its most vital functions, the means  by  which  you actually generate revenue." Broughton, who wrote the book because he wanted to find out what Harvard didn't teach him, enters into a journey by interviewing "great" salespeople throughout the world, and then writing about them. His conclusions are one of the reasons this research is relevant: "Selling is not a sideshow, a pesky obligation apart from the real business of finance, law, or accounting. It is business in gorgeous Technicolor." He points to Richard Perry, the founder of Perry Capital, who told him, "It's all about sales. If I have sales, I can create profit."
Most architectural and engineering firms are businesses – service businesses. In the selling of service (unlike a product), the "selling" often involves intangibles (see Selling the Why and Why It Ain't So). Words like Quality… Performance… Service… all of these words are whirling around "the relationship." And as you will find when you review this research, defining "the relationship" is everything in terms of getting – or not getting – the project from the end user. And most importantly, it's not how the architect or engineer defines service – but how the "buyer" of the service defines it that's the critical issue. In other words, the age-old rule in sales – listen to the customer – is paramount in understanding how the business really hasn't changed that much: There's just a lot more talking than listening going on!
This research is about listening to what end users said. In it, you will find insights to help you sell and position your firm to better enable you to capture your share of business.
Studying the relationship between architects and engineers with end users also provides us with an understanding of our own personal relationships. Not to belabor the point, but Broughton put it this way: "Whatever your view, sales surrounds us. Many of our choices in life come down to this: sell, or be sold to."  The very nature of a relationship is just that: the give, the take, the push, the pull, the yin and the yang. In this research, you will see this interplay. For example, in the selection of a firm, 51% said they do not even have a "short list." But more important, it really doesn't matter whether the end user had or didn't have a short list: The factors they used for selecting architects and engineers were virtually the same in terms of importance whether they had the list of not! And "personal relationship" was almost at the bottom of the list!
So why study the relationship? Because it is an entity-to-entity relationship, a business relationship that we are talking about.  Yet, business is comprised of people, and people are unpredictable. What this research shows, however, is that a business relationship might just be predictable, and that with the knowledge gained from some of these end users' responses, the architectural and engineering firm may be able to incorporate some of the interpretations of the data into a foundation for building or enhancing the business relationship. As the Godfather might say, "It's not personal; it's business."
Because it is, after all, about business, and business IS relationships (isn't the goal to break the existing relationship an end user may have with a firm and substitute your own?).
There were 15 questions in the AIM End User survey. Here is a comprehensive presentation and discussion of those questions and their implications. We hope you find the information in this report relevant in your business building. If you have any questions about it, please contact AIM. We'd love to continue the conversation. Our address is at the end of this report.
What End User Want (from Architects and Engineers)
Question 1. How are you involved with the selection, review and approval of an outside architect or engineering firm for your facility?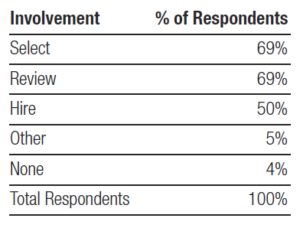 This first question is always necessary because we like to know exactly "how" the targets (in this case end users) are involved in the activity being studied, thereby qualifying our audience. Only 4% said they were not involved in selecting, reviewing or hiring architects and engineers, so the response you will see is from people we know are in that relationship of hiring firms.
More and more, however, it isn't one person making the decision, but rather, a group. At a recent AIA presentation of our CEU, Staying in Front of Your Customers, one of the architects said that the biggest challenge they face in business today is getting people to pull the trigger in terms of making a decision on a project. Our response was, "Ain't that the truth!" See Getting People to Pull the Trigger as a reference point.
In terms of this research, 39% checked all three boxes when we asked if they review, hire or select. That means over 60% of the end user audience only does ONE of those tasks! Therefore, if you are targeting the individual who "reviews," you are only one- third of the way to the decision. If you target the "hire," and that person doesn't know you because you are not in the "review" pile, you miss as well. We can conclude immediately that if you are marketing to end users, you will have to aim at multiple targets when you go after business relationships! Your thinking cannot be one dimensional.
The "Other" response to this question included people who wrote in "procurement" or "management" within these end user firms (least we forget purchasing, which is an entirely different discussion in terms of relationships!).
Question 2. What best describes the type of facility where you work? (Check only one)
Question #2 was another qualifying question, because we wanted to know in what markets these end users worked. As planned, the end users surveyed represented the variety of facilities in the United States, including "Other" which were commercial and property management firms. But, what market offers the architect or engineer the "best" chance of being hired? Or, do all these markets represent a similar opportunity?
If we cross tabulated with the first question, we find that one market above others is more likely to have one person who controls the "hiring power, as shown in the next chart; that is, if we take a look at what type of involvement each respondent has we see that hospital/healthcare properties tend to have one individual who is involved in ALL stages of hiring an outside architect or engineering firm.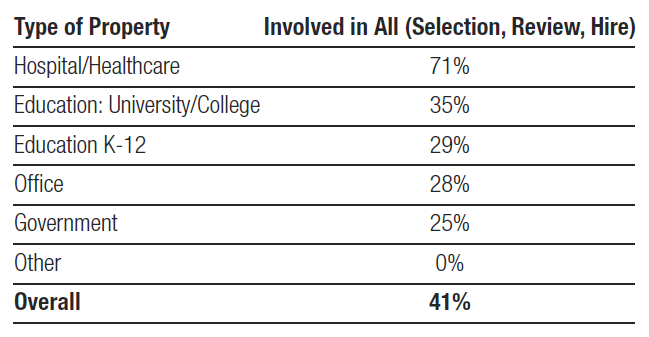 Therefore, who that person would be with such authority within the healthcare/hospital sector would become the target.  Healthcare itself should be the market the architect or engineer should aim at more than others for a better chance of success in building relationships. This doesn't suggest you ignore other markets; it merely implies that healthcare contains a "more likely" hunting ground of single individuals who make hiring decisions more than other markets (where the respondents who checked "all" reside), the implication being the others may be more of a "team" hiring. The titles of these targets show the diversity (what we mean by multiple targets), and how though "hiring" is the condition of choice, there is no "one" title that an architect or engineer can aim at successfully.
Here are the titles of the people from the survey who checked "hire" in Q1.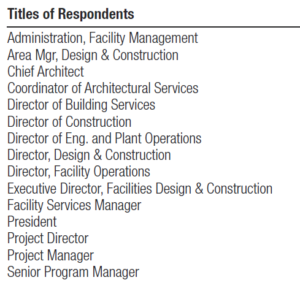 Furthermore, the title of "coordinator" in this list should not be discounted. This particular "Coordinator of Architectural Services" who responded to the survey was THE individual who works for a hospital that has grown from 117 beds to over double its size in the past few years, showing that titles may be deceiving in who makes the "hire" decision. In your marketing efforts, therefore, do not just target by title.
Question 3. In what zip code is your facility located?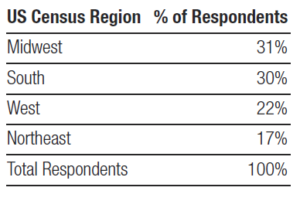 The United States was adequately covered in the response, which was important in terms of making sure the country was "covered".
According to the U.S. Census Bureau of the Department of Commerce, construction spending during May 2012 was estimated at a seasonally adjusted annual rate of $830 billion, 0.9% above the revised April estimate of $822.5 billion. The May figure is 7.0% above the May 2011 estimate of $775.8 billion. There are various sources to help guide the architect or engineer on "where" in the country to focus, but the end users who responded came from the entire country.
Question 4. How often does your facility hire an outside architectural or engineering firm to assist with renovation and/or new construction projects?
Question #4 begins our journey into the end user's behavior to further understand the relationship of the architect and engineer with this audience. In this question, we wanted to know how often the facility hired an outside firm to assist with either renovation or new construction projects. A scale was used to help define their response (1=never, and 10=all the time, giving the respondent a "feel" by circling one of the numbers), and then a verbatim area to allow the end user to make a comment on why they would or wouldn't hire a firm. Here are the results.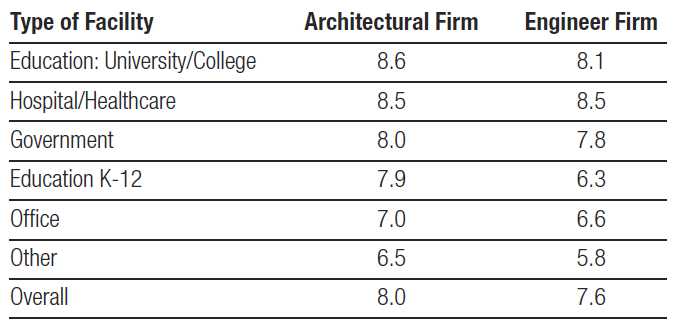 The end users in the survey were very active in hiring architects and engineers! On average, they scored "8" on the scale of how often they hire for assistance. Also, secondary education and hospital/healthcare facilities are the most active hiring outside firms (not surprising because of the complexity of the issues they face). The main reason (29%) they do so is because they are not capable of doing the work in-house. The next highest reasons were based on the size and complexity of the project itself,    or the specific experience required for the project that the firm possessed.
Other responses were: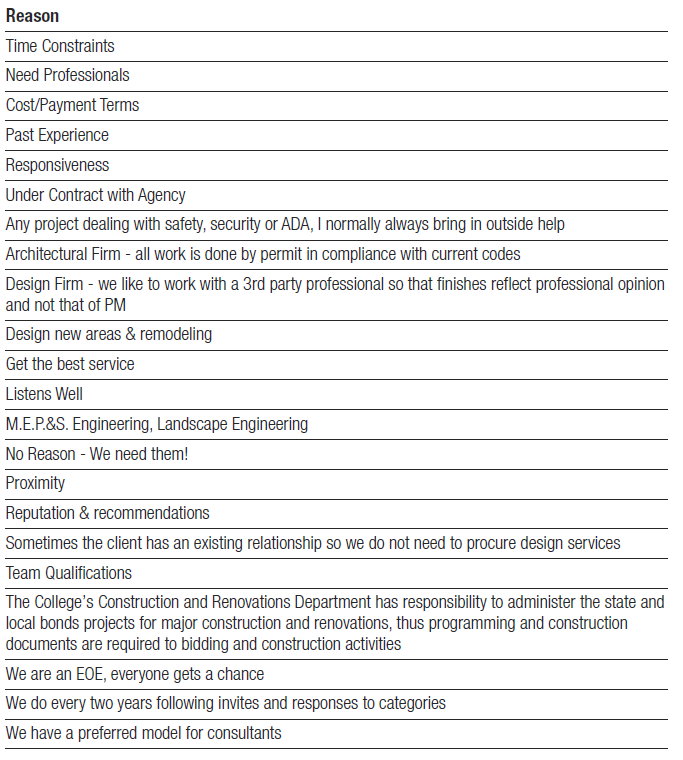 While the individual comments give us a perspective that is important in understanding end user behavior in hiring firms, the number one reason – not capable of doing the work in-house – is a key to gaining business from end users. For example, end user in-house capabilities of work "that an architect or engineer can do" varies; some end users actually have architects or engineers on staff. Yet, even those have a need when specialty work comes up (i.e., fire protection).
In a related piece of research, AIM interviewed an architect on the staff of one of the major retailers in the United States, who told us that he has developed an extremely effective relationship with a structural engineer. "The level of experience they have is to the point where only two markets in the U.S. would keep them out by having more local knowledge," he told us. "It is more cost effective to ship steel and have them travel, than using local structural engineers and fabricators. The way they work together is so efficient I cannot duplicate it. They are a big   part of our strategic success."
This is a perfect example of the "relationships" that develop between end users, architects and engineers. Other architects and engineers can benefit from such knowledge, because the relationship is the key – and doing what your client cannot do for themselves, underscoring the number one reason from this survey on why firms get hired.
This is true even when looking at only the "9" and "10" responses (cross tabbing) from our survey, which looked like this:
If not available/capable in-house 28%
Specific Experience 16%
Depends on size/complexity of project 13%
Need Professionals 9%
34% of the respondents giving "9" or "10" said the following:
Cost/Payment Terms
Get the best service
If they don't meet our standards
E.P.&S. Engineering, Landscape Engineering
No Reason – We need them!
Past Experience
Reputation & recommendations
Sometimes the client has an existing relationship so we do not need to procure design services
Team Qualifications
The College's Construction and Renovations Department has responsibility to administer the state and local bonds projects for major construction and renovations, thus programming and construction documents are required to bidding and construction activity
We have a preferred model for consultants
Question 5. Please indicate for what services your facility has or would consider hiring an outside architectural or engineering firm. (Check all that apply)
Question #5 had the end users provide the types of services that their facility has or would consider hiring an outside firm for from a list presented, which is important to understand when the architect or engineer approaches them for business. Two options to check were offered: "have hired or used an outside firm" or "would consider an outside firm." The next chart shows the overview of the entire audience.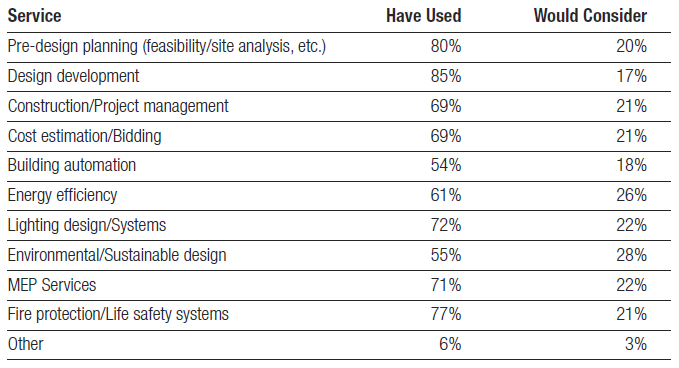 Some observations of the responses provide some interesting speculations, including end users would consider "Environmental or Sustainable" design and "Energy Efficiency" as two of the services that they "would consider." "Other" services included:
Marine structures design      Landscape
(Wharf, pier, jetty, etc.)      • ADA
Master Plans                          AV (3)
Aquatic Facilities                   Security (2)
Equipment layout                  Food Serv. Equipment Planning
The "Other" list itself is significant for architects and engineers to understand and put in their offerings, especially if they have a specialty in the area. Please note Security, which showed up more than once written in.
Discussion. If end users hire architects and engineers for services they cannot provide for themselves, an overlay by market might help understand what those might be. Certainly, such a picture would afford additional information about "where" you might target end users for services. Consider the following chart.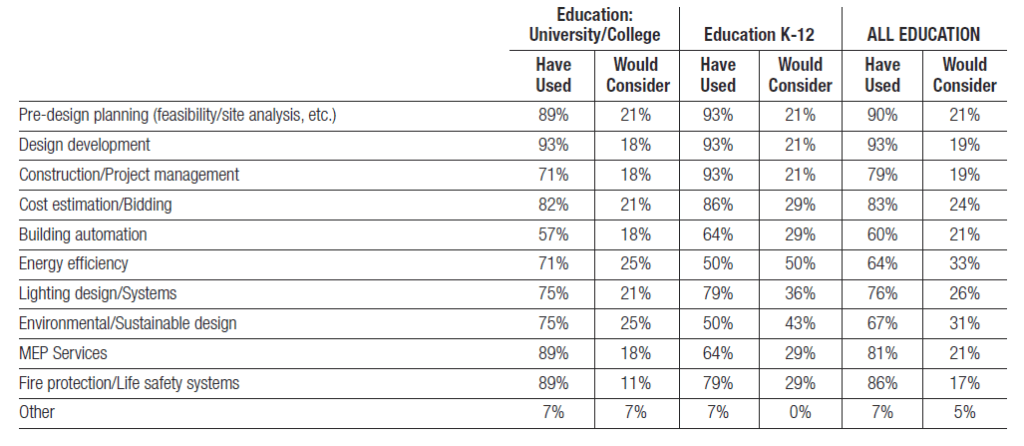 The chart shows you the "overall" from the prior discussion, and then takes the subsets of markets and puts in the percentages based on the responses for the service. That is, the most likely pre- design planning service market of all the markets who responded is Education and Government. By comparison, "Government" is where lighting design/systems should be pitched (which makes sense with the emphasis being placed by the government on its facilities for green). This is not to say an architect or engineer shouldn't pitch the other services; but, the data suggest that from a market point of view, some services would have a better chance of success than others to approach end users as the architect or engineer attempts to gain business.
For example, the MEP services score of 45% in the "Office" sector should NOT be surprising, as many facility end users have these covered with their own in-house capability (remember, end users will select services of architects and engineers when they can't do it themselves).
As another example for "Other" services, security was mentioned. Of the opportunities for security, the educational market had those mentions (not that other markets aren't concerned about security, but educational facilities seem to be more than others).
Question 6. Do you have a list of pre-approved architectural/engineering firms?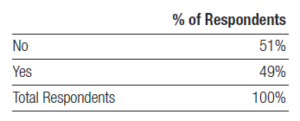 Question #6 asked if the end users utilized a "pre-approved" list of firms. Interestingly, perhaps, response split almost down the middle.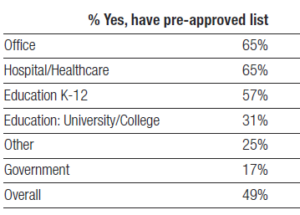 However, our research suggests some types of facilities are more apt to have a list of preapproved firms, including Hospitals/ Healthcare Facilities and Office Properties. Also as mentioned earlier in this report, we know that hospitals are a key target since they are more apt to have one individual who is controlling the hiring process. Penetration of these facilities may require architect/engineer firms to go through a "process" to be added to a list of approved firms.
In addition, AIM also asked respondents to list the firms if they responded "yes" to this question, as well as how they get on that list. Finally, if they didn't have a short list, "why not" was asked.
Those that answered "yes" listed 59 different firms! This is important to understand; there doesn't seem to be one firm that dominates over all others (Was your firm listed? See Appendix 1).
HOK received more than one listing, but even so, the firm did not dominate the listing. Clearly, there are a variety of end users firms who have a short list. And of those that did say "yes" to this question, "how" a firm gets on the list was answered this way the majority of the time:
"Previous experience and used them before."
End users also put these firms on the list because of recommendations and references. Combined, 24% of the end users used those three reasons for putting architects and engineers on a pre-approved list. Other reasons included the following:
Discussion. This brings up the eternal debate of how do you get the experience to get on the list to begin with if you only get hired for experience? Some call this the chicken and egg dilemma, but what it really is, is a question of sales, or the ability to sell. As noted in the opening of this report when we discussed Broughton's The Art of the Sale, sales simply isn't taught. For example, in a part of the book Broughton discusses Norman Levine, who he interviewed. Levine gave full credit for his success to Ben Feldman, who was "reputedly the greatest life insurance salesman of all time."
So what does selling life insurance have to do with not having architectural or engineering experience to get the project?  According to Levine, everything. "The true salesperson starts out naked as a jaybird, with no product and no people." To be successful, you have to act successful. The question of sales is critical when we are examining this research because so much of the time, architects and engineers believe it will only be about their talent as architects and engineers. But in a world of architects and engineers all with training and talent, how does the end user determine who gets on the short list? You can see from the research that it will be previous experience. So if the firm approaches an end user target and has no experience with that target, the firm is "naked as a jaybird." Salesmanship would be required to overcome that obstacle and get on that list!
This research doesn't hope to cover those options. However, this research does intend to suggest to the reader not only what end users want, but that within the firm itself, there exists what is needed to get on the short list — to get the project. Simply, "to sell, you have to be an effective means for people to achieve what they want." Having previous experience has nothing to do with it. It's about your ability to convey you can solve the problem, period. Additional points will be covered throughout the remainder of this report.
For those who checked "No" to Question #6, end users said that each project had its own requirements (25%), and that "all work is publicly advertised and bid." Hence, it didn't need a short list. Some end users said "confidential" to this question as well. Other reasons given include:
Infrequent utilization/not needed at this time
List would be constantly changing
Prefer RFP/RFQ process
Use the same sources for most
Has not been something we have considered
Most firms selected for small projects ($100,000 – $2 mil) are local firms
Most large jobs must be
Not permitted by our rules
We have our own
We have used certain firms in the past
We select based on experience and references.
Question 7A. On a scale of 1 to 10, how important are the following factors to your selection of an outside architect/engineering design firm?
Question #7A sought to find out the factors used by end users when they select a firm. It was very involved and tried to understand "how" end users select firms based on a series of factors by using a scale of 1 to 10 for each factor, with "10" being extremely important. AIM provided a list of 11 factors based on our prior studies, and also included an "Other" line to include any that were not considered. The results of these responses requires a thorough discussion.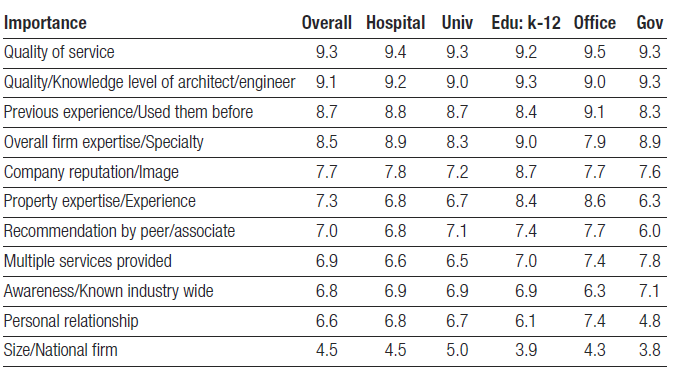 What should immediately stand out is that the size of the firm is overall not really a factor from the end user's point of view! Does that mean for any given project, for the work, smaller firms have an equal chance? The data suggest that is certainly the case. This is good news for small firms – but perhaps a wakeup call for larger firms. As this research suggests, selection of firms by end users is really based on a variety of factors that are not necessarily tied to the size of the firm. The capability, or the specific skill set being sought by the end user trumps size (though perhaps the larger firm may have had the sought-after skill, but perhaps had neglected to convey that fact?).
The top three factors for selecting a firm would be:
quality of service
quality of knowledge level of firm
previous experience/used them before
What firm would feel that they do not possess these factors! Only the third – previous experience/used them before – would be a "factor" for not getting a project, all other things being equal.  Or would it?
"Specialty" was fourth, and then the reputation "Brand Image" of the firm. What is interesting is the relative strength of these factors from the end user point of view. There is a blend, it seems, within the end user's mind when selecting a firm; and, while all the factors are involved in selection, some seem to have more importance in the eventual choice. Or is that true?
For example, "Other" received a rating of 9.7 – suggesting that selection of firms is often a very personal judgment (but only 12 respondents were in this group). Framing this question to include factors like "Quality of Service" is almost a given (i.e., who would NOT hire a company that didn't provide quality service!).
Indeed, most of the time "quality" is the almost instant response to ANY question we ask of people why they select a firm, a product, a service. But defining "quality" is really the problem, because how do you define an intangible? Quality is often a grouping of all these factors that emerges in the mind of the person.
The "Other" factors included the following explanations by the respondents:
Location
Price
Communication
Match project & firm
MWBE (Minority and Women Business Enterprises) Utilization
Performance
A certain level of quality to be in the game, of course, is required of everyone, but what differentiates one company from another is ultimately the service level. It is through sound customer service that architect and engineering firms can ensure strong relationships and on-going partnerships. While service should be a given, we hear on the phone from end users that manufactures and service providers simply do not respond to their questions, requests or problems. Even in some of the other factors listed above, there is an indication that service is important.  "Communication" and "Location" all add to the level of service architect and engineering firms can provide end users.
Question 7B. Which of the above factors is MOST important to your selection of an outside architect/ engineer design firm? Tell us why it is most important?
The question also asked the respondents to supply which of the above factors was most important to the selection of an outside firm… and why it was most important. Here are those results: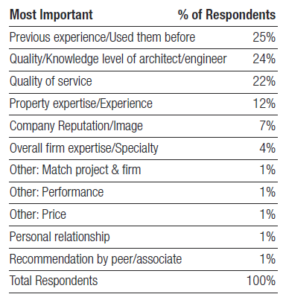 Suddenly, the original three line up differently! And, the one that a firm may or may not have – previous experience – is the most important in the eyes of end users. So, how do you gain experience to be part of this choice if quality of knowledge level and service are equal?
This analysis emphasizes the need, as discussed, for salesmanship to overcome any "non experience" objectives in the minds of the end user.
Our question also gave the respondent an opportunity to state why they preferred a specific factor. An examination of those responses can help understand all the factors better, but also give clues on how to overcome some of these dilemmas of not having the experience per se in the resume.
For example, the following chart shows the comments from people who said that "previous experience" was the top reason for selecting the firm. Keep in mind that 30% of the people who said "previous experience" gave no verbatim response.
Previous experience/Used them before because:
They'd understand how we operate, our values, processes, needs, and expectations (39%)
We'd know what they are capable of, their strengths & weaknesses (17%)
Mutual rapport & trust, Quality for cost, Saves time and money, fewer delays (13%)
So, understanding how the end user operates, their values, processes, needs and expectations is what people mean by "previous experience." This is an important observation. Note that nowhere does it say that the firm have superior architectural or engineering capability! This suggests, therefore, that if a firm can somehow demonstrate that they understand the end user's values, processes, needs and expectations, they should be able to get a shot at being on the short list despite not having experience per se (or if "experience" is defined as understanding the company and how it operates)! And isn't that what salesmanship is all about?
How does a firm find out about end user values, processes, needs and expectations? As one of the finest salespeople we know put it, "Talk to them!" And that, in a sense, is what this research is doing: reflecting the opinions, attitudes, impressions and thinking of end users for your consideration.
See Appendix 2 for additional charts related to this question.
Question 8. How familiar are you with the following architect/engineering firms?
Question #8 was generated because we wanted to know the familiarity of some firms in the minds of these end users, along with any that may have been currently used, or used in the past. We picked these firms randomly, but with the idea of selecting larger and medium-sized firms. The next chart shows these scores.
You can see that some of the firms listed are not currently used, but were used in the past, while others were not used in the past, but are currently being used. Some firms were both currently used and used in the past equally.
But, what is puzzling to is the overall familiarity scores – some of the larger firms like Gensler or HOK with average scores of 3.5 and 4.7 respectively – question familiarity itself. For example, the way the question was worded – "How familiar are you with…" – may be construed based on experience with the firm, or was it something else? In cross tabulations, a theory arises to help understand this.
72% or respondents who gave Perkins & Will an 8, 9 or 10 did not use Perkins & Will currently or in the They were "familiar" with them, but did not have "experience" with them, so it had to be brand familiarity.
53% of respondents who gave Gensler an 8, 9 or 10 did not use Gensler currently or in the Ditto for Gensler and these end users.
80% of respondents who gave CH2M an 8, 9 or 10 did not use CH2M currently or in the
61% of respondents who gave HOK an 8, 9 or 10 did not use HOK currently or in the
Does this mean that the larger firm brands' reputation transcend whether the end user works currently or in the past with them? 100% of end users who currently work with HOK gave them 8 -10 scores, while only 44% of end users who currently work with Perkins & Will gave them 8-10 scores (the others didn't rate them). So, care has to be taken in drawing conclusions on this part of the data.
And what is "familiarity" anyway? In some cases they were familiar with the firms because they used them, while in others they were familiar because of the branding the company had done. This is the "advantage" of the larger firms, isn't it? Yet, as previously discussed, "size of firm" has the lowest relevance in terms of why end users elect to work with firms! This is why the next question is so important.
Question 9. What other architect or engineering firms do you use that might not be on this list?
We couldn't possibly list all firms for Question #8, and we knew that going into this research. So, Question #9 was shaped to help find out who end users use. A staggering 137 architectural firms were mentioned! This not only suggests the competitiveness between architectural and engineering firms; it shows the rich variety of opportunities available for ALL firms. See Appendix 3 for the entire lists.
Question 10. What methods do you use to find an outside architectural/engineering firm?
With Question #10, our focus turned on trying to uncover the methods end users employ to find the firms that they hire. This is an important part of the puzzle for firms trying to reach this marketplace; after all, if everyone "thinks" the best way to reach people is by e-mail blasting, what happens if it's not?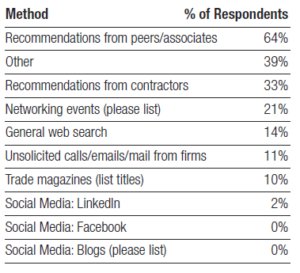 By far, end users talk to others for these recommendations. This has been verified by other research our company has performed; end users in particular are more prone to ask another person in a similar role about a situation they are dealing with for advice.  And apparently, social media hasn't made an impact in terms of "finding" people, though of the channels, LinkedIn is mentioned by only 2% of respondents. "Other" had a strong preference by respondents, and the following chart breaks out what they put in as "other."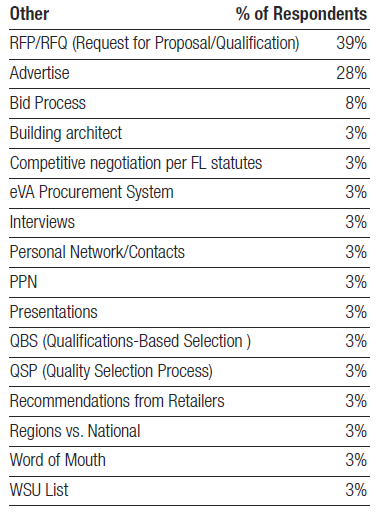 You can see immediately that the RFP/RFQ process is one way end users find out about firms. Therefore, the process of fulfilling such requests is important to help the firm "brand" itself. Also, note advertising is how they find firms!
Networking events were listed 21% of the time by respondents. The following list was provided as the events they had in mind when they responded. You can see from the variety that end users, as a group, are very involved in many aspects of facility management.

Not surprisingly, only 10% of the respondents checked trade magazines. Architects and engineers are not aggressive advertisers. Perhaps the question should be is why? A review of the list that people gave when they checked this box is worthwhile:
Arch Record                            ENR
Building Management           Health Facility Management
Buildings                                  Planning
Center for Health Design       Ranking Arizona Business Journal
Many of these publications are really "end user" focused; the one architectural publication covers "projects," which in our discussions with end users, is what they use the publication for.
If firms started advertising, these would be the publications to consider (which, by the way, isn't a bad strategy).
Question 11. Which one method do you prefer for finding an architectural/engineering firm?
Question #11 asked respondents to identify the one method they preferred for finding the firm, as well as providing the reason. As in Question #10, the highest response was "recommendation." In fact, the RFP/RFQ was over 30 percentage points below this in terms of preference.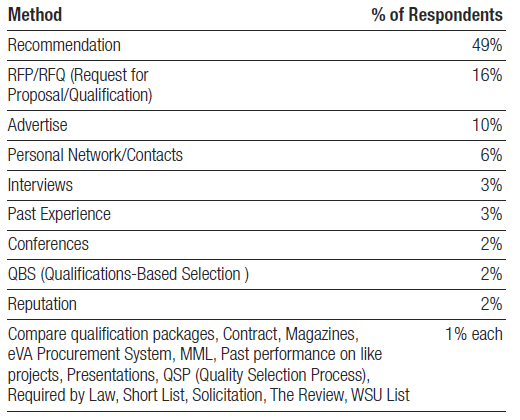 Why people preferred their single method is interesting.  While "experience" topped the reasons, "required by law" was the second highest.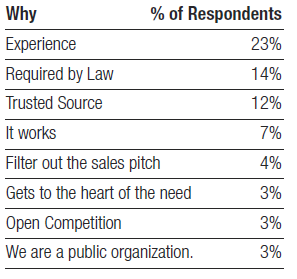 Here are other reasons given: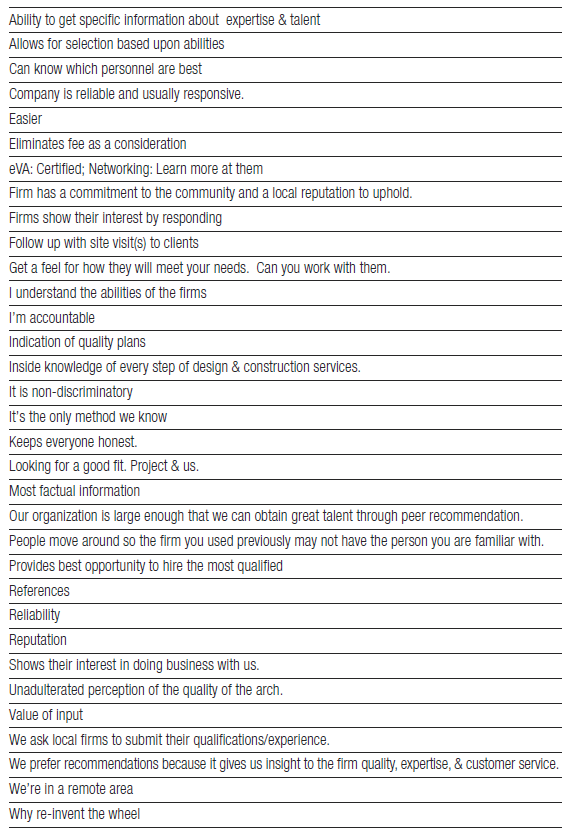 Question 12. Do you read print and/or electronic trade magazines?
In this question, we wanted to know the end user's reading habits. Interestingly, this is a "print" audience.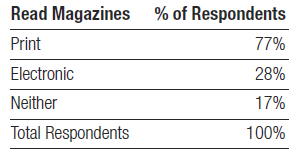 The respondents also gave us the titles of the magazine(s) they read. This list offers architects some good suggestions if they choose to run advertising.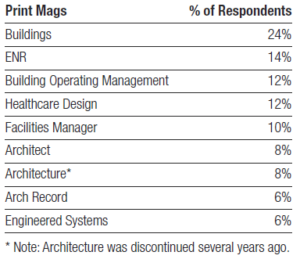 But other magazines were mentioned, too – in fact, 36 others. (Note: Answers are listed as given by respondents; the list may have duplicates and inaccuracies.)
American School & University
Business Officer
Health Facilities
PM Magazine (Plumbing & Mechanical)
School & University
School Planning & Management
American School & Hospital
Arch Digest
BOMA
Builder
Building Design & Construction
Business Journal
Campus Planning
Campus Tech
CCIM
College & University Planning
College Planning & Management
Construction News Record
CPE
Dwell
Facility Care
Facility management related magazines
Habitat
Healthcare Building Ideas
Hotel and Hospitality Trade Magazines
ICSC
IEEE Spectrum
Interiors
Parks & Recreation
Planning New Urban News
Remodeling/Bldg Magazines
Shopping Center Trade Mags
Solar Industry
The News
Western Interiors
Wired
In the digital preferences, the following were given: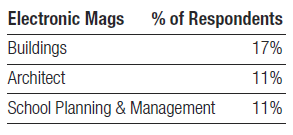 Others listed at least once were:
AIA Academy of Architects in Healthcare "Journal"
American School & University
Architectural Newswire
ASCENT
Building Construction
Building Green
Building Operating Management
Designer Opportunities
Duke Energy
Education Week
Facilities Management
Healthcare Building Ideas
Healthcare Design
Lab Services (I2SL publication)
Landscape Architect
Occasional articles
Planning, Commission Journal
Power
Progress Energy
TODL
For those who said they do NOT use magazines, the most common explanation is that they simply have no time.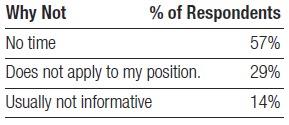 Question 13. Do you conduct a detailed evaluation of an outside architectural/engineering firm that you are considering for a particular project?
Not surprisingly, almost nine out of 10 said they do.

For the few who do not, they told us this:

The methods that they use for evaluation include:

In the "Other" list, respondents told us: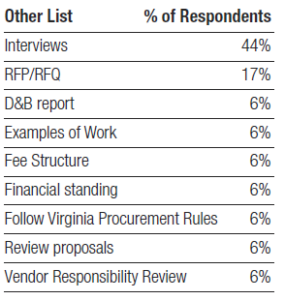 Question 14. Please rate the following architect/engineering design firms' overall capabilities/knowledge and their service level.
In this question, we listed some firms we were interested in studying, and asked respondents to evaluate/rate them in terms of capabilities and knowledge, and service levels. The scale was 1 through 10, with 1 being the firm performs poorly, and 10 the firm performs excellently. The percentage (%) of respondents represents the number of people in the survey who responded to that firm.
The ratings, then, correspond to the percentage. For example, of the 84% who rated AECOM, the firm received a 8/10 in capabilities and knowledge, and a 7.4/10 in service.
Here are the results.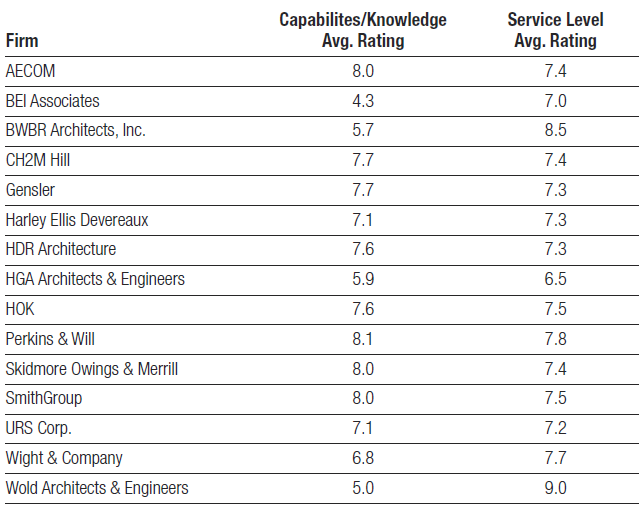 Perkins & Will received the highest rating in capabilities and knowledge (8.1), followed closely with 8.0 given to three firms: AECOM, SmithGroup, and SOM. Wold received the highest (9.0) for service levels. All the firms were above the 5.0 level for service.
Question 15. What does an architect/engineering firm need to do in order to work for you?
Question 15, the last question, perhaps contains a wealth of information for firms. Here, in the end user's own words, is outlined what you must do in order to gain their business.
A thorough study of these responses should be made from the list in Appendix 4.
We said in the beginning that architectural and engineering firms, like other businesses, find themselves in a climate of increasing flux. This research not only proved that; it showed that relationships that exist between these firms and their clients have and are undergoing profound changes. Just recently we heard from a client with offices throughout the United States that "another round of layoffs" are going through the architectural community.
Business is going to get tougher, but it is our sincere hope that you have found this research useful in your battle for business. In understanding any relationship, it is important to understand behaviors. The easiest thing in the world to do is lower your price… to modify your quality… and to short cut. But in the end, what you do is start a downward spiral that you sometimes can not pull out of, until it is too late.
This research offers you clues on how to not only survive in today's climate of change; but how to renew and begin relationships.  Because the real secret of a relationship is that it must be approached as new each and every day.
Coming from the advertising world, one of our oldest client's told me many years ago, "You're only as good as your last ad." I never forgot that.
Please contact us for further discussion on the topics presented here. And, good luck in your business ventures!
Appendix 1. List of preferred firms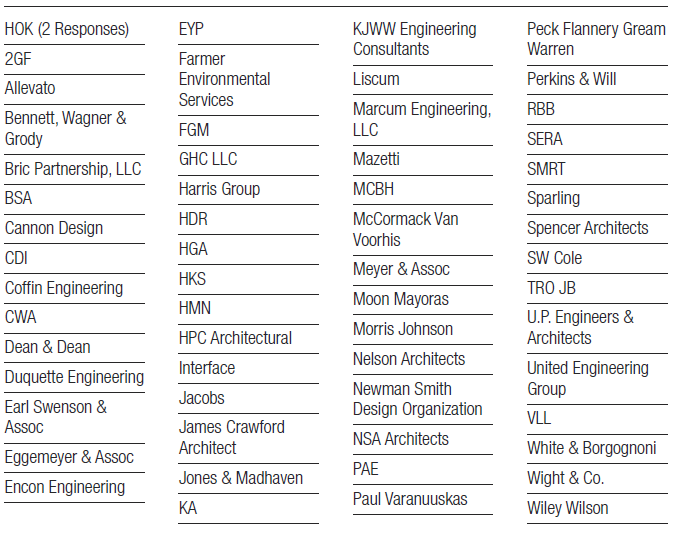 Appendix 2. Additional details on why end users felt these were the most important criteria for selecting a firm.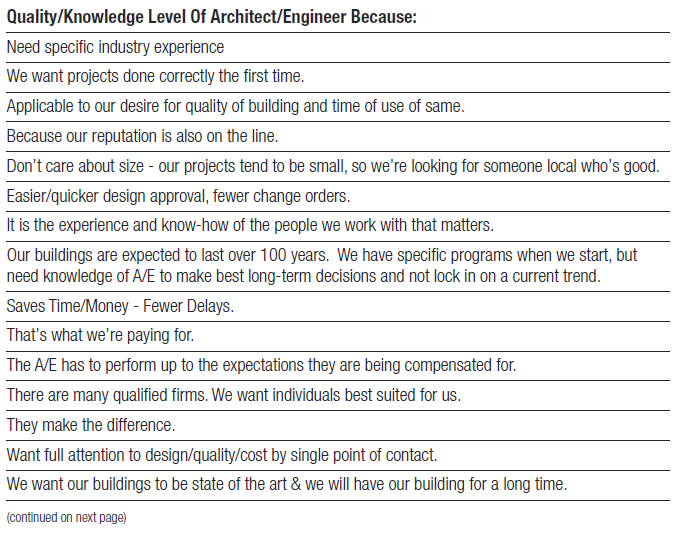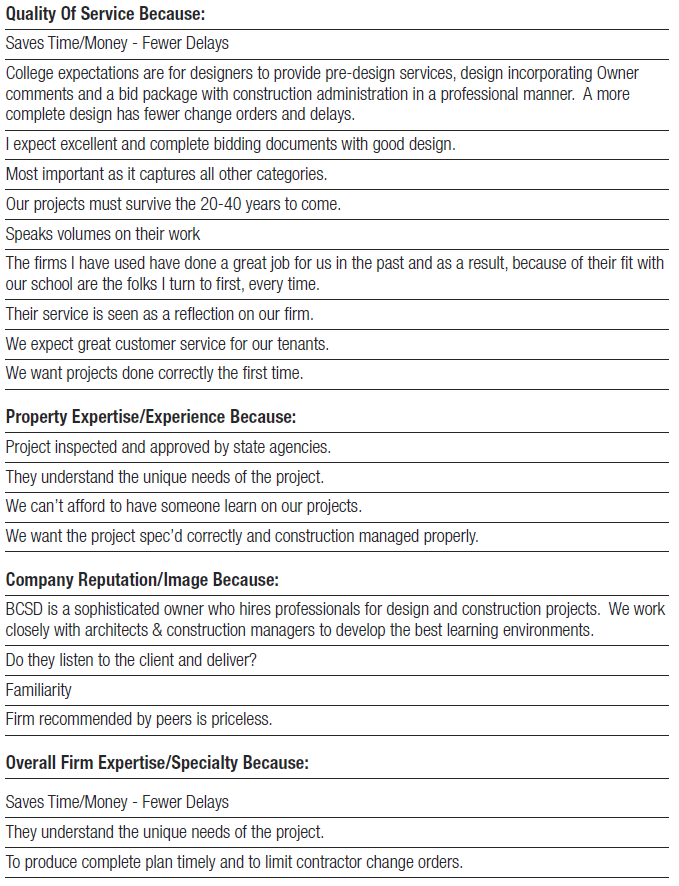 Appendix 3
137 architectural firms were mentioned.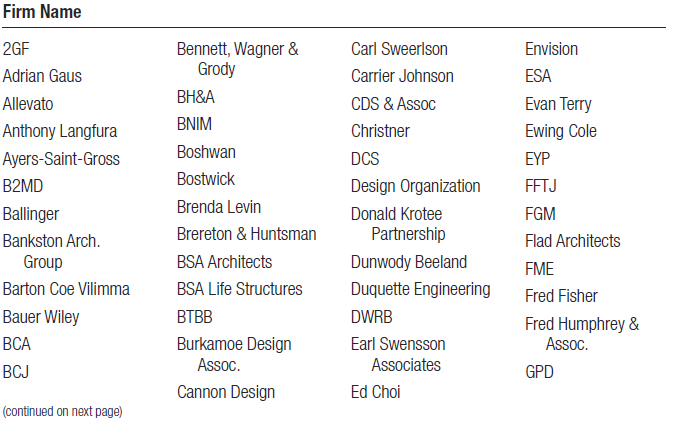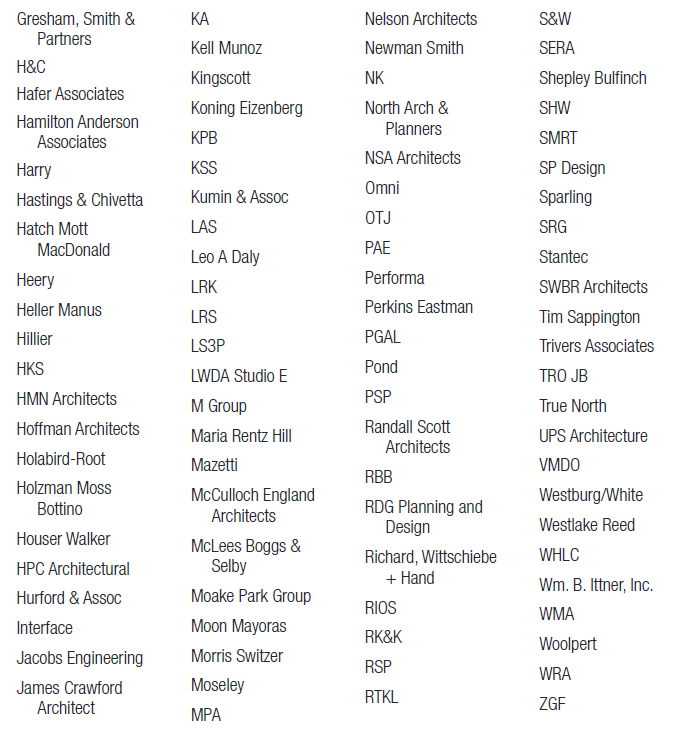 73 engineering firms were also provided that end users utilize.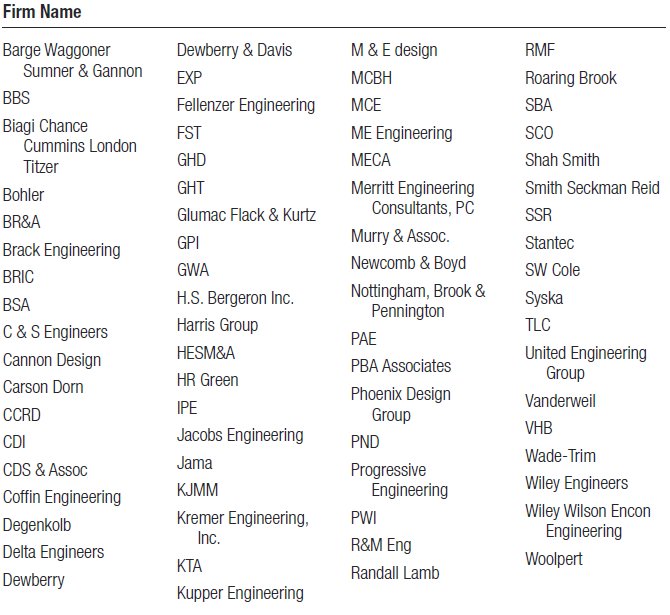 Appendix 4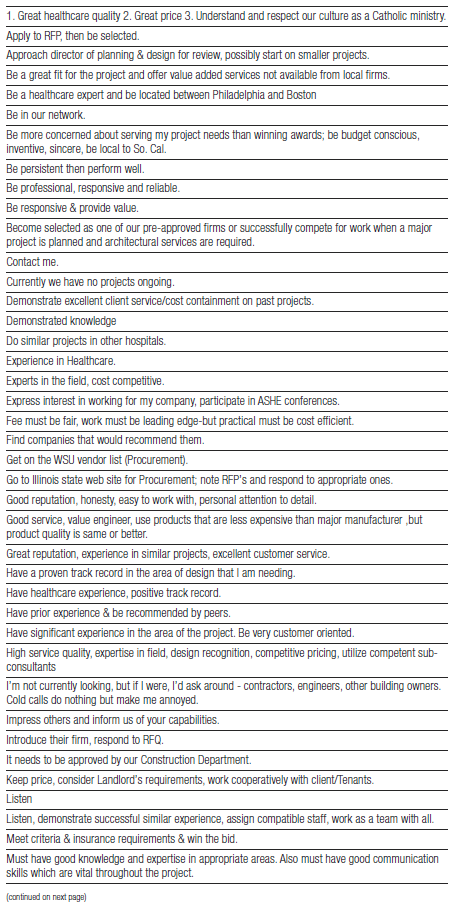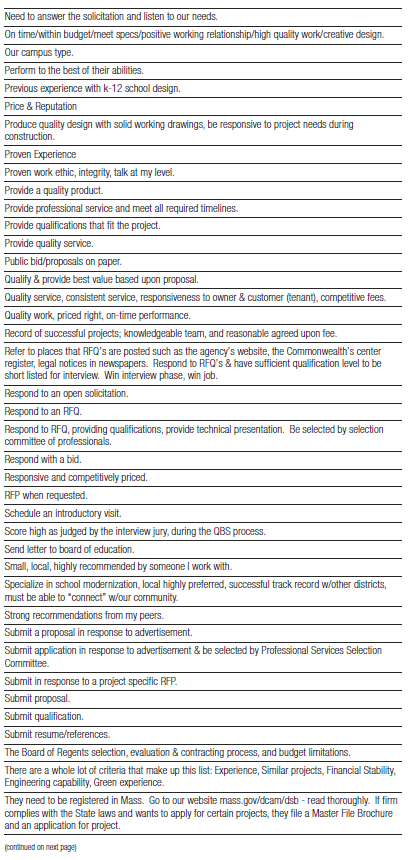 The information is ©2020 by Accountability Information Management, Inc. All Rights Reserved.
IMPORTANT: Accountability Information Management, Inc. is in the business of managing market information. In our practice, we build databases in order to extract knowledge. We research and talk extensively to individuals involved in the business-to-business industry.  We often go into detail during our conversations about not only their projects, but also their habits in terms of obtaining and using information in their jobs. This report and its contents are part of our methodology, products and services. It is copyright ©2018 by Accountability Information Management, Inc., 553 N. North Court, Palatine, Illinois 60067. This report is for the private use of the company named on the cover. Routine photocopying or electronic distribution outside of the named company and except for discussion purposes by that company is a copyright violation. Opinions expressed herein are intended to be CONFIDENTIAL. The Idea itself is the intellectual property of our company. For information on anything in this report, contact: Jim Nowakowski, 553 N. North Court, Suite 160, Palatine, Illinois 60067