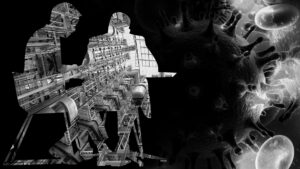 Manufacturer Brief: How COVID-19 Changed the way Facility Managers Get Product Information
AIM Study Reveals Insights of Shift Prompted by COVID-19 Environment on How Facility Managers Get Product Information
The global COVID-19 pandemic has brought dramatic changes not only in everyday life, but also for the business of managing facilities with lasting effects. The issues are more complex than staying safe and working remotely. And essential businesses are hit differently than the non-essential.
So, what does that mean for the people who manage buildings  today? What will it mean in the immediate future – or the longer term once the virus is gone?
More specifically, how does the pandemic and its reverberations effect facility managers and the means in which they find out about products and services they need to run their facilities in this new COVID environment?
What Buildings?
The severe lockdowns spawned by COVID-19 has an unbelievable impact on buildings. When people were told to stay home, offices throughout the country suffered. As the lockdowns continued, it was clear that dramatic changes were taking place – almost daily. Would furloughed workers return? What would have to happen to the office environment to have them return safely? What else would have to be considered with construction markets?
"Rather than the typical lag, the CRE (commercial real estate) industry was affected immediately. This was because trade activities and occupiers' businesses were shut down," according to Jim Berry from Deloitte & Touche LLP.[1] According to an Accountability Information Management (AIM) research, supply line disruption caused significant damage to how buildings were renovated or built. Repeatedly AIM has heard from clients and their customers, "the worst was not knowing if or when I can get the material."
One of the leading architects in the world, Gensler, has produced ongoing information about the reaction to COVID-19 and its impact on buildings. According to one of their reports, their clients "for the most part are holding. They are hesitant to spend capital on their current portfolios and some are waiting to invest in distressed properties."[2] They noted that with so much square footage currently sitting empty in urban centers, the future "must be community oriented, and existing office building stock can be repositioned to better meet the needs of the people who live and work nearby."[3]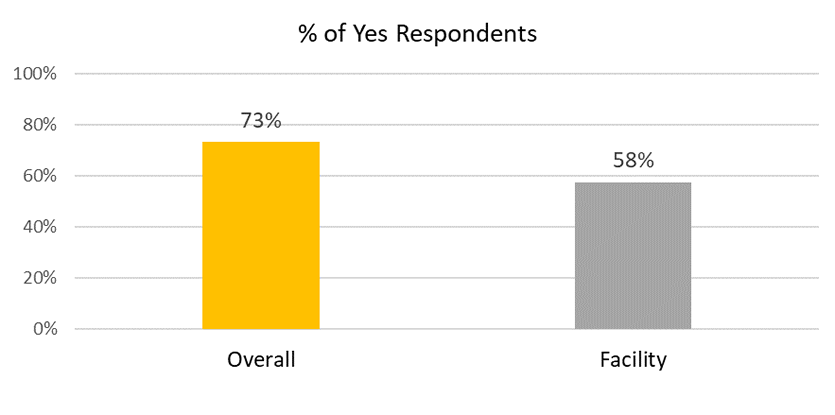 The real problem, however, is the uncertainty around what government will do. Regardless of what a facility manager may have in mind, if the government rules forbid opening, the severity of businesses that will be lost cannot be stopped. Therefore, loss of businesses to occupy buildings will impact facility managers and their roles going forward.
But in all cases, information and how information about products for buildings is taking on new paths. This is what the AIM research uncovered. In sharing the information, AIM is preparing the groundwork of how facility managers will want this information from manufacturers.
That new communication pathway(s) became perfectly clear in new AIM research that tried to understand how COVID-19 impacted how building professionals get product information from manufacturers and identify strategies businesses are using to recover from the pandemic. And it may be of no surprise that the COVID-19 pandemic has changed the way building professionals such as facility managers get product information from manufacturers.
The pandemic has changed the landscape of how product information reaches facility managers. Interestingly, all the previous disruptions (digital disruption, AI, etc.) have paved the way to make the flow of information an easy evolution.
The AIM research directly asked architects, interior designers, facility managers and engineers: In the era of COVID-19 and social distancing, have you changed the way you get new product information from manufacturers? More than half (58%) of the facility managers have changed the way they seek new product information.
There is no doubt that the initial lockdown where people were staying in their homes had an effect on this pathway of information. For example, in other AIM research, companies with multiple plants were already meeting virtually, so they didn't skip a beat when the lockdowns occurred.
However, nothing could stop the impact of supply chain disruptions, so even though facility managers were able to communicate, getting the products they needed was a severe problem (i.e., one manufacturer was getting orders for their touchless product, but unfortunately couldn't meet the demand because of these types of supply-chain disruptions, forcing the facility managers to take different approaches).
AIM research supports the shift in trajectory. Based on open-ended comments from respondents in-person rep visits/contact was eliminated (35% no longer have in person visits and lunch-n-learns), which seems to be directly replaced with virtual meetings (34%). However, the aspect of getting product information online remains strong (25%).
These shifts will, in turn, provoke discussions on how to reach facility managers. After all, if you can't meet with them in person, how will you get the messages across?
Even when things begin to re-open, the days of "just dropping by" are gone. It is clear that a new contact strategy must be created – and the manufacturer who figures it out first will win the day. This is why the AIM research is important to developing such a strategy. It provides clues as to how facility managers want to be reached.
For example, Chart 2 shows if you want to reach these people now, an email with a link to your website will be the preferred way of doing so. AIM has documented evidence of the importance of a manufacturer's website before COVID-19 as the most important marketing tactic in the manufacturer's arsenal. After COVID-19, that importance has only increased!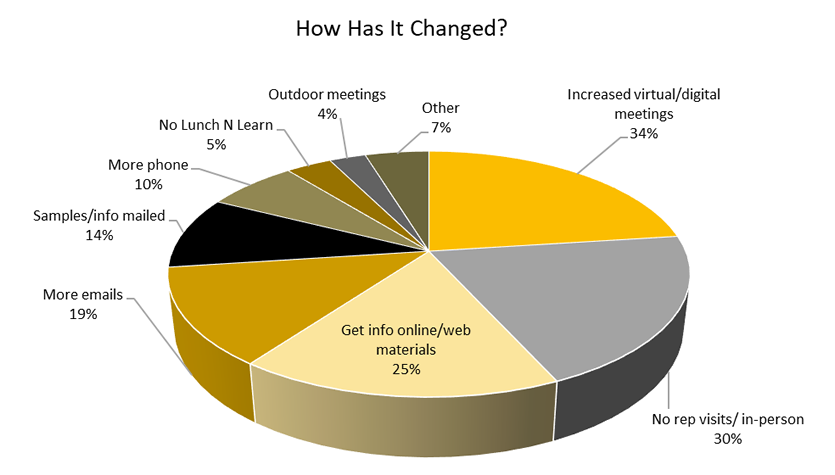 The  AIM research asked respondents to indicate what their product sources were prior and during COVID. In fact, the AIM study confirms the virtual/online shift. Just look at the dramatic swings in chart below! Due to the COVID-19 pandemic, building professionals are using more online resources, phone calls and email to get product information.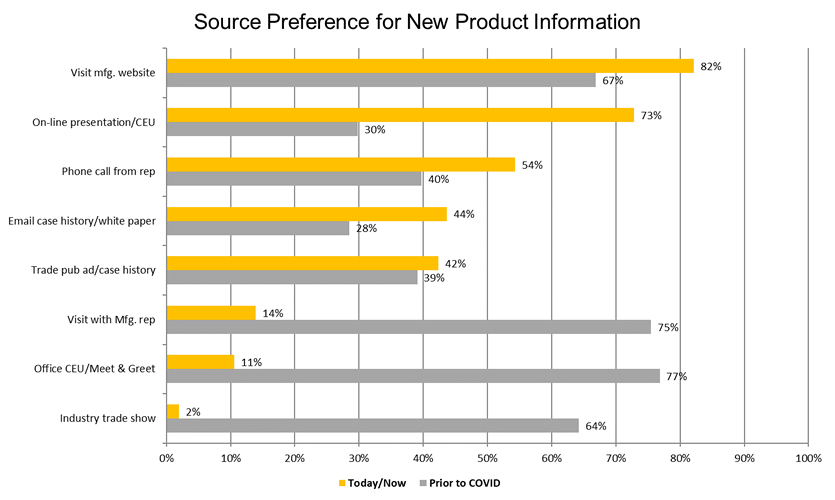 The collapse of trade shows as a hub for facility managers to gather is also telling. Plus, prior AIM research found facility managers are one of the most engaged audiences by sharing information WITH EACH OTHER. AIM studies have shown that these people are networked to the nth degree – that they call each other and talk to each other more so than other peer groups.[4]
But, most important is the website. Keeping the website current is more important than creating a new strategy for your salesforce. With respect, who needs a salesperson if the information is on the website? The role of salespeople is actually being redefined as this report is being produced. Companies everywhere are asking themselves these questions. The answers will develop as these other opportunities are sorted out.
For example, perhaps the salesperson of the future does a virtual meeting and navigates through the website for the customer. Perhaps "customer rooms" are created on the website for the salesperson to load up with information for presenting to facility managers.
Some companies have apps for this that can be used in a face-to-face setting. However, an app deployed is just that: another app in the world of apps. The key ingredient – a trained sales professional – still has a role, even if that role is being redefined.
These results of the AIM research stress the importance to provide product information on websites (a 15% increase) and a dramatic rise of online presentations (43% increase).
More specifically, the AIM study asked: Today many manufacturers are trying different methods to get product information to you. How likely are you to use the following types of communications to learn about new products/materials?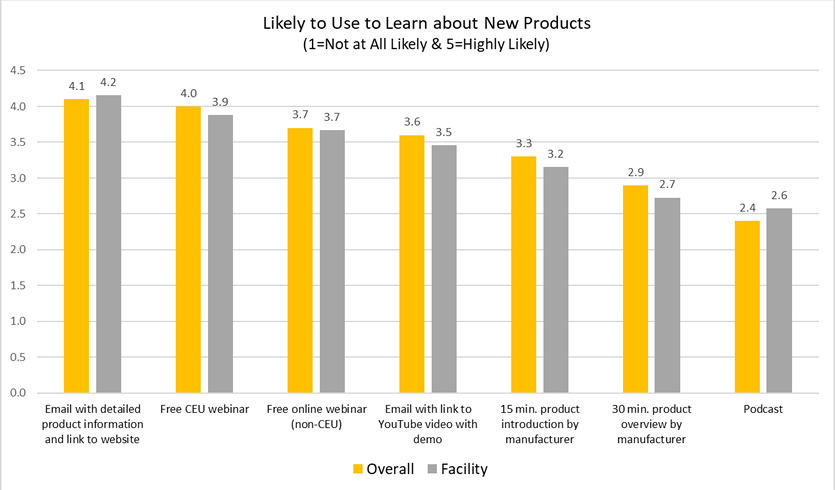 Clearly with facility managers emails that include detailed product information and link to website is the most useful. Rather than make a general one to email blast to everyone, customize the information in the email for facility managers and deploy it to facility customers or manufacturer representatives to reach their prospects.
This does not discount the other communications tactics like CEUs or online presentations. However, you can see that emailing facility managers is more likely to get their attention – especially if you and your sales reps already had the contacts!
AIM also asked: how much of an impact will the COVID pandemic have on the facility manager's future selection and specification of products for the facilities you are involved with? The overall weighted impact (five being extremely high impact) was 3.1. However, the facility manager's was 3.0 – ranking it midrange, making it an important factor.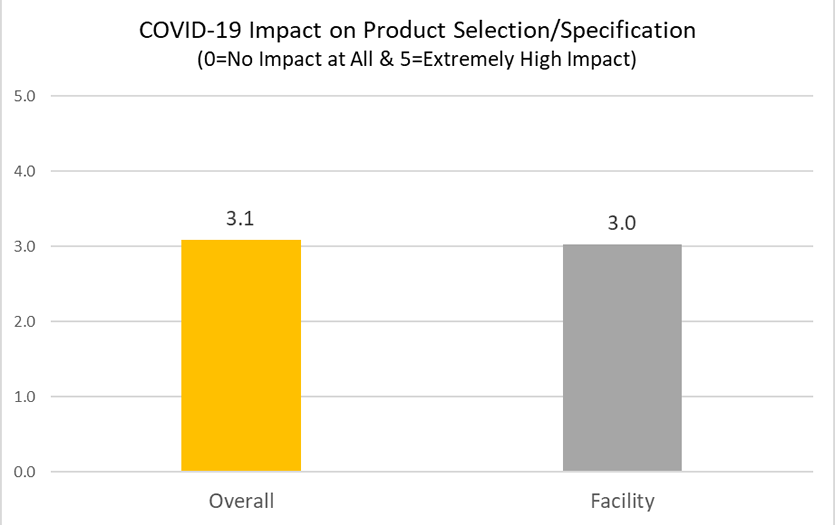 The top four verbatim comments about this impact were:
Increased stress on cleanability
Product availability
Will use what is familiar
More interest in touch free product
Other comments include:
Products expected to change based on our new needs. – Property Management Company
We will take into consideration the products ability to be disinfected to coordinate with our internal cleaning protocol. –School District
I have always tried to specify cleanable products.- University
There are many more ideas that AIM can uncover from this research. For more detailed information on engineers or to see how other building professionals are finding new products and product details, give us a call or send us an email. AIM is a full-service marketing research company specializing in B2B research in the building construction market. Visit our website for more details on this research and take advantage of other research and reports.
[1] COVID-19 implications for commercial real estate: Preparing for the "next normal," Jim Berry, Deloitte. Berry leads the US Real Estate (RE) sector for Deloitte. Prior to assuming the US RE sector leader role, he served as the head of Deloitte's Audit practice for the RE sector.
[2] Here's How Developers Can Reposition Office Buildings for the Future, Sheryl Schulze and Ian Zapata, September 16, 2020.
[3] Ibid.
[4] Security professionals are also an engaged networked audience, talking with each about the latest developments. This type of understanding is critical to the manufacturer who seeks acceptance for his products in the built environment. In other words, you have to create a buzz.