Social Media as a Weapon in the Information War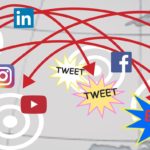 Let's face it: we're in an information war. The prize? Time. Consumption of information has never been higher. But what if social media were used as a tool for this information war? What if social media were used to spread messages – including propaganda – to not only fight within this war, but win battles? As more and more people enter the war, persuasion remains a decisive factor in fighting it, and social media is the battleground. And that's just what is happening all around us.
According to IBM, 90% of the data on the internet has been created since 2016. Combined with stunning statistics such as adding over one million data producing social media users each day along with 5.2 billion daily Google searches in 2017 alone, one thing becomes clear: being persuaded by "fake" information is as likely as reading the truth.
Lt. Col Jarred Prier, USAF, the director of operations for the 20th Bomb Squadron, writes a compelling piece on this topic. In "Commanding the Trend: Social Media as Information Warfare," Prier uses two case histories to demonstrate how social networking, propaganda and new and information sharing were used to "command the trend" – to literally, persuade millions of people into believing things that were simply not true. And when you read things such as, "For malicious actors seeking to influence a population through trends on social media, the best way to establish trends is to build a network of bot accounts programmed to tweet at various intervals, respond to certain words, or retweet when directed by a master account," it certainly makes you think. And as Albert Camus said, "The important thing isn't the soundness or otherwise of the argument, but for it to make you think."
Prier's paper does just that: makes you think. It is worth your study, not only for its content, but for its implications for any advertising message per se. Indeed, if 72 percent of Americans get their digital news from a mobile device and people are referring to news sources online over print by a two-to-one ratio, it's no wonder anyone can believe anything anymore. Social Media as Information Warfare is a 36 page informative article found in Volume 11 Issue 4 – "Winter 2017 of the Strategic Studies Quarterly," Air University, Maxwell AFB, AL / Published November 28, 2017. You will benefit from reviewing it, and you can find it here.  Let us know what you think.