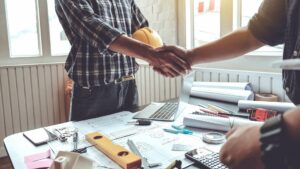 Meeting Face to Face with Building Professionals
Problem
It is not always easy for a manufacturer's representative to get an appointment or schedule a face-to-face meeting with building owners or the key influencers in the building construction industry—architects, engineers, designers and others. Everyone is busy today and after the COVID pandemic, many are still working outside the traditional office making it even more difficult to connect.  In order to increase the chance of gaining business, it is important for manufacturers to get and keep their company and products in front of the key decision makers.
A major manufacturer asked AIM to assist them with finding and penetrating the key "players" involved with making decisions on the renovation and/or new construction of data centers.  Since many of the companies that own and develop data centers are often large and complex technology companies like Google, Amazon and Apple, the manufacturer's sales team was finding it nearly impossible to identify, the key contacts and get appointments with the decision makers for data center properties. According to a research report published by AIM, "Data Center Construction: An Insatiable Market Update" the data center market is complex and is hard to penetrate. In addition, the development and renovation of data centers is booming and will continue to grow due to increased data and digital requirements by just about every industry. The client needed help getting a face-to-face meetings with the key decision makers.
Solution
Since AIM's sister company Interline Creative Group, Inc. had experience designing and implementing multiple programs to find and schedule appointments with specialized engineering firms, AIM was able to recommend a multi-stage appointment program to get the manufacturer's sales team in front of the key targets for data centers. AIM first used a commercial construction database to find data centers in the planning and development stages. The database provided AIM with a current list of construction professionals (i.e. architects, engineers, owners, etc.) involved in data center projects.  In addition, AIM used seasoned research professionals to explore additional sources for data center information and verification of contacts.
After cleaning and standardizing the list of data center professionals, AIM sent out a customized letter via the U.S. postal service requesting the opportunity to schedule an appointment with the manufacturer's national accounts representative.  Each letter contained the name and contact information of the regional national account person for AIM's client and requested the opportunity to introduce a new fire/safety product specifically for data center facilities.
A week after the letters went out, AIM's tele-research professionals made phone calls to connect and set-up appointments by regional sales territory. In order to streamline the process, AIM loaded all the contacts and company information into a proprietary appointment-setting program to optimize the caller's time and scheduling of appointments.  AIM's tele-research professionals made at least three follow-up attempts to reach and schedule appointments.
While the success of this type of program depends heavily on having the right list, it also requires a consistent and well-structured follow-up program. AIM's appointment program not only allowed for multiple attempts, but also had the flexibility to incorporate emails and additional contacts if necessary.
Results
AIM was able to penetrate several key accounts including Facebook, Google, Apple and also connect with major architectural/engineer consulting companies working specifically on data centers. Not only were we able to produce a "key" contact who was involved with making decisions on the client's products/services, but were able to schedule appointments for their national sales rep.  In fact, the program was so successful, the client stopped the program at the request of their sales team.
For more information on how AIM research can help your marketing and sales team connect with key decision makers for your products/serviced, please contact Patty Fleider at patty@a-i-m.com or 847-358-8558.