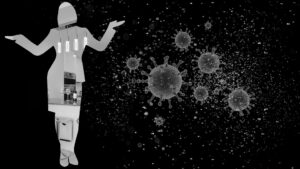 Manufacturer Brief: How COVID-19 is Changing the Way Interior Designers Get Product Information
AIM study reveals insights of shift prompted by COVID-19 on how Interior Designers get product information.
The global COVID-19 pandemic has brought dramatic changes not only in everyday life, but also for business with lasting effects. So, what does that mean for business today? What will it mean in the immediate future? More specifically, how does the pandemic affect interior designers and the methods in which they find out about products and services they need to run their facilities in this new COVID-19 environment.
Interior designers are working from home using the internet and design programs during this crisis as is their clients. How can a manufacturers sales force reach them to promote their products or services? Accountability Information Management, Inc. (AIM), a leading B2B marketing research company, endeavored to find out how manufacturers can service their interior designer customers during this crisis.
COVID-19 Affects Interior Designers
Interior Designers were hit hard. But with more people working at home, projects were put on hold rather than cancelled according to a poll by the National Kitchen and Bath Association in the first quarter of 2020.
As people begin to gradually return to the work force, there will be changes influenced by COVID-19 in their homes and offices. Quarantined individuals will carry with them the awareness of the necessity and safety of thorough cleaning, antimicrobial materials and increased hygiene. Interior designers will have to address these issues in their plans. An increase use of metals is predicted such as bronzes, brasses and copper, which are naturally antimicrobial and hygienic. Natural woods like bamboo, oak and cork help stop bacteria and microorganisms from growing. Not only are they more hygienic, but add to the design.
The "6 ft" distancing will change home design and remodeling. The need for space in homes will increase i.e. office spaces, study areas, libraries, gyms, media rooms, game rooms and space for Zoom meetings or even to separate accommodations for isolating the ill.
Information on new materials, designs and applications will have to be relayed to interior designers. For example, COVID-19 has exemplified the importance of sanitizing wall surfaces. Vinyl wall surfaces inherently known for durability, scrubability and cleanliness with today's harsher chemical new technologies are being brought forth. Manufacturers will have to provide that information and new technologies to their customers according to the Wallcovering Association.[1]
AIM researched interior designers as well as architects, engineers and facility managers. There were over 142 responses to the survey. This report covers what interior designers are telling us: COVID-19 is disrupting their business and has almost become a way of life. The impact on sales of products is ongoing and, as our research shows, irreversible.
As the economy returns to normal or what may never be normal, AIM can help navigate the virus when your salespeople finally "hit the bricks" or not.
The AIM research asked architects, interior designers, facility managers and engineers: In the era of COVID-19 and social distancing, have you changed the way you get new product information from manufacturers? Almost three-quarters of interior designers have changed the way they get new product information.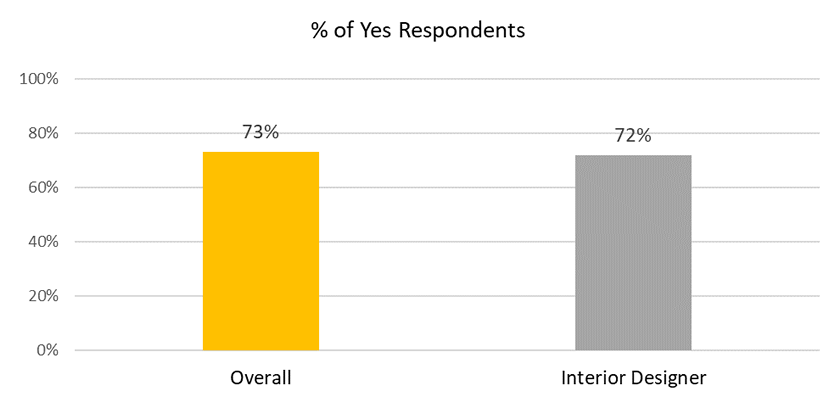 72% of interior designers who responded to our survey have changed the way they receive product information from manufacturers, which corresponds almost identically to overall respondents.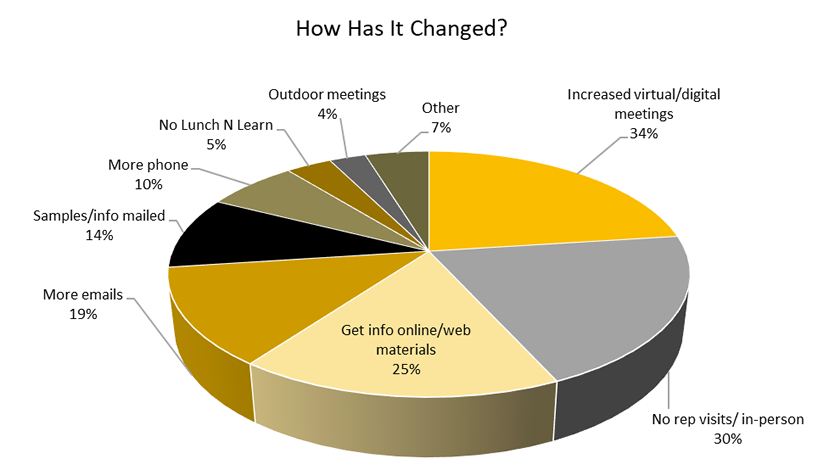 Their responses on how its changed shows the shift in trajectory. Obviously, the in-person aspect was eliminated (35% no longer have in person visits and lunch-n-learns), which seems to be directly replaced with virtual meetings (34%). However, the aspect of getting product information online remains strong (25%).
An uptick of 34% in virtual and digital meetings while an increase of 25% getting information online and the web was acknowledged. The increase is projected to increase as COVID-19 increases. AIM can help determine which is the most productive way of reaching your audience.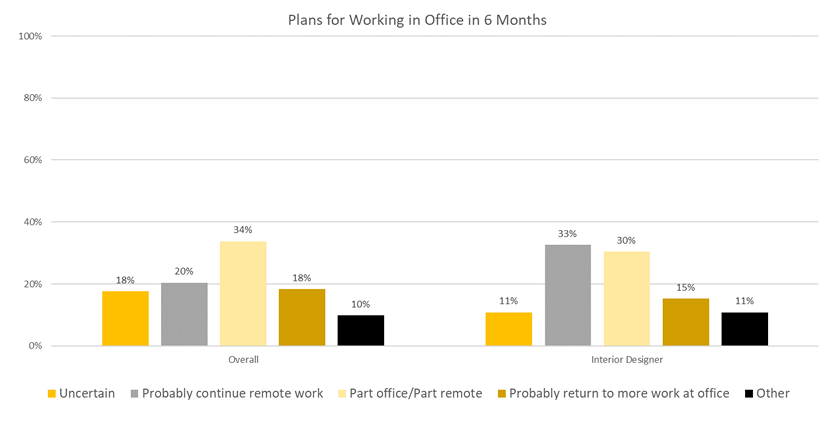 Chart 3 indicates interior designers differ from other audiences in the survey. 30% plan to work partly from home and partly from the office while 33% will probably continue to work remotely. Regardless, most interior designers plan to work from home and manufacturers have to take steps to reach them "coming and going."
Confusion on returning to work or staying at home not only affects interior designers, but other professionals studied. Comparatively speaking 60% of engineers (not shown) continue to work part office/part remote. Indicating, perhaps, that interior designers are more flexible in the time returning to showrooms and prefer more contact at home.
COVID- 19 is changing the way interior designers and other professionals get product information from manufacturers.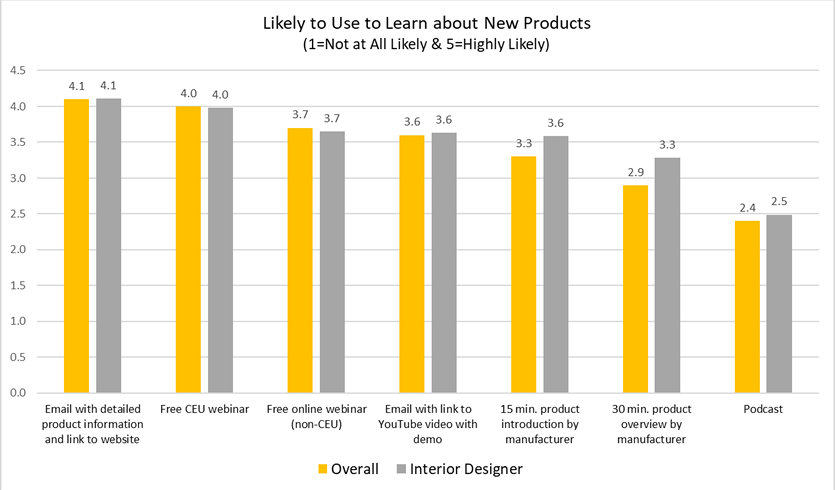 AIM asked, In the Era of COVID-19 and social distancing, have you changed the way you get new product information from manufacturers?
The highest percentage (4.1 out of 5) of interior designers preferred emails with detailed product information and a link to the website. Closely followed by Free CEU Webinar (4.0) and online webinars. A short 15-minute product introduction followed by a 30 min. product overview with Podcasts being the least desirable.
Clearly emails and free CEU webinars are the way to go. What if your reps made videos of the product launch, upgrade etc?  Customizing the video and having the rep deploy it to his interior design customers may be an approach.
Another avenue to pursue is supplying Zoom meeting materials on new products. Interior designers are using Zoom to approach their clients on new products, design concepts and project layouts.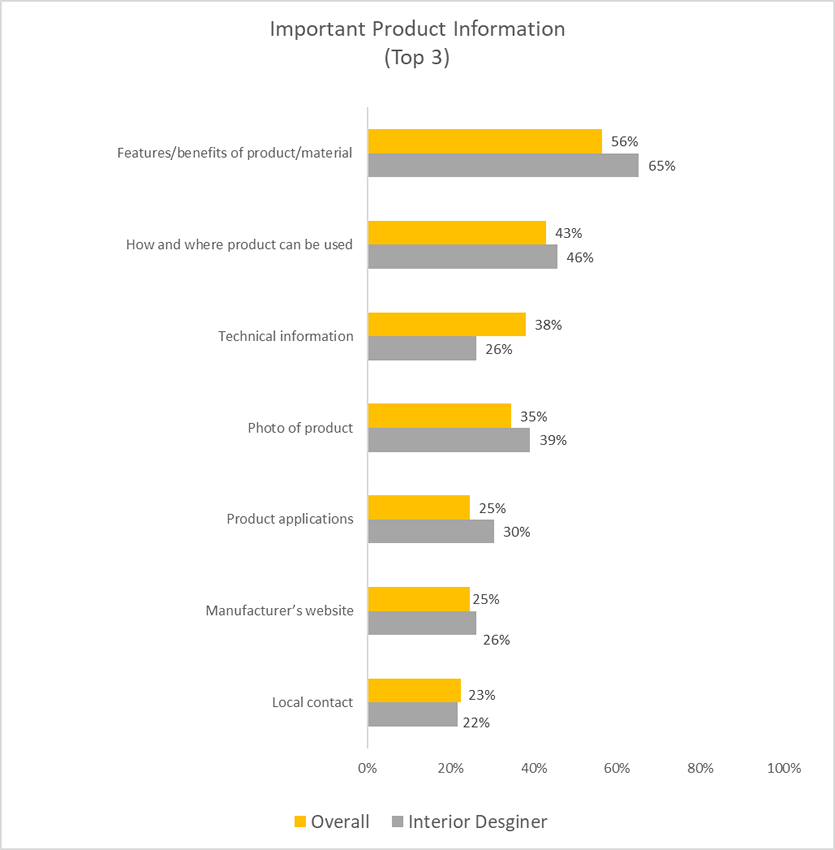 Chart 5 shows that 65% of interior designers prefer features, benefits of products material to help their customers in products selection. Secondly, at 46% interior designers want the practical application of products "how and where product can be used."

AIM asked: how much will COVID-19 have on interior designers' selection and specification of products for their customers. The overall weighed impact of 3.3 out of 5 (extremely high impact) topping other respondents. An increased stress on cleanability, product availability and delivery were some of the top comments.
In a recent interview with an interior designer from the Midwest, scheduling trades and receiving materials caused the most disruption in her projects. Product selection may soon depend on availability and delivery, and manufacturers should be prepared.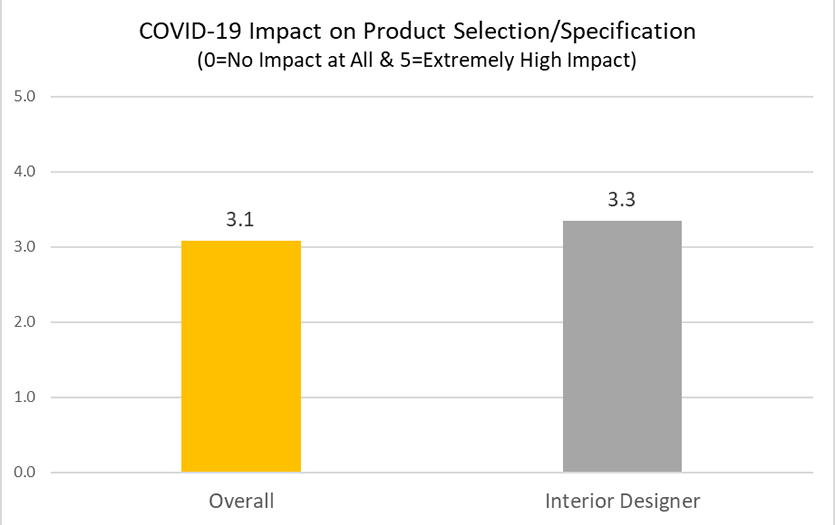 The respondent were asked when the anticipated the return of rep visits. The majority 60% answered with "Don't know," while 29% anticipated in 6 months to a year.
AIM suggests that manufacturer react as quickly as possible. As indicated in Chart 1, manufactures should jump start the process by creating emails with supporting information. This is a keyway to continuously reach their audience.
AIM is a full-service marketing research company specializing in B2B research in the interior design industry. AIM can uncover many more ideas from this research. For more detailed information on interior designers or to see how other business professionals are finding new products and product details, call 847 358 6884 or visit www.a-i-m.com.
[1] Creating Sanitary Wall with Wallcoverings Engineered for Cleanability (9/16/20) Matthew Jones, Wallcovering Newsletter.