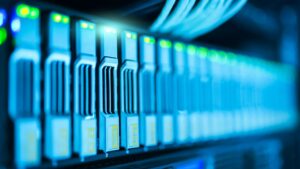 DATA CENTERS UPDATE 3.31.2023
There were nine projects in data centers this past week that are worth some attention.
Stack Infrastructure is one of those large custom data center solutions companies that are building data center footprints. This Data Center Campus (they are the owner) is located in Phoenix, AZ and valued at $362M. Design plans call for the construction of a 1,700,000-square-foot data center facility, but no other information is available as of yet. You can contact Stack at (888)-316-8177 or email press-emea@stackinfra.com. Their team is located here: https://www.stackinfra.com/about/meet-the-team/?area=americas
Aligned Energy Data Center in Chandler, AZ is a $98M that's a 456,946-square-foot data center facility that includes an office building, warehouse, and 17 acre parking lot besides the data center. Aligned of course is one of the top data center companies in the country and was covered in all our reports, but featured in the 3.17.2023 update. Sheehan Nagle Hartray Architects is doing this project, and was featured in our comprehensive Data Center Construction: An Insatiable Market. Sheehan Nagle Hartray Architects is now part of the Woolpert architectural team! Rich Keagy, PE, LEED, is a senior associate and practice leader at Woolpert who wrote an interesting piece, What Existing Facilities Are Best Suited to Become Data Centers? You might start a conversation with him about this project.
The Corscale Data Centers in Gainesville VA is a 854,250-square-foot, two-story above grade data center facility and power facility. This is a 130-acre, site with five buildings. Corscale Data Centers(the owners)  is focused on delivering sustainability at scale, offering some of the largest and most sophisticated hyperscale operators and enterprises. Their facilities can be delivered as highly scalable, secure, and energy-efficient build-to-suit powered shells or designed to scale according to their management. Contacts to begin your sales journey include: Architect is Corgan Associates. The National Real Estate firm Patrinely Group is one of the developers, and other developer is Kincora. The general is one of the nation's largest general contractors, offering lifecycle construction services from small projects to high rises, HITT.
But not all data centers are being built; some, like the Hamilton County Todd Portune Center, are be demolished! While a reliable data center is necessary for successful business operations , technology marches on! Decommission a data center is an art form, actually, which is why specialized services exist. This project is valued at $450,000. For more information, contact Gina Richmond, (513)-946-4321 or email at gina.richmond@hamilton-co.org.
Microsoft Data Center Campus  in Mount Pleasant, Wisconsin for  construction of a data center facility on 315 acres. Like many Microsoft data centers, there's not a lot of current information, even though they are covered in our comprehensive report.
The Mount Airy Data Center Park is a facility in Bowling Green, Virginia with construction probably in 2024, giving you ample time to get the process rolling for the work. But the owner, Valco Caroline County, is confusing; there are two LLC's with that name. It's unclear which is which in terms of this project. the civil engineer is Timmons Group, and may be able to sort it out for you. You can begin the journey with someone from their leadership page: https://www.timmons.com/about-us/leadership/
Previous updates contain additional information for your review. The current list of data center owners that have changed in March include:
234MW Data Center Campus
Aligned Adaptive Data Centers
Aligned Energy Data Center PHX06
Amazon Data Center – H&M Property / Leesburg
California Department of Transportation – Division of Procurement and Contracts
Central Facility Data Center Renovation Project
Cologix COL4 Data Center
Compass Data Center Campus At PW Digital Gateway
Corscale Data Centers Gainesville Crossing Additional Phases
Data Center Upgrades
DC Blox Data Center / New Orleans
EHRM Infrastructure Upgrades Data Center at the Oklahoma City VA Medical Center
Facebook / Meta
FY 2023 E-Rate Data Center at DeAnza High School
Gaston County
Greenville County – Procurement Services Division
H5 Data Center – Loudoun County
Hamilton County Todd Portune Center Data Center Decommissioning Project
Hunter Property Data Center
Luck Stone Corporation
Microsoft Data Center / Malaga, Mount Pleasant
Minneapolis Public Schools (MPS) – Facilities Department
Mt Airy Data Center Park Campus
Northern Kentucky Water District
PowerHouse Data Centers / Ashburn
RFQ Contractor – Camp Roberts Naval Research Laboratory Data Center
SMS: Data Center Cleaning, Uninterruptible Power Supply and HVAC Services
U.S. Department of Veterans Affairs – VA Program Contracting Activities Central (VA-PCAC)
US Department of Veterans Affairs – National Energy Business Center
If you'd like more information on creating dialogues with these or other companies, or information on any other market other than data centers, give us a call at 847-358-8558. Thank you.
Contact: Jim Nowakowski, President, jnowak@a-i-m.com